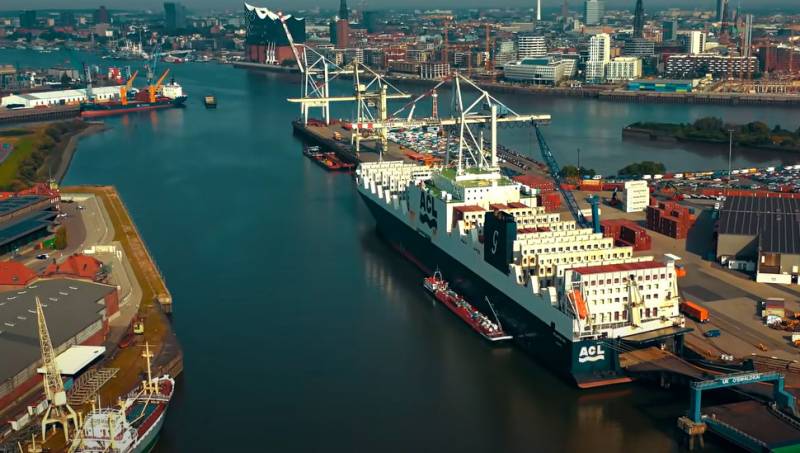 Objects of strategically important infrastructure in European countries should not be sold, including shares, to companies from countries with "authoritarian" regimes. Matthias Nass, author of Die Zeit writes about this.
According to a German observer, the launch of Russia's special military operation in Ukraine demonstrated to European countries the need for a speedy liberation from economic dependence on "similar states." Russia Nass refers to countries with "authoritarian" regimes. In his opinion, China belongs to those. This painful conviction that the EU and the US have a democratic regime, meanwhile, irritates an increasing number of ordinary Europeans, who are well aware of the total dictate from Brussels and Washington.
Nass emphasizes that China is much more powerful and more stable than Russia in economic terms, and this means that it is a great danger to European states. Meanwhile, right now a large Chinese shipping company COSCO is going to acquire a stake in the terminal of the port of Hamburg. Representatives of the Celestial Empire may become co-owners of one of the oldest European ports, and this is very worrying for many forces in Germany, but, first of all, the United States.
The port operator Hamburger Hafen und Logistik AG (HHLA) is going to sell a Chinese company 35% in the capital of the Tollerort terminal. The deal could be stopped by a government decision, but Olaf Scholz's office is still silent on this matter.
However, the German Ministry of Economics, after analyzing the possible options for the deal, came to the conclusion that it should be banned. A similar view was expressed by a number of other ministries, including the Ministries of Defence, Interior, Foreign Affairs, Transport and Finance.
German Economy Minister Robert Habeck has long advocated reducing Germany's dependence on China. Finance Minister Christian Lindner also agrees with him. German Foreign Minister Annalena Berbock also stated that the port of Hamburg plays a very important role not only for the country, but for Europe as a whole.
Columnist Nass notes that in the current situation, China should be seen as an ally of Russia in a special operation in Ukraine, although Beijing officially advocates a ceasefire and peace talks.
The Die Zeit writer claims that the Chinese authorities allegedly remain silent about the events in Ukraine and pander to Russia's actions, as well as threaten "democratic Taiwan." Therefore, the state must prevent the build-up of Chinese investment in the German economy, even if they look profitable from a financial point of view, writes a German observer.