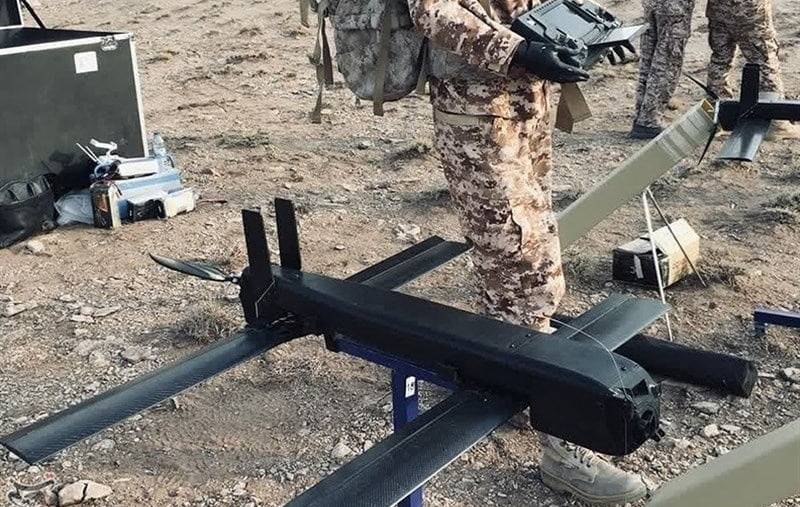 Iran continues to develop strike and reconnaissance drones, the presentation of another loitering ammunition for the IRGC rapid reaction forces took place the other day during the exercises of the Corps Ground Forces. The small-sized drone is designed to destroy personnel and unarmored vehicles.
Specialists of the Iranian IRGC have developed a new Meraj-521 kamikaze drone for the Saberin Rapid Reaction Force of the IRGC Ground Forces. The drone is designed to be used against enemy personnel and unarmored vehicles directly on the battlefield, so it is made in such a way as not to cause any inconvenience when using it.
According to the presentation, the launch of the drone is carried out using a mortar method using a pneumatic catapult. The wings are swivel, unfold after launch, the propeller is pushing, located at the rear. The drone has a range of up to 5 km and can stay in the air for 5 to 15 minutes. A warhead weighing 500, 700 and 1000 g. So far, the delivery dates for this drone for the IRGC have not been announced, but in Iran there are traditionally no delays with this, so in the near future it may appear in the troops, possibly not only Iranian ones.
Meanwhile, Iran has demonstrated that it has a fairly solid arsenal of drones and missiles by posting a corresponding video on the Web the day before. As stated in the description, the IRGC showed drones and medium-range missiles in service with the Corps. This video aroused great interest in Ukraine, where they continue to claim that Iran is allegedly preparing to supply the Russian army with short-range ballistic missiles Fateh-110 and Zolfaghar with a range of 300 and 700 kilometers, respectively.