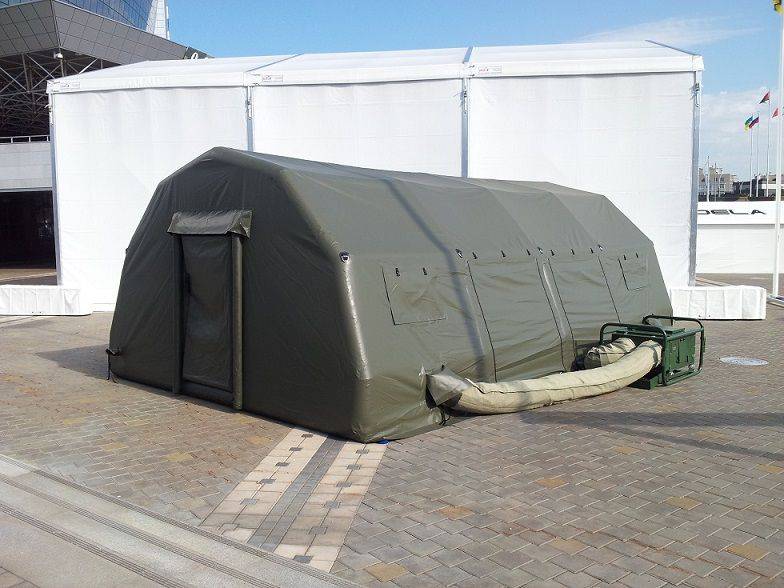 On Wednesday, October 19, in the Moscow region, the transfer of equipment and equipment to the Armed Forces of the Russian Federation from the Interregional Public Organization for the Promotion of the Study and Operation of Military Equipment "Military Technical Society" took place.
In total, the volunteers of the Military Technical Society and friendly organizations managed to collect property worth a total of 10 million rubles.
First of all, we are talking about those things that will be extremely necessary for soldiers and officers in the winter when deploying units in the open air. The list of transferred property included army tents, generators, mobile heating systems, fuel tanks.
"This is not the first time that members of our organization and friendly formations provide material support to the front. Now the war has come to literally every home. And each of us in his place is doing everything possible for the common Victory. That is why it is important that people on the front line - regardless of whether they are contract soldiers, mobilized reservists, PMC fighters, feel the unconditional support of the rear. Such confidence, combined with the understanding that you are fighting for your homeland, has always helped our fighters complete even the most difficult tasks and return home unharmed," said Alexei Migalin, president of the Military Technical Society.
"We announced this collection in our organization back in September and we are glad that our friends from the patriotic associations of Russia and Belarus also joined it. Among our members there are many who were inextricably linked with the Armed Forces, some have relatives and friends. Everyone understood the importance of such an acquisition, especially in view of the imminent onset of cold weather on the front line. That is why it was possible to raise funds quite quickly," emphasizes Alexey Migalin.
The interregional public organization for the promotion of the study and operation of military equipment "Military Technical Society" was created as a union of like-minded people from Russia and Belarus, passionate about the study and restoration of military equipment of the Soviet period. For my six year
history
the organization twice got into the Russian Book of Records, for the longest mileage made in peacetime on military equipment, as well as for crossing the Kerch Strait on amphibious armored vehicles.
In addition, the Military Technical Society became the only civilian organization allowed to participate in the May 9 Parade on its own equipment (Victory Parade in Kaliningrad in 2019, and in St. Petersburg in 2022).
Today, the organization has more than 40 units of unique equipment on its balance sheet - from the first serial Soviet armored personnel carrier BTR-40 to ZIL 49061 "Blue Bird" (a rare vehicle designed to rescue astronauts after landing in difficult conditions). Anyone who shares the views of the organization, first of all, love for national military history and the desire to study Russian and Soviet armored vehicles, can become a member of the Military Technical Society.