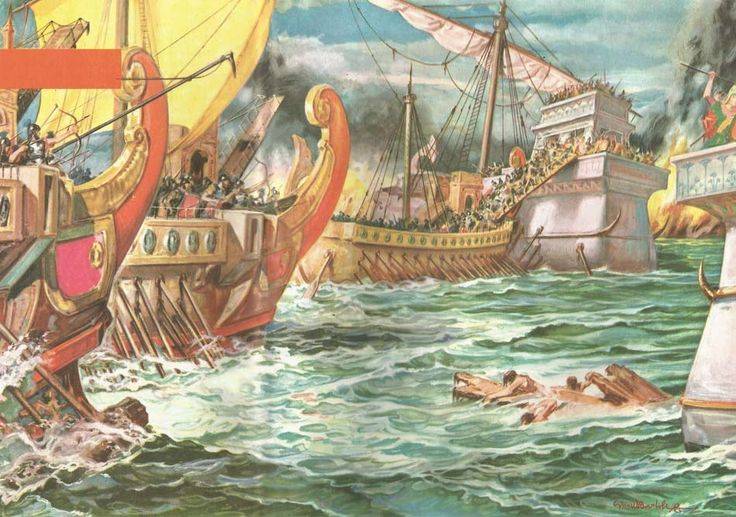 В
previous article
we talked about the eldest son and full namesake of Gnaeus Pompey the Great. A story about Sextus Pompey, the youngest son of Julius Caesar's rival, was also begun. Today we will talk about the challenge that he threw to the triumvirs, his victories, missed opportunities and inglorious death.
Sextus Pompey vs. Octavian
As we remember from
first article
, outlawed by the triumvirs, Sextus Pompey captured Sicily, which he made the base of his formidable
fleet
. He accepted Italian fugitives, regardless of their social status - both slaves and senators. He also blocked food supplies to the Italian provinces and to Rome.
The situation on the Apennine Peninsula was tense. Under the treaty on the division of the provinces, Octavian received Italy, and with it the obligation to allocate land to Caesar's veterans who were retiring. And those turned out to be from 50 to 100 thousand people. Free land in Italy, as you understand, was not. And therefore it was decided to simply confiscate the land of 18 Italian cities, among which were, for example, Capua, Arimin, Benevent, Nuceria, Regius. The confiscations were accompanied by bloody excesses, and even Sextus Pompey blocked the supply of food to Italy. Against the backdrop of general discontent, the authority of the new ruler of Sicily grew, and many in Italy were waiting for him, hoping for deliverance from Octavian's tyranny. And in Illyria they were preparing for a decisive battle with the triumvirs Brutus and Cassius. Octavian sent the legate Quintus Salvidien Rufus against Pompey. The rivals managed to repel mutual attacks with landings, but in the naval battle the victory remained with Pompey's fleet. Alarmed, Octavian promised the inhabitants of the southern coastal cities that their lands would not be given to the veterans, after which he went with Antony to Illyria. Here at Philippi they defeated the republican armies of Brutus and Cassius. This victory, on the one hand, freed up significant forces of the opponents of Sextus Pompey. On the other hand, Statius Murk passed to him, who brought 80 ships and 2 legions. In addition, another wave of refugees from Rome arrived in Sicily - Republicans included in the new proscription lists. Among them was even the future wife of Octavian - Livia Drusilla, whose father died at Philippi.
Perusian War and its aftermath
Meanwhile, in the summer of 41 BC. e. in Italy, another war began - the Perusian, in which Octavian was opposed by Mark Antony's brother Lucius (at that time - consul) and the wife of this triumvir - Fulvia.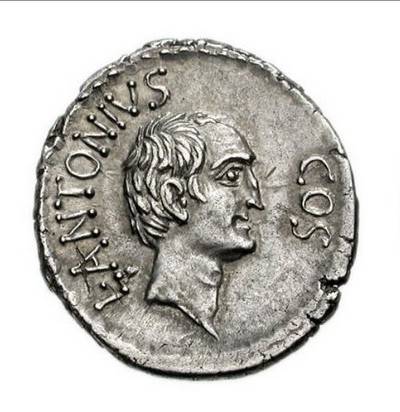 Lucius Antony on a silver denarius 41 BC e.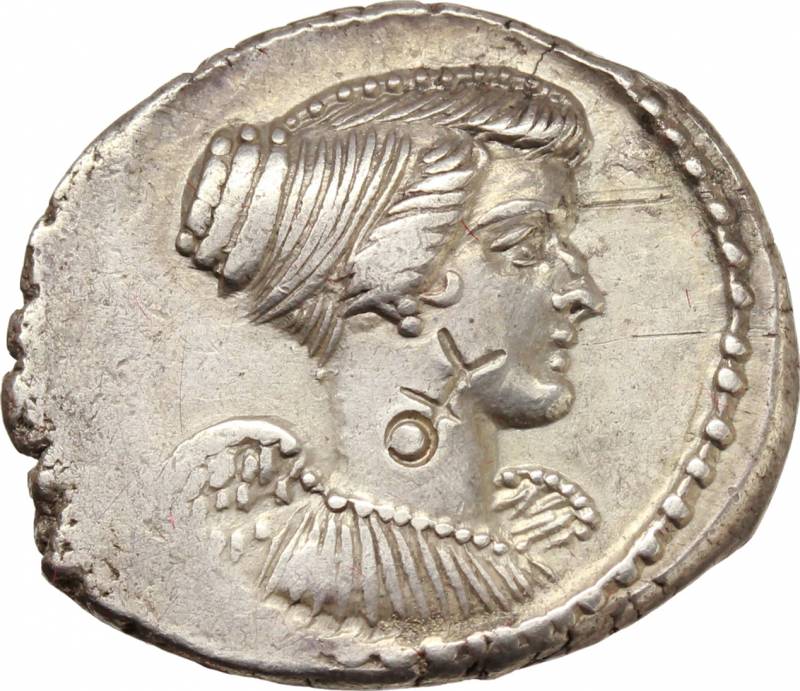 Coin depicting Fulvia, wife of Mark Antony
They believed that Octavian was taking too much power and authority, and the reason for the conflict was the accusations of this triumvir that, when allocating land, he gives preference to the veterans of his legions. The troops of Lucius were blockaded in Perusia and surrendered in the spring of 40. Octavian spared Lucius Antony and Fulvia, but 300 senators and horsemen who sympathized with them were executed in Rome. Some supporters of Lucius and some of the soldiers managed to get over to Pompey - in Sicily.
And what was Mark Antony doing at that time, for whom his wife and brother fought so selflessly, and for whom 300 noble citizens died in Rome? All this time he was in Alexandria, where he had fun in the company of Cleopatra. Here is how Shakespeare wrote about it:
His occupation is fishing
Yes, noisy booze until morning;
Not braver than Cleopatra
Which is not more feminine than he ...
In broad daylight through the streets stagger
And start fist fun
With smelly rabble.
Mark Antony still had to react to the situation. With a large fleet, he approached Brundisium, Sextus Pompey also expressed a desire to support him. But the big war did not happen, because Octavian preferred to conclude a new agreement with Mark Antony. This agreement was no longer so beneficial for Antony, since Spain and Gaul now retreated to Octavian. One of the points of this agreement was the marriage of Antony with Octavian's sister (Fulvia had died by this time).
Mark Antony and Octavian on coins from 41 BC e.: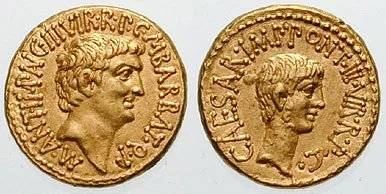 Mark Antony and Octavia, silver tetradrachm: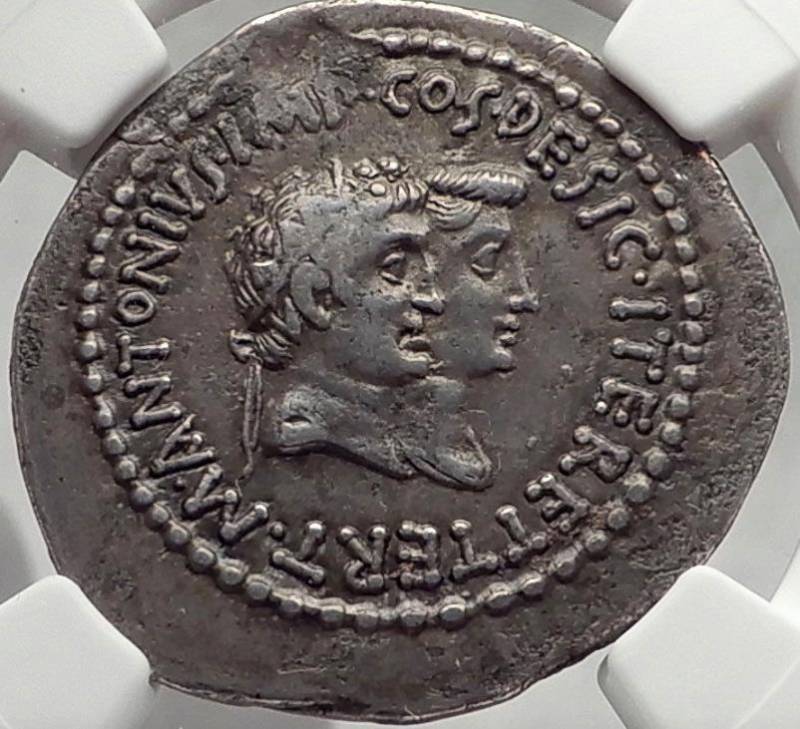 In this marriage, two girls were born who received the same name - Antonia (Elder and Younger). Interestingly, one of them became the grandmother of Nero, and the other - the grandmother of Caligula.
Misensky agreement of the triumvirs with Pompey
The ships of Sextus Pompey continued the blockade of Italy, and therefore in 39 BC. e. the triumvirs were forced to conclude the Misensky agreement with him. In addition to Sicily, Sardinia, Corsica (already captured by him in 40) and the Peloponnese were transferred to Sextus Pompey, and a consulate was promised in 33 BC. e. The slaves who fled to him were recognized as free. In return, Pompey promised to restore grain supplies and not accept any more fugitive slaves. This peace turned out to be beneficial for Octavian, since Italy, subordinate to him, was devastated, its villages and cities were attacked by robber gangs, while Sicily was unusually strong and experienced another flourishing. Local residents, freedmen and slaves were in favor of continuing the war, but Pompey went on about the runaway Roman aristocrats who wanted to return home. In addition, he wanted to be recognized in Rome as a "civilized" partner, and not as a successful leader of a pirate fleet. But Rome has always respected only strength and despised those who believed in agreements and treaties.
Antony, Octavian, and Pompey took turns holding feasts to celebrate the conclusion of the treaty. When Pompey received the triumvirs on his ship, the freedman Menodorus, who commanded his fleet, advised him to kill the guests and capture Rome and Italy. Pompey refused, stating that he did not want to tarnish his honor with treachery. At this time, he called himself the son of Neptune and even began to wear an azure toga. And in November 40 BC. e. during the plebeian games, the audience greeted the statue of Neptune with applause, thus demonstrating their sympathy for Sextus Pompey.
Meanwhile, Octavian took a number of steps to restore civil peace and reconcile with political opponents. Repressions against the Republicans were curtailed, he even married Livia Drusus, a fugitive who returned to Rome from Sicily. To calm and pacify the former enemies, Octavian promised that the powers of the triumvirs would be extended for only 5 years, after which the former republic would be restored. Aristocrats were exempted from paying tax arrears. The slaves who returned to Italy, believing Octavian's promises to leave them free and include them in the army, were returned to their former owners, and those that turned out to be "ownerless" were killed.
The beginning of a new war
The agreement between Pompey and the triumvirs proved short-lived. Antony was dissatisfied: not only did the Peloponnese, which previously belonged to him, pass to Pompey, Sextus also refused to pay him the arrears of the inhabitants of Greek cities. And Octavian was dissatisfied with the fact that Italian slaves were still accepted in Sicily. In addition, Menodorus, appointed governor of Sardinia and Corsica, went over to his side: Pompey lost 60 ships and three legions. Enraged, Sextus ordered the resumption of raids on the Italian coast. Mark Antony and Lepidus, who ruled Africa, were against a new war, and Octavian in 38 BC. e. started it on my own. He tried to attack Sicily from two sides - through the Tyrrhenian and Adriatic seas. A great battle took place at Cum, where the defector Menodorus fought against the Pompeians, as well as Calvisius Sabinus. The Sicilians were led by Menecrates, who was successful in battle against Calvisius, but got carried away and died in battle, trying to settle accounts with Menodorus. Demohar, who replaced him, took the ships to a base in Sicily. Then a naval battle took place in the Strait of Messana, where Pompey himself commanded the Sicilian ships, and Octavian commanded the Roman ships. Having an advantage in ships, Octavian nevertheless decided to retreat in order to join the squadrons of Calvisius and Menodorus. During the pursuit, Pompey, joined by Democharos, sank many enemy ships and withdrew only when he saw the fleet of Calvisius. And then a storm began, sinking many Caesarian ships. After that, Calvisius was replaced as commander of the Caesarian fleet by Octavian's closest associate Mark Vipsanius Agrippa.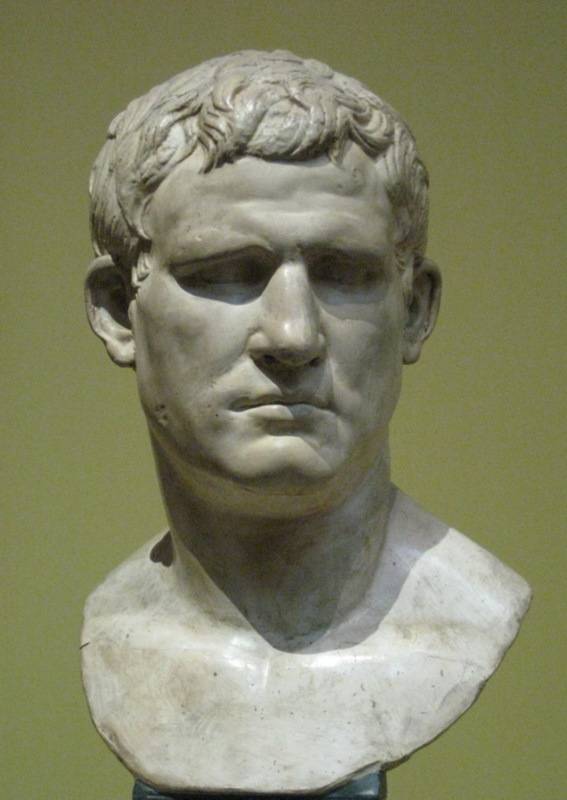 Mark Vipsanius Agrippa
The situation again favored Pompey, but he again refused to take decisive action. This respite was in favor of Octavian. In 37 B.C. e. the triumvirs agreed to extend their powers for another 5 years, the Misensky treaty with Pompey was terminated, the ruler of Sicily himself was outlawed. Octavian also managed to negotiate with Antony, offering him to exchange 120 of his ships for 20 soldiers. Agrippa at this time built a new naval base in Misenum for the navy. To do this, it was necessary to lay a canal that connected the Lucrino and Avernian lakes with the sea. Here the construction of a new type of ships began. Pompey's fleet was based on light ships with well-trained crews. Agrippa, on the other hand, built large and heavy ships - not very maneuverable, but carrying a large number of soldiers. In addition, these new vessels were equipped with harpaxes, which were heavy bars with a hook at the end. Harpaxes were fired with the help of ballistas, like harpoons, and stuck in the sides of enemy ships. Small ships could be raised above the water with the help of blocks, larger ships were pulled up and boarded.
Battle campaign 36 BC. e.
The war resumed in the summer of 36 BC. e. Another triumvir, Lepidus, entered into an alliance with Octavian, who provided 1000 cargo ships, on which soldiers of 12 legions and 5 thousand Numidian horsemen were put, as well as 70 warships. They were to attack the southern coast of Sicily. Octavian's admiral Titus Statilius Taurus took command of the ships received from Antony. This squadron left Tarentum and headed for the eastern shores of Sicily. The third flotilla consisted of ships built by Agrippa. It was supposed to attack Sicily from the north, and it was led by Octavian himself. These huge forces were opposed by 200 ships and 8 legions of Sextus Pompey. Menodorus again went over to the side of Pompey, who brought 7 ships.
Lepidus, although he lost part of the ships during the transition, reached Sicily and laid siege to the city of Lilibey, but, failing to take it, withdrew to Tauromenia.
Titus Statilius Taurus, when the weather worsened, turned back, but still lost part of the ships of his squadron during the storm.
The campaign of Octavian, who also lost many ships during the storm, was also unsuccessful. Octavian was in despair and almost postponed the operation for the next year. Nevertheless, in August, a battle took place at Mila, in which the Caesarian fleet was led by Agrippa, and the Sicilian by Sextus Pompey. The Romans lost only 5 ships, their opponents - 30, but there was no clear winner in this battle. But Pompey had something to think about: he then said that the battle with the new Roman ships was more like an assault on fortresses.
Pompey also defeated the troops of Octavian and Statilius Taurus, who landed in eastern Sicily near Tauromenia. Octavian was almost taken prisoner and even turned to his slave Proculeus with a request to kill him. However, Agrippa acted more successfully and managed to occupy Tyndarida and some other cities. Now two enemy armies were operating in Sicily. And Pompey's forces were fading, there was nowhere to wait for reinforcements, and he decided on a general battle, in which he was opposed by Agrippa. It took place on September 3, 36 BC. e. near Navloh and ended with a terrible defeat of the Sicilian fleet. Of the 180 ships, Pompey had only 17 left. With them, he retreated to Messana, and the land army of Tizien Gallus surrendered. Pompey still had eight legions of Lucius Pliny Rufus in western Sicily, but he abandoned these troops as he sailed east. Wanting to punish Sicily for supporting Pompey, Octavian severely ruined it, destroying many cities. The flowering island fell into decay and did not recover soon.
The inglorious death of Sextus Pompey
And Pompey decided to ask Mark Antony for help. Since this triumvir was on a campaign against Parthia, Sextus settled in Mytilene on the island of Lesbos, where he received news of the victory of the Parthians and the defeat of the Romans. Pompey had adventurous plans to take Antony's place or capture some of his provinces. His authority was still quite high, and supporters came to him from different directions, primarily from Sicily. He entered into negotiations with the Parthians, Pontus, Thracians and built new ships. Meanwhile, Mark Antony was ready to receive him in Alexandria. Their alliance against Octavian could have changed the course
stories
, however, Pompey in 35 BC. e. nevertheless, he began a war against the governor of Anthony in the province of Asia, Gaius Furnius, who had once been a friend of his father. At first he achieved great success, occupied Nicaea and Nicomedia. However, he now did not dare to fight at sea, since Anthony, relying on Egypt, had a clear advantage in strength. And so Pompey decided to burn his ships, and included their crews in the land army. The situation changed after Mark Titius, appointed as the new governor of Asia, came to the province with his troops. Pressed by the armies of Furnius and Titius, Pompey still managed to succeed by attacking the enemy camp at night, but did not take advantage of the fruits of this victory. In the end, he tried to surrender to Fournius on honorable terms - a guarantee of safety and the organization of a meeting with Mark Antony. However, he could not accept this proposal without the consent of Mark Titius. Being overtaken by the enemy cavalry near the Phrygian city of Mideyon, Sextus Pompey was forced to capitulate without any conditions. He was taken to Miletus and soon killed there. Some believe that Mark Titius himself made this decision, others believe that Pompey was executed on the orders of Antony or the ruler of Syria, Lucius Munatius Plancus. Interestingly, even after his death, Sextus Pompey was popular among the Roman plebeians. Mark Titius in 32 BC e. during the games organized by him, he was forced to leave the theater of Pompey because of the obvious and undisguised hatred that the crowd showed towards him.