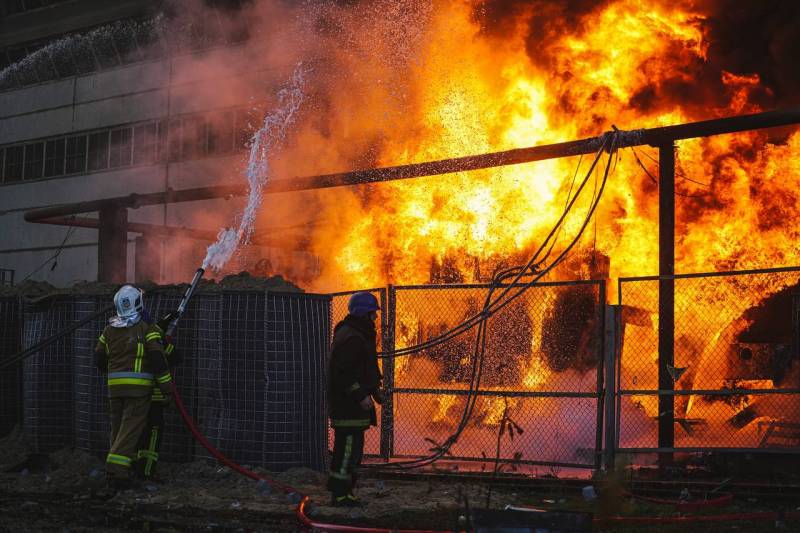 After the strike on CHPP-6 in Kyiv
Representatives of the Kyiv bureaucracy, whose troops fired today at the border villages in the Kursk and Belgorod regions, complain on Ukrainian TV about retaliatory measures. Of course, apart from the fact that the Armed Forces of Ukraine once again shelled the Kursk settlements of Tyotkino and Popovo-Lezhachi, Kyiv officials reflect on the strike inflicted by Russian troops on the very positions of the Armed Forces of Ukraine in the Sumy region, from where the territory of the Kursk region was shelled.
The activity of the Ukrainian territorial defense forces in the area of ​​the Yunakovskaya community of the Sumy region was suppressed.
Meanwhile, in Kyiv, they are trying to eliminate the consequences of strikes on energy infrastructure facilities. In particular, the blows inflicted a significant defeat on such an object as CHP-6 in the Ukrainian capital. The transformer substation, fuel storage were completely destroyed there, pipelines were damaged.
In Kyiv, local residents are trying to stock up on water and food. There is no water and electricity supply in several districts of the Ukrainian capital.
Significant damage was caused to the Kurakhovskaya TPP, located in the city of the same name on the territory of the Russian Donbas occupied by Kyiv troops. Kurakhovo is located a few kilometers west of Maryinka. There, as reported, the transformers burned out, the communication infrastructure was destroyed.