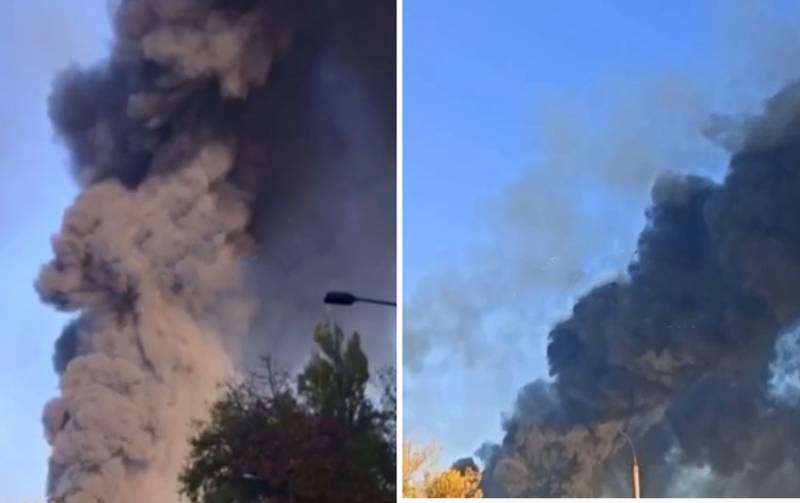 Attacks on targets in the territories controlled by the Ukrainian regime continue. Around 8:00 Moscow time, missile strikes were carried out on the energy infrastructure of Dnepropetrovsk. Local authorities report two arrivals.
Local residents report that these were precisely rocket strikes. A characteristic sound was heard in the sky.
The deputy head of the presidential administration, Kirill Timoshenko, said that the energy infrastructure facility (he did not say which one) was seriously damaged. Brigades of the State Emergency Service headed to the place of strike.
Mayor of Dnepropetrovsk Boris Filatov urged local residents not to upload photos and videos of the object to the network after the missiles arrived at it.
However, not everyone listened to Filatov. Frames appear on the network where you can see a column of smoke several tens of meters high, rising above the affected energy facility. These frames are presented in the material above.
In the meantime, he reports the destruction of the communication center of the Armed Forces of Ukraine, which was located in the area of ​​\u136b\uXNUMXbthe settlement of Vyshetarasovka. This village is located on the right (northern bank) of the Kakhovka reservoir. From there, Ukrainian troops repeatedly shelled Energodar and Zaporizhzhia NPP. The so-called Dnipropetrovsk governor claims that "an Iranian Shahed-XNUMX drone" was allegedly shot down at night, and adds that the air raid in the region has not yet been canceled.