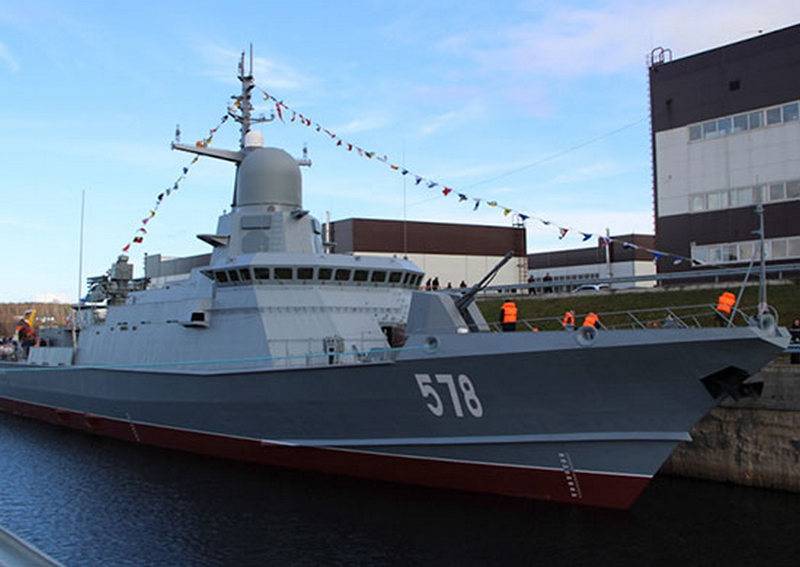 Small missile ship "Storm" project 22800 "Karakurt" entered the sea ranges of the Baltic
fleet
for factory test runs. The delivery base of the Baltic Fleet is located in Kronstadt. This was reported by the press service of the Ministry of Defense.
This RTO, built at the Pella shipyard in St. Petersburg, after passing the mooring tests, proceeded to factory running, within the framework of which all mechanisms and systems, the running and maneuvering properties of the ship will be checked, after which it will become part of the Baltic Fleet and will carry service in the connection of missile ships and boats of the Baltic naval base. The dates for raising the Andreevsky flag have not yet been announced, but this will happen before the end of the year.
RTO "Storm" project 22800 was laid down on the "Pella" in December 2016, launched on October 23, 2018. It is the fourth ship of the project and the third serial ship under construction on the SSP "Pella". In total, the enterprise must deliver seven RTOs of Project 22800 Karakurt to the fleet. Earlier it was reported that the delay in the transfer of the RTOs of this project to the Navy is due to the lack of propulsion systems for them. The Karakurt power plant includes three M507D-1 engines and three DGAS-315 diesel generators.
The 22800 Karakurt project ship has a total length of 65 m with a maximum width of 10 m and a normal draft of 4 m. Displacement - 800 t. Maximum travel speed at the level of 30 nodes. Cruising range at economic speeds - up to 2500 nautical miles. Autonomy 15 days. Designed for combat operations in the near sea zone. Main
weapon
- missile system "Caliber" for 8 cells, air defense system "Pantsir-M" was installed.
RTOs of project 22800 "Karakurt" are being built at three shipyards - at Pella, the Zelenodolsk shipyard in Tatarstan and the Amur shipyard in the Khabarovsk Territory. RTOs of this project should be replaced in the Russian Navy RTOs of project 21631 "Buyan-M".