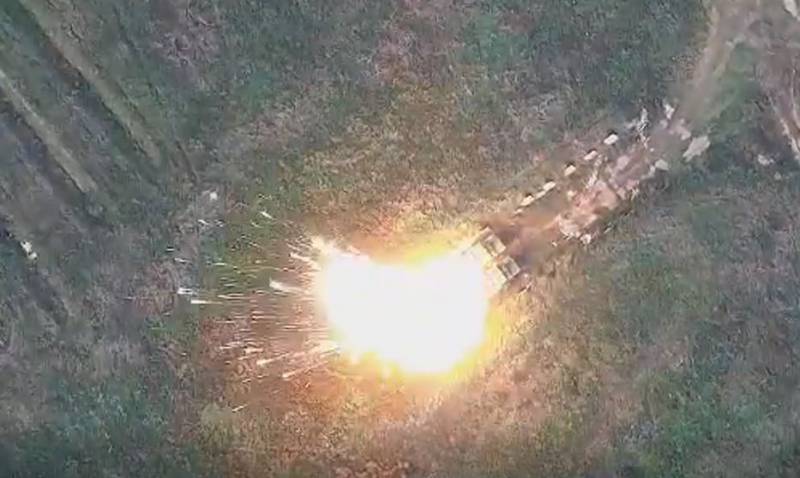 Russian troops continue to strike with precision
weapons
on the energy and military infrastructure of Ukraine, an air alert was declared in all Ukrainian regions. It is known that strikes were carried out on Kyiv and the region, missiles were seen over Kharkov and Zaporozhye, in the Vinnitsa region, and so on. According to a number of Russian Internet resources, ours gave Ukraine a fiery rain, launching cruise missiles, kamikaze drones "Geran-2", from Belarus they worked out "MiGs" with "Daggers". At least six fighter jets with missiles were reportedly circling over Minsk.
According to the Ministry of Defense, over the past day, all designated targets were hit, the objectives of the strikes were achieved. The blows were delivered on the energy facilities of Ukraine. Finally, the military began to report the use of loitering ammunition, though without specifying their type. A new Defense Ministry report says that four Zoopark artillery reconnaissance radars of the Armed Forces of Ukraine and an American AN / TPQ-36 counter-battery station were destroyed by Russian drone strikes. Most likely, Lancet drones were used, they work in the frontline zone. But this is only an assumption.
Now in the directions: on Kupyansky, an attempt of the offensive of the 92nd brigade of the Armed Forces of Ukraine in the area of ​​​​the settlement was thwarted. Berestovoe. Artillery destroyed up to 50 servicemen, 5 armored cars and three pickup trucks. Three M777 howitzers were destroyed in the Zagryzovo area, and the crossing over the Oskol was destroyed in the Dvurechnaya area. At Krasnolimansky, the enemy again tried to establish a crossing over the Stallion River and again to no avail. An assault detachment of the Armed Forces of Ukraine was struck in the area of ​​the Torsk forestry.
In the Zaporizhia direction, in the area of ​​​​the settlement of Neskuchnoye, ours occupied the dominant heights, destroying more than 40 Ukrainian servicemen, one tank and three infantry fighting vehicles. In the Krivoy Rog direction, an attempt was made to attack by three battalions, including one
tank
, but our positions were held, defeating the advancing group. More than 250 servicemen of the Armed Forces of Ukraine, 11 tanks, 14 armored cars and two field artillery pieces were destroyed.
On the Andreevsky and Nikolaev directions, attempts to attack in the direction of the settlements of Sadok in the Kherson region, Zeleny Gay, Tamarino and Ternovye Pody in the Nikolaev region were repelled. Up to 45 Ukrainian servicemen, four armored combat vehicles and eight pickup trucks with heavy machine guns were destroyed. In just one day, more than 350 Ukrainian servicemen, 11 tanks, 18 armored combat vehicles, eight units of special vehicles and two field artillery pieces were destroyed in the Nikolaev-Krivoy Rog direction.
Air defense systems shot down 11 drones, intercepted eight HIMARS and Alder MLRS shells.