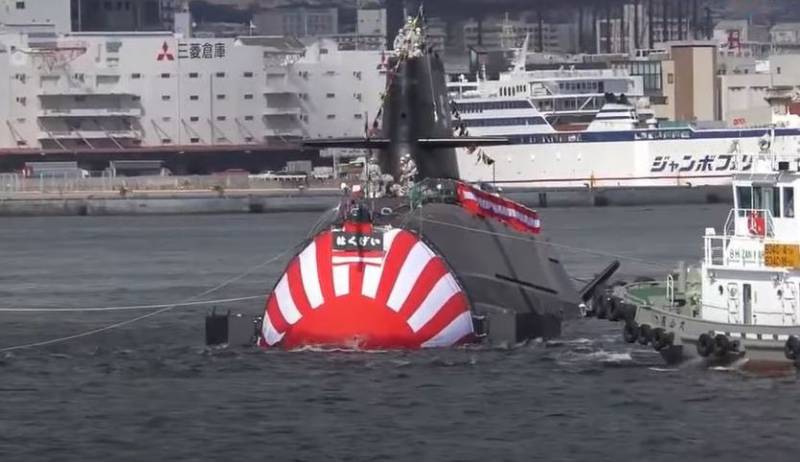 The third in the series and the second serial non-nuclear submarine of the new generation of the Taigei type of project 29SS was launched in Japan. The ceremony took place today, October 12, at the shipyard of Mitsubishi Heavy Industries (MHI) in Kobe.
The new submarine was named Jingei "(Jingei) -" Fast Whale ". In general, the entire series of submarines of this project, and there will be seven submarines in it, will be named after large fish. The lead submarine of the series was named Taigei" - "Big Whale", the first serial - "Hakugei" - "White Whale".
As mentioned above, the Japanese Navy plans to receive seven Project 29SS Taigei-class submarines in total. The entire series is being built at the shipyards of Mitsubishi Heavy Industries and Kawasaki Heavy Industries. Since the Japanese do not report the laying of new submarines, today only three submarines of the new project are known. The lead submarine Taigei SS 513 of project 29SS joined the Japanese fleet in March of this year, the first serial Hakugei SS 514 was launched in October last year and is currently being tested. Its transfer to the military is scheduled for 2023. The second serial Jingei SS 515 was launched just today.
The new submarines are intended to replace the Soryu-class submarines. The new submarine has retained the general shape of the hull of the previous generation submarines, but has a number of design changes. The cabin of the new submarines has been significantly reduced to reduce hydrodynamic drag and improve noise characteristics. Also announced about changes inside the submarine, but they are not disclosed.
Project 29SS submarines received an improved snorkel system to reduce the signature, a new generation of sonar, a new sound-absorbing coating and materials that can significantly reduce the visibility of the submarine. In addition, the Taigei nuclear submarines abandoned the use of the Stirling engine, installing new lithium-ion batteries instead.
Standard displacement - about 3 thousand tons, hull length - 84 meters, width - 9,1 meters. Crew - 70 people. The submarine carries torpedoes and anti-ship missiles.