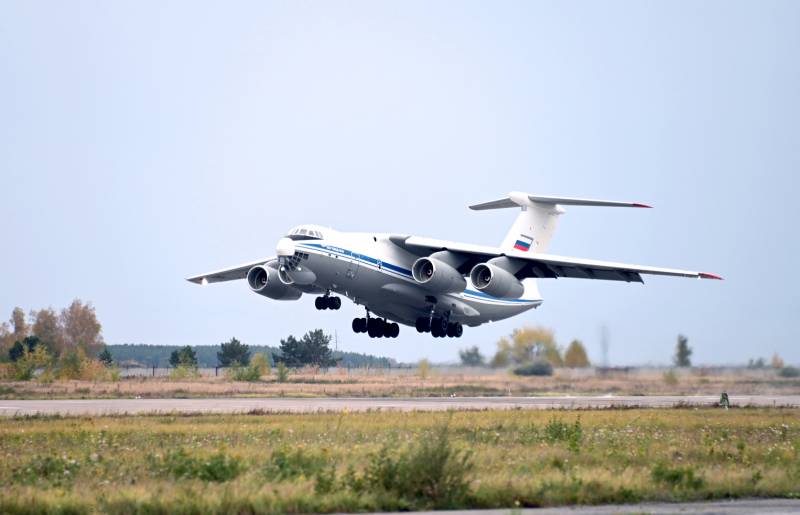 Military transport
aviation
The Russian Aerospace Forces replenished with two aircraft at once, the military received another serial Il-76MD-90A and an upgraded Il-76MD-M. This was reported on the official website of the UAC.
The heavy military transport aircraft Il-76MD-90A of a new assembly, assembled on the production line of JSC Aviastar-SP in Ulyanovsk, was handed over to the military. The aircraft, most likely, is the second one built this year and entered flight tests on June 7th. The first Il-76MD-90A this year was handed over to the military in April, and the third made its first flight only at the end of August. All transporters of the new assembly are built on a new production line, which was put into operation at the aircraft plant in 2019. The first two Il-76MD-90A, assembled on the line, were handed over to the Russian Aerospace Forces last year and two this year, given the new one.
In total, the Russian Ministry of Defense planned to purchase over 2030 Il-100MD-76A and the promising Il-90MD-78A tankers created on their basis by 90, but no one knows how it will actually be, the pace of construction of new aircraft is too low.
At the same time, the upgraded combatant Il-76MD-M was handed over to the military, the aircraft immediately went to the place of duty at one of the military air bases. During the modernization, the aircraft received new modern on-board radio-electronic equipment, including a flight and navigation system. Lighting and airborne transport equipment, defense and communications equipment were also replaced.
The updated aircraft can perform the tasks assigned to it at a higher level. In particular, the accuracy of aircraft navigation and landing will increase, as well as the quality of radio communications will improve.
- says the KLA message.