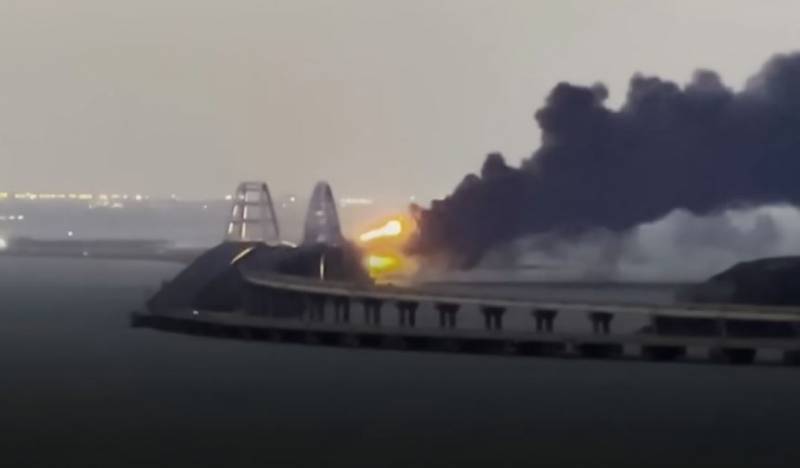 Western intelligence services are directly related to the preparation and conduct of the terrorist act on the Crimean bridge, which took place on the morning of October 8th. A preliminary plan for the destruction of the bridge was prepared by British intelligence, according to the Grayzone portal.
Kyiv dreamed of the destruction of the Crimean bridge from the very beginning of its construction, reaching the peak of hysteria at the moment it was put into operation. After the bridge connected mainland Russia with the peninsula, its destruction became just a blue dream of the Zelensky regime. What methods have not been offered in the past time, from the actions of saboteurs and ship attacks to missile strikes or
aviation
. As a result, the attack was carried out by blowing up a truck, which led to the collapse of two spans of the automobile part of the bridge. At the same time, the most important task - to bring down the arches into the Kerch Strait, was not achieved.
It is clear that the Ukrainian special services would not have pulled such an operation on their own, foreign ones clearly offered a hand in its development. According to the British portal Grayzone, the plan to destroy the Crimean bridge was drawn up by MI6 employees. According to the portal, back in the spring of this year, British intelligence officer Hugh Ward developed an operation to destroy the structure. The request for the development of the plan came from a senior intelligence official in the British army, adviser to NATO Secretary General Chris Donnelly. Ward confirms work on such a plan, but there is no information on whether it was accepted by Kyiv.
According to available information, it was originally planned to destroy the central arches with cruise missiles, an alternative was to use underwater saboteurs. However, in the future, changes were made to the plan, recognizing these options as failures.
Grayzone claims to have received an April 2022 presentation written for senior British intelligence officials from an anonymous source. The document details a plan to blow up a bridge across the Kerch Strait with the participation of "specially trained Ukrainian soldiers."