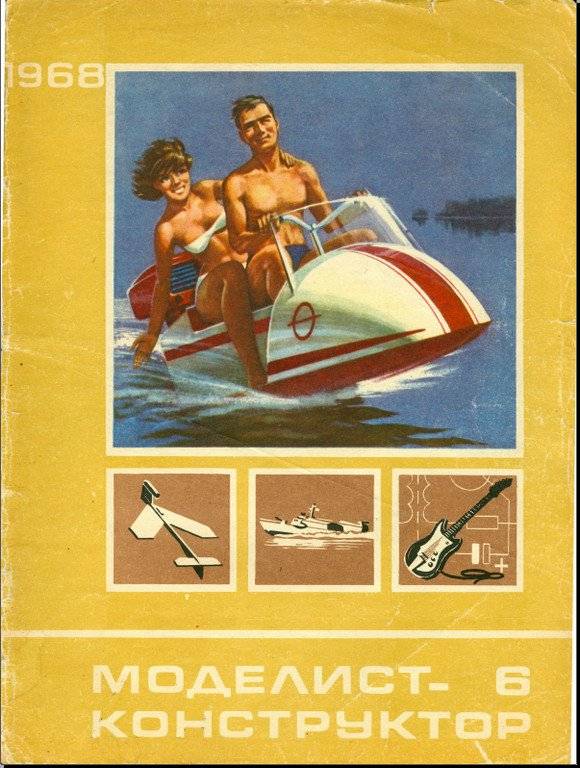 Such covers of the magazine "Modeler-Constructor" were also very attractive for the boys of the Soviet era. For different reasons…
In the expanses of the sky, thunderstorms died down,
And on the field, as if a redoubt was built:
It's waiting for model aircraft flights,
And the pilots are waiting in line.
One dream rages in us, one concern,
She leads us irresistibly forward -
Attach wings to man-made planes
And make a desperate flight on them.
"Hymn of Aircraft Modellers", text by Vladimir Yagudin
The inertia of human consciousness.
Modeling in the USSR was considered a good hobby and - no doubt - a good preparation for future activities. Roughly speaking: if you make aircraft models, you will become a pilot or an aircraft designer; ship models - a sailor, because "the sea is calling"; car models - a designer of new cars or, at least, a mature car enthusiast. Well, and so on for the types of technical modeling. And ... that's how it was, you can't argue with that.
But there was another benefit from modeling, which humanity realized far from immediately and appreciated only now. This is what the story is about, but it will begin, again, with memories, however, that are most directly related to the topic.
To begin with, my first children's technical magazine was "Young Technician" in 1964. For some reason, my mother wrote it out from the second issue and ... I fell in love with him for the cover alone.
Will you read the magazine and your destiny will change?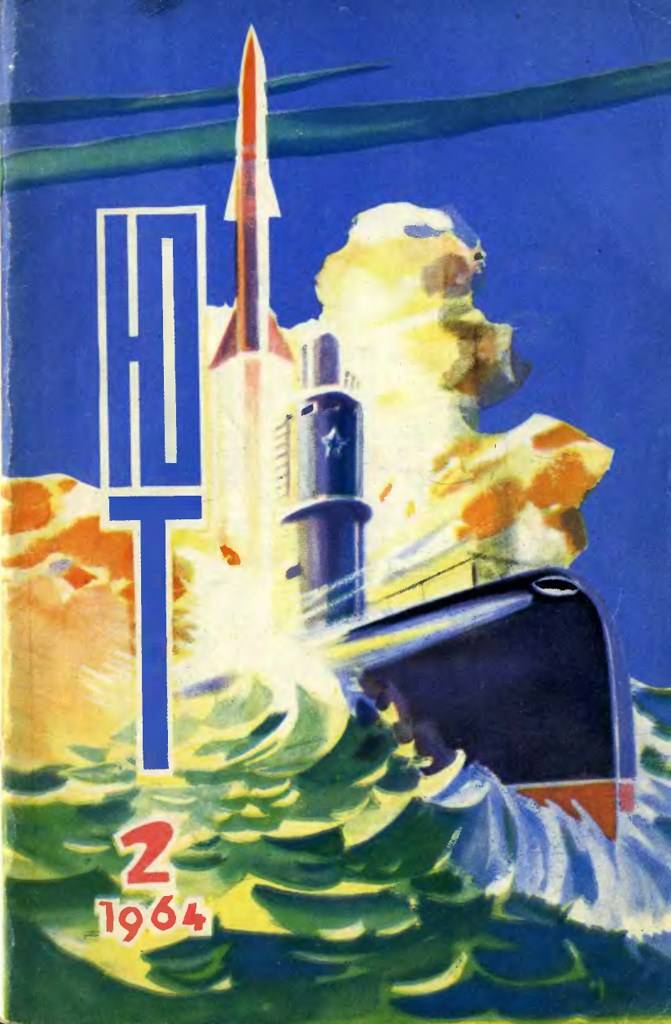 "Young Technician" No. 2, 1964
I saw my first magazine "Modeler-Konstruktor" No. 4 for 1966 at a newsstand, and the picture on its cover literally sunk into my soul. I started buying, and then they discharged it to me. And I wrote it out for a long time. Many years…
He did not calm down until he found previous issues in the regional House of Pioneers, as well as issues of the Young Model Designer. The fact is that from 1962 to 1966 we had YuMK, but from 1966 it became M-K.
All the time I tried to do something according to the drawings in this magazine, but ... I managed to do only a model of the Kon-Tiki raft and the simplest model of a rocket (and more than one!) To launch at school on the day of April 12th. And that's it!
The magazine did not determine my fate, nor did my visit to the aircraft modeling club, because mathematics was bad, and without it, what kind of engineer? But here's food for thought (and
historical
knowledge) I got from this magazine through the roof.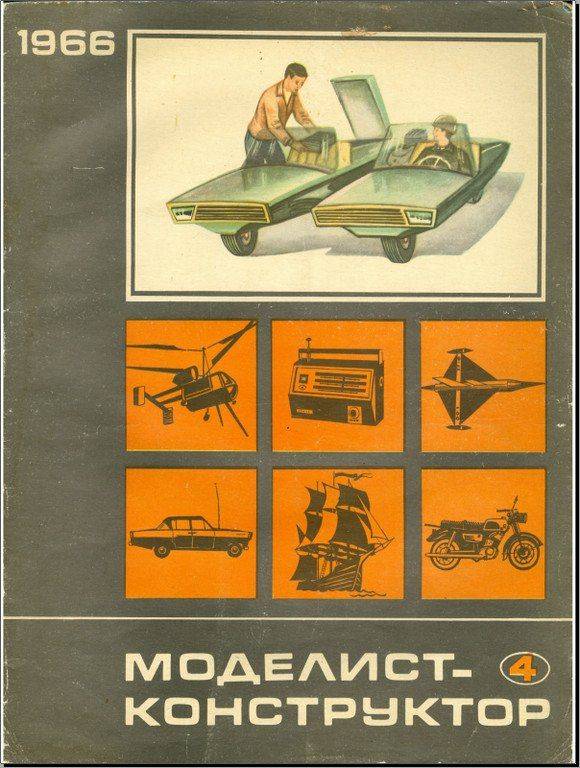 "Model designer" number 4 for 1966
So, I was very interested in the radio control of aircraft models, although in the radio business I understood even less than in mathematics. But this is the material I found in the YuMK - "Six-channel model control equipment" (No. 5, 1963). A detailed description, principle of operation and design features of home-made radio control equipment for various models.
In the same magazine, a model of a single-stage rocket with a standard powder engine was described, and the article also explained in detail the manufacture of a home-made powder engine for rocket models. What I already in the 9th grade took advantage of, having a school chemistry circle at hand.
And here are the articles from the "Young Model Designer", 1964, No. 8: "How to build a RUM-1 transmitter (six-channel control equipment for RUM-1 models"); "Flying wing" - about the various models of this type.
But most of all I was shocked by "Young model designer", 1965, No. 11. It told how to make a cord model-copy of the L-29 aircraft with a home-made jet engine, or rather, with a conventional model ICE, but built into the hull and with an impeller !

Here is a diagram of such a "jet" engine with an impeller based on a five-cubic-inch incandescent internal combustion engine. Why not a ready-made drive for the next modern combat UAV
Further - more: the article "Pulsating Jet" (M-K magazine No. 5 for 1967), which already talked about how to make a real PUVRD - a pulsating air-jet engine, and put it on a model.
The article "It's time for electric planes to fly" (from M-K magazine No. 11, 1980) was also very interesting. Well, then we didn't have any micromotors on neodymium magnets, or lithium batteries, and electric planes flew on forced DP-1) and DI-1-3 on ... cords through which current was supplied from a rectifier transformer. Primitive? So what to do? And the body of the L-29 was completely made of wooden frames and stingers - solid firewood, and nothing more!
Terribly I did not like such models and, once in the village, I began to invent my own for the school circle. And then there were programs on local TV and work at the Regional SYUT, where I also saw a lot of interesting things.
The directions are incomprehensible, but ... generally useful
For example, we regularly held competitions in timed models there (in my opinion, this model is completely stupid). In fact, it was a glider with a rubber engine or internal combustion engine. Such a model rose to the height and soared like a glider. Booked time. And then the timer released the elevator mount, and the model went down.
Three attempts, the maximum time is 15 minutes, but there are only 45. Somehow the timer failed, and the model flew for 1,5 hours. The guys from rural SUT made these models from slats and tissue paper. But our "aircraft modeler" had access to the research institute, and ... our "oblsyut models" were made of carbon fiber. The case, for example, weighed only 9 g! With very high strength. And this is already 1980-1982.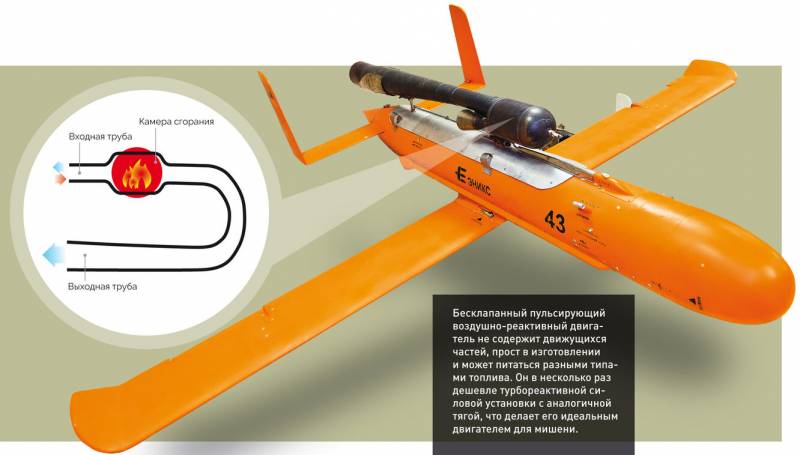 Development of a modern jet-powered UAV with a PUVRD. Photo popmech.ru
There were also popular competitions for launching models of rocket planes for a while: the same "timers", but with a rocket engine. There were two types of them: with a drop-down flexible v-shaped wing, which was retracted into the drop-down rocket body before launch, and straightened out upon reaching the maximum height. And rocket planes with a rigid wing, also folding downstream.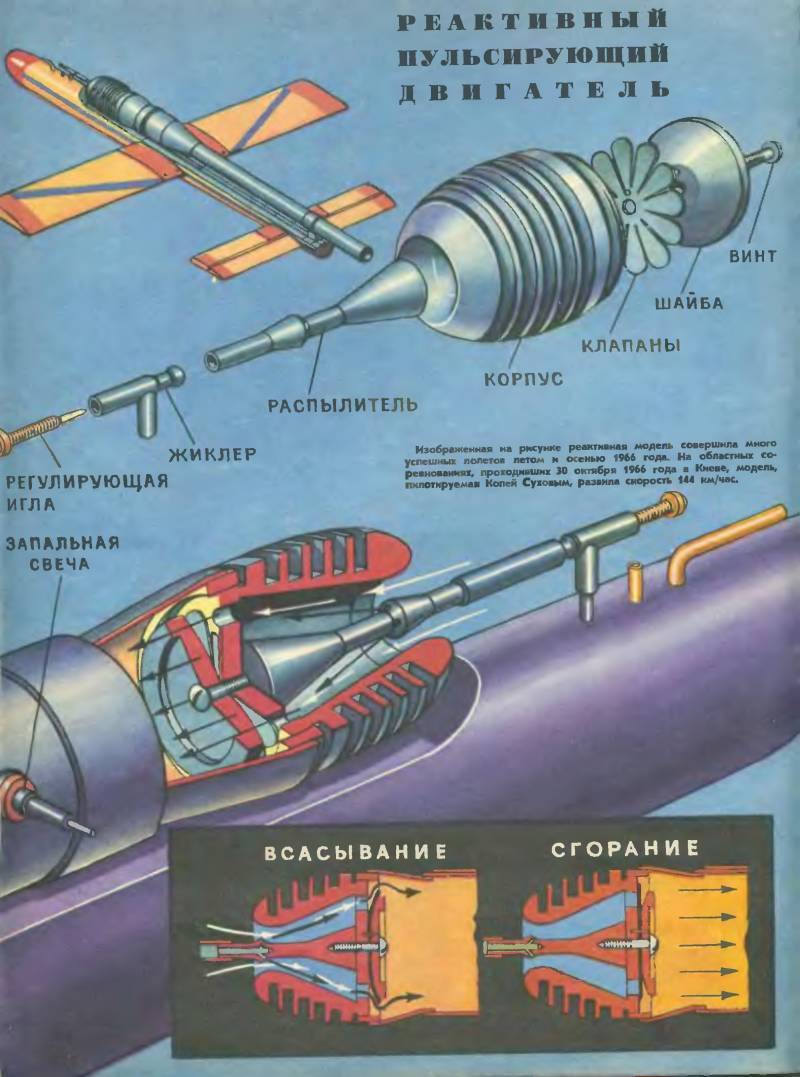 But this is a development from M-K. True, and very similar, and ... simple ?!
At one time - I read about it in M-K, in our USSR completely idiotic (in my opinion) models of single-blade helicopters became popular. Already today I read about the projects of such machines in the American magazine Popular Mechanics of the 30-50s. Even then it was clear that this would not go anywhere, by the way, they wrote about the same in M-K, but ... They continued to compete with them.
They took off on one blade very high and stayed in the air for a long time. There were also competitions in models of snowmobiles ... on one skate (not similar to real ones at all!), But they, without a doubt, developed our technical creativity. Knowledge and experience were accumulated, books were published - in a word, a scientific and technical base was created.
Was it helpful? Without a doubt, although these models themselves (single-bladed helicopters and single-ridged snowmobiles) did not look like anything.
And so the years passed. The USSR is long gone. No one is launching single-blade helicopters, just like snowmobiles. At Regional SYUT, priorities are given to robotics - also creativity for me - everything is assembled from sets according to ready-made schemes. The level of independence in work is minimal. Such is our time. But ... the entire accumulated scientific and technical base remained!
And again everything happens according to the principle "everything new is well forgotten old". Here is some research institute boasting that they made a flying target with a PUVRD! We found something to brag about when M-K, well, wrote about the same model back in 1967. There were both schemes and detailed drawings - take it and do it. Even recipes for fuel mixtures - and those were given.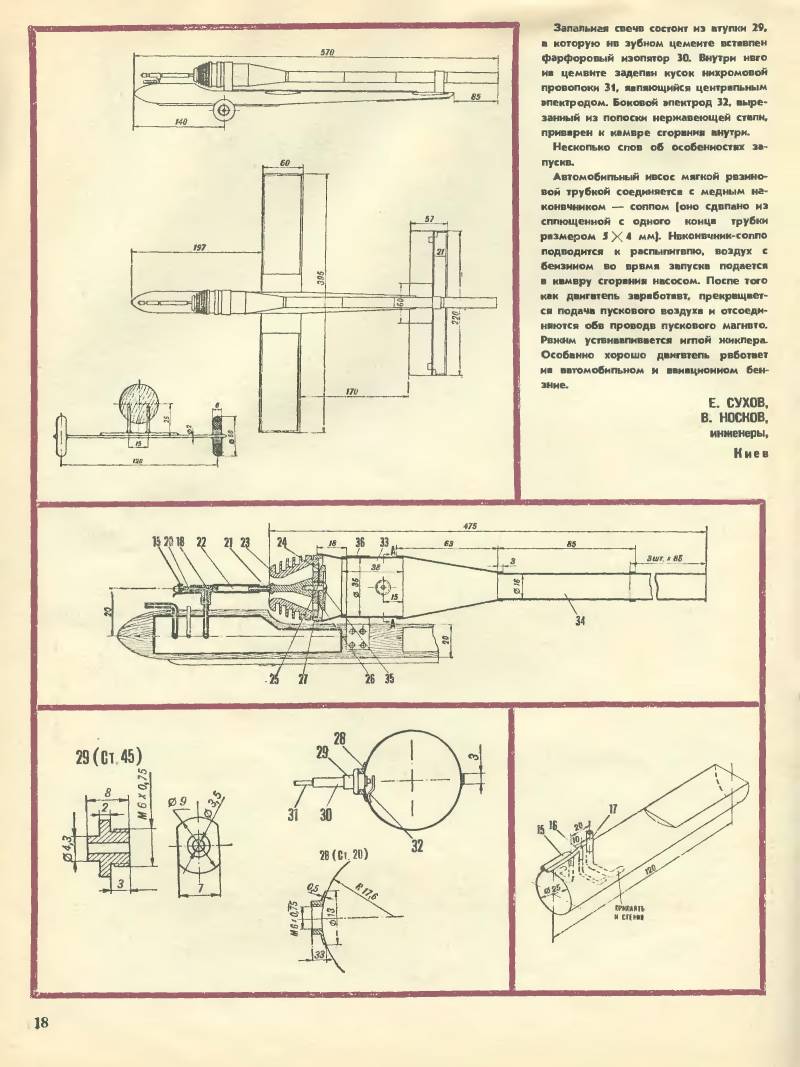 And here is the diagram of the device of this device, again, from the M-K magazine many years ago
What was missing? As already noted: small-sized steering machines, miniature video cameras, powerful microelectric motors, modern plastics and ... powerful current sources. In principle, all this today can even be put on an arrow for an ordinary sports bow and we will succeed
weapon
, described by A. Kazantsev in the novel "The Burning Island" (version of 1966).
Styrofoam Super Mini FAA
And now this: we take and stamp wings and plumage from foam plastic, glue the carbon fiber body and install our home-made ramjet made of duralumin and steel on all this. In the head part there is a control unit, a battery and a rotary unit with a video camera. And there, inside the fairing, also made of foam plastic, there is a cylindrical warhead: a cumulative funnel lined with copper, and walls made of welded steel bars 3,5 mm thick, notched into ready-made fragments.
The weight of the warhead is about 6-7 kg. That is, it turns out a shell of the good old Russian "three-inch". And that's it… You don't even need to paint!
This "thing" is launched one way, controlled by a joystick through the monitor, and flies ... low and at a very decent speed from 150 to 200 km / h, depending on the power of the PUVRD and the fuel used.
Such a flying "projectile" of the FAU-Super will be even cheaper than the Geranium, and it will be completely impossible to intercept it. And ... we got an excellent tool for combat in operational depth. And to do "such" today is within the power of very many enterprises. In fact, all you need to do is the PUVRD itself, the warhead and the body, and everything else is "cubes" that you can buy today.
Single-bladed re-takeoff!
A single-bladed helicopter can also come in handy, and how!
We take a plastic water pipe, open at both ends. We insert a rocket block into it with stabilizers that open after departure. A combat cylindrical part is attached to this block, cast from cast iron in the shape of a "lemon", i.e. with notches on the body.
The weight of the warhead itself is about 750 g. In other words, like a Russian grenade of the 1914 model. Only here in the bottom part there is a cumulative funnel, designed to break through 20 mm of armor, and ... a portable video camera from a "mobile phone". Above - a charge of hexogen with aluminum powder and ... a battery with a control unit.
Even higher is a ring rotated by a microelectric motor with two vertical posts. An aerodynamically shaped fairing is fixed on the racks, which can tilt left and right. The upper part of the fairing is rotated by a microelectric motor, and it has only one blade (for the sake of cheapness), which is controlled by another steering machine and can be folded downstream.
This UOP ("universal infantry weapon") works like this: the pipe is attached behind the back so that a shot from it does not touch either the head or legs. The starting angle is set by the tilt of the hull. Control - joystick through the monitor screen. When launched, the missile block throws the warhead together with the controlled part weighing about one kilogram to a height of about 180-200 m and a distance of 1-2 km, depending on the launch angle.
There, the rocket block is thrown away, the helicopter blade opens and starts to rotate, keeping the warhead in the air, and the video camera transmits the image to the monitor. If desired, you can go down even lower, if you want to move - the rotary ring sets the direction, and the slope of the fairing with the blade - the necessary thrust.
15 minutes in the air, let's say, should be enough for the operator of this flying grenade to find a target. Well, having found it, he turns off the engine, the blade is automatically placed along the stream, and ... the grenade flies down. Moreover, if the target is mobile, you can always correct the flight, until it hits it.
Expensive? Yes, maybe this weapon will turn out to be expensive. But now all weapons are expensive. And over time it will become even more expensive.
Well, the trend, so to speak, was prompted by the development of technical creativity and modeling in our country many, many years ago. It remains only to find something suitable, to saturate the old developments with new technological content, and we may have at our disposal an effective, and possibly not too expensive, weapon of today.