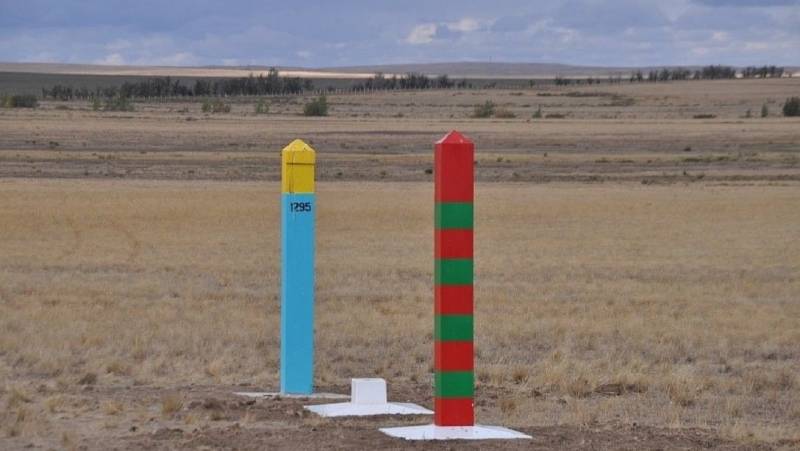 Holodomor and hospitality
In recent weeks, TV and the Internet have been flooded with footage of columns of refugees, only this time they were not representatives of the war-ravaged countries of Africa and the Middle East, rushing to fertile Europe. The refugees from the mobilization are purely ours, domestic, and the footage of the new "exodus" was distributed from the border crossings of Kazakhstan and Georgia.
The first two days after the announcement of mobilization, the flow of cars to enter Kazakhstan did not particularly exceed the average. From the night of September 23, it became already noticeable, columns lined up during the day, and later a traffic jam formed. The transition to Troitsk-Uralsk was especially unlucky, however, there were columns in the Samara, Astrakhan and Omsk regions. A day later, it became clear that the entrants were being held back on both sides of the border. In the places of congestion of those fleeing the mobilization, whom the locals already call "nomads" and simply deserters, small businesses flourished. But these are all, in general, probably the little things of life, and serious problems begin right now, after a few weeks of adaptation, when these people began to steadily fill the local landscape.
The fact is that neither the "frightened Russians", nor local politicians of various scales, and, as it is now clear, the administration of K.-Zh. Tokaeva (Akorda) had no idea what internal and external political processes this migration could trigger.
For migrants, everything seemed simple and clear: we take money, we go to Kazakhstan, which is in the EAEU, we wait. For Kazakhstani liberals of the "Soros call" this became the best, even ideal, way of a kind of trolling of the Kremlin. And so high-quality trolling that a whole information campaign was launched "to help those who fled from the bloody regime." For K.-Zh. Tokaev, in turn, it was important to emphasize "special hospitality for those in trouble" neighbors. The only problem is that this hospitality has had a rather specific connotation in Kazakhstan for more than thirty years.
It is no secret that an important part of the domestic policy of our southeastern neighbors is the issue of de-Sovietization. In each country, this process has its own characteristics and forms. They are, of course, not as radical and unscrupulous as in Ukraine, but not as harmless as some Russian speakers often try to say. In Kazakhstan, de-Sovietization relies on a bunch of "asharshylyk" and "konak" narratives.
"Asharshylyk" is a famine that occurred on the territory of Kazakhstan in 1928-1934. and is officially referred to as "Holodomor". As in Ukraine, this tragedy is presented as a natural manifestation of the cannibalistic essence of Soviet power. The difference from the Ukrainian version is that at the state level the special malice of the Russians in this event is not recognized. However, nationalists more than fill this gap with independent creativity.
"Konak" is a guest, and hospitality in the official ideology is not just a traditional feature of the Kazakhs, but, moreover, a special, even genetic Kazakh feature. And allegedly, it was precisely because of the sacred understanding of hospitality during the Great Patriotic War that the Kazakhs received tens of thousands of immigrants from Central Russia. They accepted refugees from fascism and devastation, in fact, a lot and really sincerely tried to help. But in this case, in terms of ideology, it's not just that "asharshylyk and konak" stand together - it turns out that the Kazakhs themselves, having suffered from the terrible yoke of Soviet power, accepted refugees from Central Russia, which, with this power, albeit not directly, but associated.
Using these narratives for many years, Kazakhstani information resources also worked out the theses about the "positive aspects of the Soviet period", "true friendship of peoples", but under all this lay the main question: "who should be grateful to whom and for what and what is gratitude in general ". Such an ideological link is much more flexible than Ukrainian political mythology. It is very difficult to undermine it in terms of official policy. But she did her job of "making the independence of the Kazakh nation" quite well.
K.-Zh.Tokayev, when the flow of deviators became already concretely palpable, came out with an appeal to help the refugees, since the principle of hospitality is, according to the state ideology, one of the basic and unshakable elements of the state ideology. And those who were and are on Soros feeding supported this with speeches and actions, because it hurts, in their opinion, hit the Kremlin: "I accepted a Russian - I took a machine gun from Putin," and posts in Telegram were full of the same vein .
Neither the government nor the Sorosites expected that all this would enter into a completely head-on and uncompromising confrontation with the "grassroots" or, as they are also called, "domestic" nationalists, whom the Soros considered for a long time as their reliable support and allies, and K.- J. Tokayev tried not to disturb, because the nationalists never considered the current President of Kazakhstan as "theirs". For Kazakh nationalists, although it sounds very strange to the Russian reader, K.-Zh. Tokaev is a pro-Moscow politician, and he constantly has to prove the opposite, which takes away administrative resources. And the resources are very needed - in November, the largest elections.
Even the speech of K.-Zh. Tokayev at SPIEF-2022, which caused a storm of emotions in the Russian segment, only partly reconciled him with this nationalistically colored segment. Like, "OK, but let's see what's next." They are also distrustful of their half-hearted position on the infamous language issue. Constant retraction of shares of linguistic ultras.
It's no secret that the topic of language in Kazakhstan has been artificially swayed for many years. Not only Russians proper, but also those ethnic Kazakhs who live in the northern regions and work with Russians and in Russian, fall under its rink. And also immigrants to Kazakhstan, repatriates are also ethnic Kazakhs, who are called "oralmans", and from year to year claims are made against them, they say, how they still have not learned their native language. Often these clashes are much more emotional than between the Russians themselves and the Kazakhs, because there are already more than a million such repatriates.
And now, when, on the one hand, hospitality cherished at the state level, which, as we wrote above, is not just a kind of bond, but one of the ideological foundations, the country is literally flooded with Russian speakers, who, of course, will not be able to learn Kazakh, and they won't try. And to stay and request a residence permit is exactly how refugees, in principle, are capable. That is, the main fear of the Kazakh ultranationalist is coming true - the Kazakhs will be diluted right now by the "orys" (Russians).
Whose Crimea, deserter?
And the nationalists responded with their activities - not to serve in stores without a greeting in Kazakh, not to rent out housing or rent, but at a deliberately astronomical price, not to give work, not to help in institutions. At the border, they began to issue "memos" where it is written that the Russians -
historical
conquerors and oppressors, what is possible and what is impossible for Russians in Kazakhstan. Flash mobs began on the streets like: "Whose is Crimea, a deserter?". Many office fugitives were surprised to learn that in the mythology of the Kazakh ultras Omsk, Novosibirsk, Tobolsk, Orenburg, Samara and Astrakhan are ... primordially Kazakh lands and cities, which they are now invited to learn and pronounce as a formula of life, because otherwise case, you can play volleyball "face".
At the initiative of the presidential administration, the prosecutor's office was forced to make an official statement about the inadmissibility of such actions and respect for the principle of hospitality, but the effect turned out to be the opposite. Ultars began to declare in public that K.-Zh.Tokaev still remained in Moscow. And, we repeat, the elections are right on course.
The problem of K.-Zh. Tokaev is that his task in these elections is to turn the entire "hodgepodge" that he dragged into politics this year into a centrist platform. To do this, he is running not only from the base party (Amanat), but also from three other political associations, and goes to the polls with the set set of ideologies, where another pillar is the concept of "Kazakhstan". The attitude of many ethnic Kazakhs towards Kazakhstanis is approximately the same as that of many Russians towards Russians. It seems to be nothing special: that one is a citizen of Kazakhstan, this one is of Russia. However, in response, many would like to somehow fix their specific national identity. Another thing is that in Kazakhstan all this is expressed more sharply today.
A special role was played with Astana by the fact that in relation to the special military operation, official Kazakhstan took an almost emphatically unfriendly position, which no "formal neutrality" can hide. And all this Soros army, ultras and "wide" Ukrainians who left Ukraine themselves, initially represented one "interest club", which, with all the current contradictions, can be reunited on practical political demands with a skillful hand. No wonder, because yesterday Crimea, today Donbass and Zaporozhye with Kherson returned to Russia, but what tomorrow? What if Uralsk and Pavlodar want to? This is my favorite associative link since 2014.
As a result, K.-Zh. local authorities. After all, for one attempt to serve free tea to refugees today, there are ten others, when they can simply not fill up the car. There is very little time left before the shadow opposition, based on these moods of the "popular masses", especially, we emphasize, in the south-east of Kazakhstan, does not saddle the electoral processes. In this case, the great "September 90st Plan" runs the risk of not only being a failure, no, of course, but it may have an ambiguous result, due to the fact that not the entire vertical can turn out to be integral in the ideology of the "Kazakhstani".
Surprisingly for K.-Zh. Tokayev, the Soros and Ukrainians have already become somewhat toxic over the past couple of weeks, as they are rocking the state boat of centrism. What is worth only one episode with the departure and return of the Ukrainian ambassador, who was marked by a completely disgusting Russophobic interview. For a diplomat with Tokayev's experience, such "push-pull" is unacceptable, since it is not his task to strain relations with Russia beyond a certain measure, and he has to take into account the line "from below". This is an extremely uncomfortable situation before the elections.
The author was extremely surprised when he learned that the people went to Kazakhstan in a stream "to hide from mobilization." Here, honestly, they could not find another place, especially at such a political moment in time. On the other hand, they will feel the full negative power of the nationalist ideology, which was not paid attention to for so many years in Ukraine, they took pity on the nationalists in Ukraine, sympathized with them, cursing the "regime" and "fighting the system." As they say, eat to your health, it's not a pity, at the same time you will find out who Omsk and Astrakhan were and who was the first person on planet Earth.