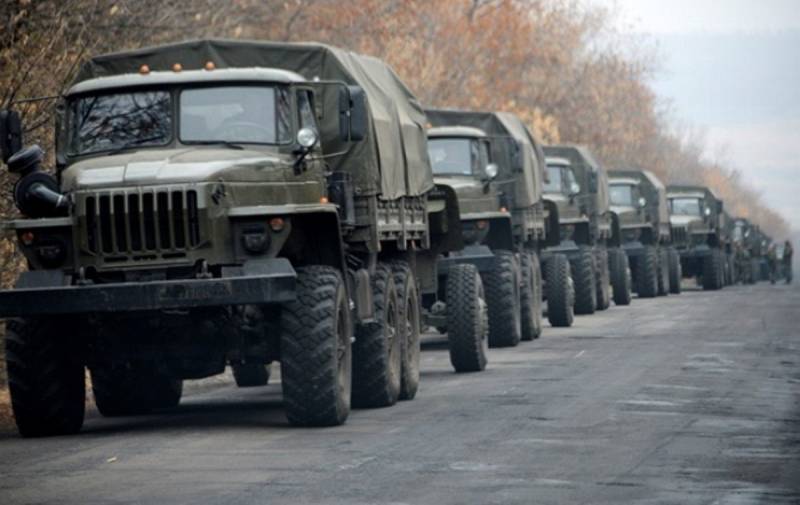 foreword
This work can be regarded as freethinking or fantasy and not taken close to heart. The opinions expressed can be biased, erroneous, far-fetched and even harmful. Ideas are unrealizable in practice. There are a number of important assumptions in the text.
Assumptions
- Women do not give birth to new ones. In urban conditions, a child is quite an expensive pleasure. It is problematic to meet barefoot children living in dugouts in the villages. If a child is gifted and with a good education, then the state must make efforts so that he does not fall down. In general, such an attitude towards our women is unpleasant;
There are no bad soldiers, there are bad commanders. Proven by Napoleon, Genghis Khan, Tamerlane and some football coaches. They say that Makhno had the talent of a commander. But all this is not accurate;
- in his fantastic opus under
"generals"
I will have in mind not specific titles and their holders, but a collective image that has developed in the public mind. Even a humanitarian with the habits of a pacifist, who has never served in the army, can fit under this definition.
weapons
only kept
historical
replicas or in computer games;
- the same conditional
"generals"
not ready for the last war. Many in their dreams see Napoleonic battles with cavalry, mercilessly smoking cannons and marching soldiers in haute couture uniforms with obligatory golden epaulettes, or sea battles on sailing frigates the size of a five-masted brig and obligatory boarding;
- again those very conditional
"generals"
. They love reconnaissance in combat. We prefer to walk. This is their blood and flesh, the whole whole essence and nature. Other tactics are unacceptable and do not deserve any attention;
- An ordinary soldier is, first of all, a man of flesh and blood. It has natural biological needs that are vital. Due to the characteristics of the organism, it can exist in certain environmental conditions. He also has relatives, friends, social connections and affections. This is not a terminator from a favorite movie and not a superhero;
- there will be many letters, compound and complex sentences;
- perhaps "captainship";
- the expressed advice and rationalization proposals can be safely treated as harmful with a certain degree of irony;
- it may seem that much is divorced from reality, fantasy and not realizable.
So, the sofa is spread out, the cat is fed, the Internet is on.
1. Armored trucks
In the event of armed conflicts, fighting subunits constantly need to deliver ammunition, weapons, food, new equipment, and new people. You also need to pick up faulty weapons and equipment for repair, people or what is left of them. All this is not happening in a friendly and favorable environment. No gas stations with polite staff in uniform and a snack shop, no illuminated highways, no hotels where you can sleep, wash, eat, change clothes. Instead of roads - directions, so often shot through and mined. Your CO.
I drew attention to one feature. On civilian vehicles, to protect against getting into various emergencies and troubles, they usually hang or install various religious objects. Parprise icons, crosses on the rearview mirror, talismans and amulets. The military hang bulletproof vests on the windows. And they run as fast as possible. Truly, trust in God, but do not make a mistake yourself.
The practice with curtained side windows is probably as old as bulletproof vests. About forty years to be exact. The question remains, what were the manufacturers of cargo military equipment thinking about all this time? About progress in the production of bulletproof vests or progress in the reproduction of new drivers? Obviously nothing about the protection of the driver is not thought out. Or only occasionally.
In addition to the cabin with a driver and a passenger, there is a body with personnel. Again your KO. If in the warm offices of the design bureau (hereinafter referred to as design bureau) they inadvertently believe that the awning tarpaulin is able to withstand any bad weather, fragments and small-caliber bullets, I will disappoint. Might not survive meeting with a branch. And it is easily removed with a branch along with the frame. I answer legitimate questions about a sudden branch and where the driver was looking.
The driver was watering at 60 km/h in the likeness of a dirt road in the hope of slipping through and did not steer a little. This moment, most likely, was also not remembered by the manufacturers of army trucks. A member of the KamAZ-Master racing team will not always be behind the wheel. Often there are guys with the rights of the category "
It
and initial driving experience.
What else? Sometimes the column moves for a day or two, so you have to sleep right in the cabin along the seats, cook grub there and store a bunch of belongings under and behind the seat. Radio station? It's good if they release it. Regular is not provided, from the word at all. A separate song about a tin tank and exhaust volume. Such an impression aesthetes of a loud, juicy bass exhaust work at KamAZ and they specially designed such a muffler. "Urals" in this regard are similar.
I also understand why people like to ride armored personnel carriers, and not in the back of a truck. The armored personnel carrier goes softer over bumps. Especially BTR-80. Smooth and quiet compared to conventional sprung-type trucks. At the same time, the BTR-80 power plant is similar to the KAMAZ one. So, in the armored personnel carrier they managed to place the tanks under the armor, in the same place the engine, the cooling radiator and the clearance of almost half a meter were made.
It turns out that it is possible to release a kind of truck with an armored cab, personnel protection, protected engine and tank, low profile and noise, independent suspension, high ground clearance and a winch. Only this is called an armored personnel carrier and, unfortunately, it is not suitable for modern realities in terms of the level of protection.
There is one interesting observation between an armored personnel carrier with a flat bottom and independent suspension and a truck with a rigid dependent suspension. It is easier to pull out an armored personnel carrier when it has sat on its belly than a truck that has sat down on bridges. When loading an armored personnel carrier onto a train, it is not so important whether there are sides between the platform cars and what they are made of. An interesting 8x8 scheme came from our designers. They just did not begin to develop further, despite the great potential for development. However, as always it was customary with us. Even in football.
What would you like to see in the military? A fully armored hood-type truck with a mass of 20 tons, a carrying capacity of 10 tons and the ability to withstand 12,7 mm caliber bullets and a mine explosion. No, I'm not crazy, not in a terminal state and not delirious with such Wishlist. I can perfectly imagine from the inside how the process of developing technology takes place. That's why I'm raising the bar.
The developer will not howl so croaking at the beginning he will beg to change the mass of the machine to 25 tons, and lower the load capacity to 5-7 tons. There will be plenty of reasons. Starting from the laws of physics and mathematics, ending with the paradoxes of philosophy and cultural customs. Then this process will go on knurled. Therefore, as a result, a chimera will appear weighing more than 30 tons, with a carrying capacity of about 3-4 tons, it will withstand hits by 12,7 mm caliber bullets, but under certain conditions and not everywhere, with mines - as lucky. Usually, when a customer wants High-Tech, he gets something in the "hi-so" style and wishes not to show off.
Still, I do not consider the declared figures to be fiction, and this is quite possible with the current level of scientific and technological progress (hereinafter referred to as STP). I'll explain now.
In the helicopter industry, armor is used that can withstand a 12,7 mm caliber shot. It is a layer of steel armor and an aluminum alloy layer behind it to absorb shell fragments and armor. Apparently
aviation
steel for armor and aviation aluminum are very cheap, so they are used there. And for ground vehicles, everything is very expensive and not technologically advanced. At the same time, the world of passive protection does not revolve only around armored steels and aircraft-grade aluminum.
Different versions of ceramics, materials based on carbides and nitrides are used, there are strong polymeric materials. Humanity has come up with a lot of composite materials. Not satisfied with aluminum - there is titanium. The ninth most abundant element in the earth's crust. Carbon is less common than titanium. If a manufacturer of military equipment is not able to protect the personnel of the Ministry of Defense from modern factors of destruction, why does the Ministry of Defense need such a manufacturer?
I wrote earlier that a convoy of trucks can move for several days. There are cases - the column arrived, brought everything you need, even unloaded in a day. Then he waits for his fate. It can immediately set off or wait a few days for the commanders to decide what to do. It doesn't matter what the drivers are doing all this time, as long as they don't get in the way. Is it important where they sleep and rest after the road? It's good if there are places in the barracks or a tent camp. And when not? We arrived in an open field, unloaded, and then the legend or the weather changed dramatically. Where is the fighter to spend the night? There are not always free places for a dear guest.
On the other hand, the sleeping bag does not take up much space in the cabin. A simple single without all the frills that have long become the norm in civilian trucks. There's not much armor steel needed to lengthen the cabin. Just think with your head and understand that a machine can be driven by a living person who can get tired, and sleep is vital for him. A tired, sleepy person driving a multi-ton colossus with ammunition or personnel is more dangerous than a tipsy reckless driver. Slowly blink a couple of times - and remember your name. Just do not offer a semblance of a hammock as in the GAZ-66.
Probably, many readers of these lines had to both observe and participate in rescuing stuck equipment. Any all-terrain vehicle gets stuck. Even
Tanks
. Your CO. But now it's not about them. Again, I don't understand why the manufacturers of equipment, which is destined to knead the roads of varying degrees of mud, did not bother to equip it with a winch. This is a technologically simple product and does not require high-tech solutions, rare earth metals and precision CNC machines.
It is usually located in front of the radiator grille and serves as additional protection for the engine from possible arrivals. Designed to save a lot of time and effort when rescuing a stuck car. Maybe someone thinks otherwise, only on a military truck the winch should be a standard device.
Let me summarize my writing. Freight transport in the army is like a circulatory system. A vessel was pressed somewhere, and part of the body was left without blood supply. It's good to have a bypass route. Otherwise, tissue necrosis will occur. Equipment to ensure the continuous supply of troops in combat conditions must be ready not only for current realities, but also for the challenges of the future. One can say about the current fleet of trucks - it is absolutely not ready, let alone for the current state of affairs, even for the conditions of 30 years ago.
Now attention. The funny and frivolous part of the story begins, relax and turn off the inner bore. The development of such trucks, I believe, should be entrusted to the Kamov development team. The same manufacturer of helicopters.
Calm down, I'll explain why. The developers of this company have real decades of experience in the production of military equipment for such armor. As it is now fashionable to say, they have a corresponding case of developments and ready-made prototypes. Automakers don't have this. What they whip up in a hurry will be terrible. Because they will do as they see fit, and they do not care about the experience of others.
The developers of Kamov understand what the convenience and ergonomics of controls are, they are not afraid of electronics and innovations. In addition to the communication system, they put diagnostic systems, navigation systems and much more on their equipment. At the Ural, they still cannot remove the gear lever from between the passenger's legs, they also did not bother to make a simple gear shift algorithm. I'm not talking about the automatic transmission at all.
Kamov's company has colossal experience, great scientific potential, highly qualified specialists and production culture. Most importantly, they worked to improve their products. Technique changed, evolved to the requirements of combat operations. People generally care about the protection of the crew and the survivability of the vehicle even at the development stage, and not in the hope of armor on the windows and a home-made steel shield in front of the radiator. I will leave aside the claim that Kamov's development did not proceed as quickly and not as qualitatively as I wanted. Work was underway. What can not be said about the manufacturers of army trucks.
KamAZ remained a mining dump truck with minor modifications. It seems that they have one drawing board and a T-square for the entire enterprise since the construction of the plant. At times they lengthen the frame, remove the dump truck body to make it look like a truck tractor, change the name of the model. But the cabover mining dump truck remains. Karma cannot be deceived by any newfangled colorful presentations.
At the "Ural" there was a transition from a gasoline engine to a diesel one. That's all. Unless now they have Ural and Kamaz on their cabs. Very serious and timely improvements.
Ready for reproaches that just recently, at another show, our legendary army truck manufacturers demonstrated a prototype of an armored truck. True, five meters or more high, of incredible length and mass, even at a price that outweighs a charged sports car of hand-made piece production. What did they do before that, what did their design bureaus do?
Why are they moving only now? Prior to this, the alignment, when, when a mine was blown up, everyone who was in the car went to Valhalla - did it suit you? Losses and characteristics of losses during the hostilities in Afghanistan and the Caucasus did not say anything at all? No, this is a complete disqualification and loss of confidence.
If someone says that this is complete nonsense - entrust the development of an army armored truck to a helicopter manufacturer. Then what is the name of sending a convoy of ammunition trucks, with absolutely no protection, into territory where an ambush is possible, in the hope that it will blow? I know perfectly well that such columns move under the cover of armored personnel carriers or infantry fighting vehicles, sometimes even a helicopter gets.
Only they are usually surprised in the first place in the form of a mine or a rocket-propelled grenade.
Then comes the unhurried massacre of the unarmed column. In modern realities, in a good way, even a column with armored trucks and the cover of an armored personnel carrier or infantry fighting vehicle must be equipped with at least two attack drones. One ahead for reconnaissance, the second above the column for cover from above. I will leave this wishlist without comment. About drones will be in the next part.
2. Armored non-trucks
It turns out that the troops still need more than just trucks to transport personnel. We need cars and also armored vehicles. Bobby are good for fishing, trips out of town and for parades. That's all.
In this weight category, there seems to be slight progress, and it's not worth hitting Mil's developers with a forehead for now. Apparently, our beloved ones have seen enough of the Hammers
"generals"
and wanted the same machine. It just got better. There is armor, mine protection and even a winch. Who went as a driver or a passenger - tell us about your impressions. How does it compare to an armored personnel carrier and a truck?
What needs to be improved, what to add and what to remove? From myself I will add wishes for further development.
The transition in the next incarnation to a universal platform, when a wide range of vehicles can be produced on the basis of the chassis. Increasing the level of booking. PCT is often used for a long time and in many places. You should not hope that you will have to face an enemy armed with AKMSU-74 and 12-gauge rifles.
3. Maintainability
The next Wishlist is maintainability.
This is a fundamental requirement, and it remains to be seen what is more important: high protection against 12,7 caliber or maintainability. Those who are familiar with the analytics of the victory of the Soviet troops on the Kursk Bulge noticed that one of the victory factors was the high maintainability of our tanks. It was easier to repair in the field. And this served as one of the guarantors of victory in that battle.
I often heard references to the mothers of the Urals developers from drivers who had the good fortune to repair a car in the field. About the convenience of access to the nodes, the originality of the design, about ... On KamAZ, of course, you need to bow to the cabin, otherwise there is no way. But if it rains, he climbed up with a tent or a piece of cellophane, and there is more access to the knots.
There are charms in a raised cab than riding on the hood. But maintainability should be initially considered and laid down with the expectation of adverse field conditions, low qualification of personnel and the absence of a wide list of spare parts.
How does the acceptance of military equipment look like for us (and not only)? Manufacturers arrived at the test site with samples of their equipment, showed what it was capable of or unable to do, then, perhaps, a decision would be made to adopt or refuse. Compliance with the specified parameters and characteristics does not cover the entire life cycle of the equipment. It tends to break or it will break, the latter is more likely.
Therefore, in an amicable way, it is necessary to add the requirement of maintainability. If a developer, in a creative impulse, believes that his equipment will always be serviced in sealed heated boxes with lifts, hoists and auxiliary equipment, the deputy technician will always have a full range of all kinds of hardware and repair kits in his pockets, and certified mechanics with two-meter hands and a grip of fingers will repair, like a vice.
Let him continue to think so, and nothing more. When, with all the compliance with the given parameters, the equipment is not designed for repair and restoration in the field by incompetent personnel with minimal repair opportunities, it has nothing more to do than prototypes.
What can be suggested to reduce the time for troubleshooting and troubleshooting? I do not consider transferring the experience of finding and eliminating the cause, depending on the sounds produced and characteristic symptoms, from the older experienced generation to the new one with the help of magic pendles and slaps. Equipment should be repaired and put into operation as soon as possible, and not sort things out and make assumptions.
At the same time, many middle-class passenger cars have diagnostic systems that include an on-board computer and a universal bus for connecting sensors. And they did not appear yesterday, on some models - at the beginning of the century. Here I do not advocate installing a mountain of sensors and entangling the car with a CAN bus, when the car will not start if the sensor fails.
This happens on some cars. I'm talking about a diagnostic system that will allow you to identify a malfunction without disassembling the units, listening to the engine and dancing with a tambourine. It is very interesting to find out in the comments why they are so afraid or hate electronics on domestic ground vehicles?
"Generals"
expect that it will be operated directly at the epicenter of a nuclear explosion?
How else to explain the absence of not only the semblance of a navigator for the driver, but even a walkie-talkie? I am generally silent about the system for diagnosing the state of machine components.
4. Living conditions
Sometimes it happens that armored vehicles are installed at the post behind a pile of boxes, reinforced concrete blocks or in a caponier. Day and night, soldiers guard the enemy in it. This is the guard post. Only without the parting and changing of the guard. If it is warm during the day, the armor tends to warm up well in the sun, at night there can be a full dubak.
The dimensions of the BMP do not allow to warm up, to warm up the frozen, swollen parts of the body, as is possible at the post on guard. Sometimes the weather does not allow much to lean out on the street. Rain, snow is poured in such a way that, well, it's in FIG. I didn't have to meet working stoves, and they plant a battery well, because these are military stoves. Start engine to warm up
salon
, is not always possible.
They may simply not understand or fire at. We do not provide options with two engines in principle, when one is "marching", the second with a power of 5–10 hp. With. - for charging batteries, powering electronics and electric drives, as well as heating, cooling, ventilation. Our industry simply does not produce anything like this.
From what comes to mind - engines for "Minsk", "Izhey", "Urals" and squalor for "Oka". Therefore, the fighters, in order not to completely die, go to various tricks. Friends made fires inside the equipment. They warmed themselves in a black way, at the same time they prepared seagulls. In order not to burn, they opened hatches or loopholes. In the summer, in the sun, of course, all the hatches wide open and poured water on myself. You sit in a lump, you dry out. If ventilation, then natural in the form of a breeze in open hatches. Tankers, respond, who really has the ventilation of the powder gases of the shot? In armored personnel carriers and infantry fighting vehicles, I have not seen such a chip in the factory configuration.
I know a story about a soldier's overcoat. That it was invented by the best Soviet scientists. In summer it is not hot because it is unlined, in winter it is not cold because it is woolen. Some were lucky to walk around in it and test the beauty of the bike for themselves. Therefore, I do not propose to trim the insides of military vehicles with an overcoat.
I suggest that the developers in the design bureau think about the fact that people can stay in the equipment for a long time and be on combat duty. Although it is believed that a modern tank lives 15-20 minutes on the battlefield, only in this tank sometimes you have to live for months. And to maintain acceptable conditions, there is usually nothing but a steel floor on which to build a fire.