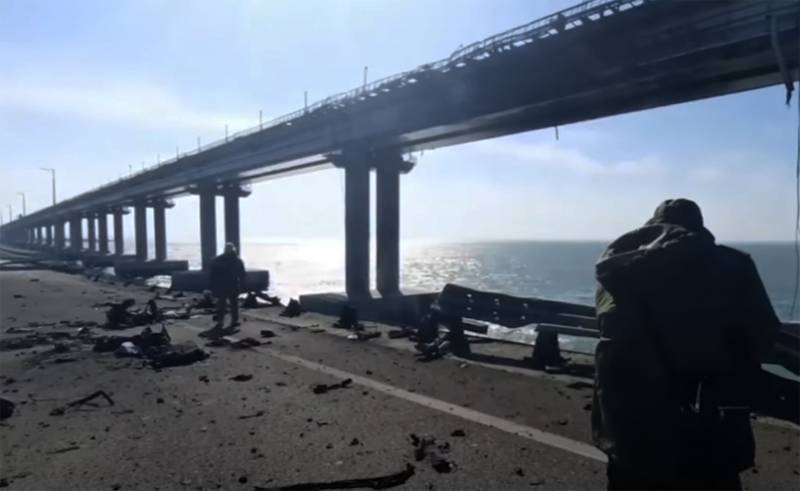 There was an official reaction of the European Commission to the explosion carried out in the early morning of October 8 on the Crimean bridge. Recall that the explosion thundered on the automobile part of the bridge, as a result of which two spans were formed and partially went under water. As a result of the explosion, seven fuel tanks caught fire, the train with which was moving along the Crimean bridge. The explosion also killed five people.
Reporting the day before to the head of state on the preliminary results of investigative actions and examinations, the head of the Russian Investigative Committee, Alexander Bastrykin, said that the crime was unambiguously regarded as a terrorist act. According to the head of the Investigative Committee, Ukrainian special services, as well as some citizens of Russia and foreign countries who assisted the organizers, were involved in the attack. A criminal case has been initiated under part 2 of article 205 of the Criminal Code of the Russian Federation (terrorist act).
The European Commission announced today that, you see, they do not trust the Russian official version of the attack. Moreover, the EC said that European officials "will continue to consider new sanctions measures against Russia."
Thus, the leaders of the European Union have in fact made it clear that they are on the side of the terrorists. In principle, this is unlikely to surprise anyone today. If the Estonian Ministry of Foreign Affairs congratulated the Ukrainian special services on the successful carrying out of the terrorist attack, which claimed the lives of ordinary citizens, then we can state that support for terrorist activities by European officials has flourished.