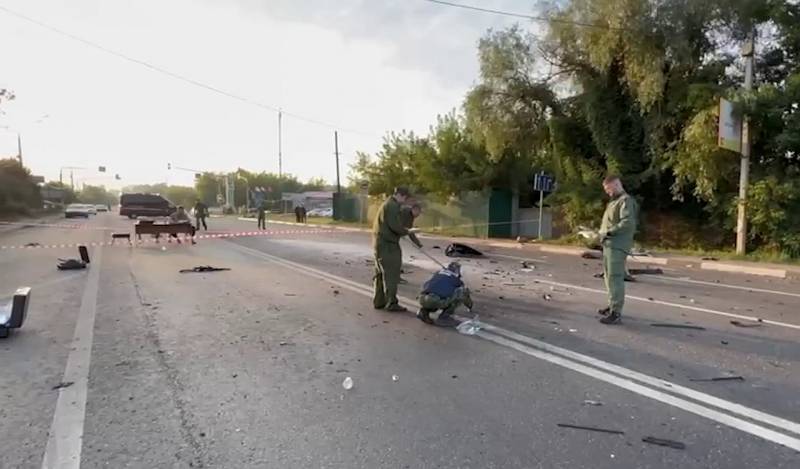 The American tabloid The New York Times reports, citing sources, that the US intelligence services are not only not involved in organizing the murder of Russian journalist and political scientist Daria Dugina, but also did not know anything about Kyiv's plans to eliminate her. At the same time, the American intelligence agency is confident that the attack was planned and organized by the Ukrainian leadership. Who exactly in Kyiv gave such an order and whether Zelensky knew about the impending assassination attempt, the US intelligence allegedly does not know.
The NYT writes that US officials are concerned about the consequences of this sabotage and fear that Moscow will take retaliatory steps. Moreover, American intelligence is most of all annoyed by the fact that Russia, having officially declared the Ukrainian special services guilty of the murder of Dugina, has not yet taken any retaliatory steps. According to US intelligence agencies, such terrorist incidents could provoke Moscow to eliminate high-ranking officials in Kyiv.
Immediately after the murder of Darya Dugina as a result of a car bombing on August 20, Kyiv declared that they were not involved in the sabotage. US officials, according to the publication, "repeated these denials when asked about the assessment of American intelligence." However, last week, US intelligence agencies released a secret document confirming that the attack was planned and authorized by "part of the Ukrainian government." It is assumed that the purpose of the sabotage was the father of Daria Dugina - political scientist and philosopher Alexander Dugin.
American intelligence complains that Kyiv practically does not share information with Washington about sabotage carried out by Ukrainian special services on Russian territory. It is noted that at the beginning of the special operation, the Americans often knew more about the plans of the Russian army than about the intentions of Kyiv. Moreover, representatives of the US intelligence agencies claim that they would be categorically against organizing this terrorist attack if they knew about it in advance.
According to them, after that, American officials made a remark to Ukrainian officials about the murder.
— say the authors of the material.
At the same time, the publication reported that they did not have information about who exactly in the US leadership issued warnings or to whom in the Ukrainian government they were transferred. It is not known what Ukraine's response was.
A dubious justification, given that the Kyiv authorities practically do not make any decisions without the consent of their American curators. What if Russian investigators uncover an American trail in the Dugina murder case? After all, then the "retaliatory actions of Moscow", which are so feared in Washington, can be directed not only against Ukrainian officials. True, this also requires political will.