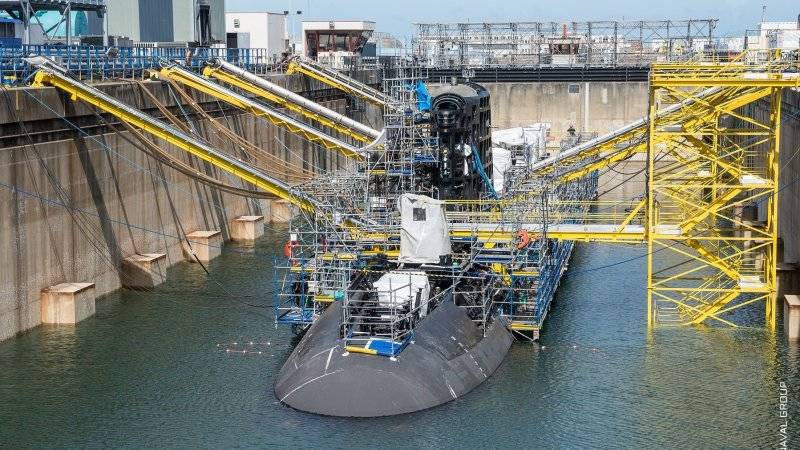 On the second multi-purpose nuclear submarine of the new generation Duguay Trouin (Duguet-Truen) of the Barracuda type, a nuclear reactor was launched. According to Naval News, the submarine is slowly being prepared for sea trials.
The Duguay Trouin submarine is the first production submarine after the lead Suffren, was laid down in June 2009, decommissioned and launched in November 2021. It was planned that the submarine will be transferred to the French Navy at the end of this year, but for some reason, sea trials will only begin at the end of the year. It was planned to introduce it into the combat structure in 2023, but apparently the dates will shift greatly to the right. The submarine was named after the Breton corsair René Duguet-Trouin of Saint-Malo, who made a brilliant privateer and naval career and eventually received the title of "lieutenant general of the naval armies of the king" (vice admiral).
The lead submarine of the Suffren series entered the French Navy on June 6 this year, although it was transferred to the military on November 9, 2020. All this time she was tested.
To date, Naval Group is completing the construction of five more Barracuda-class submarines, they should replenish the French fleet from 2022 to 2030. Submarines of this series should replace the aging Rubis-class submarines built between 1976 and 1993 in the French Navy.
The submarine's displacement is about 5300 tons, the length is 99 m, the service life of the nuclear reactor reaches 10 years. Swimming autonomy - up to 70 days. The working depth of the immersion is 350 meters. The submarines will be armed with Scalp Naval and Exocet cruise missiles, as well as Black Shark heavy torpedoes.