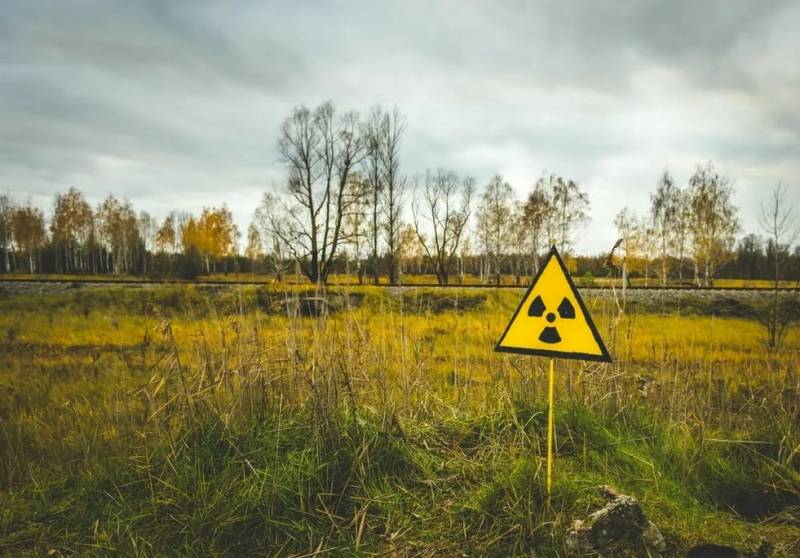 Yes, the information that comes from that side indicates that a thought like "Let's bang something" has firmly entrenched in the Ukrainian brains. And in this light, the idea of ​​making a "dirty bomb" in Chernobyl or blowing something up at the Zaporizhzhya nuclear power plant is increasingly being discussed.
In light of all this, I propose to calmly consider three examples:
1. Atomic / nuclear bomb
2. Chernobyl disaster
3. "Dirty bomb".
Why in this order, it will become clear in the course of the play. But all three examples, nuclear
weapon
, a man-made disaster and radiological weapons (GB is usually attributed to it) are somewhat similar in essence, but differ greatly in the final output.
1. Nuclear bomb or warhead.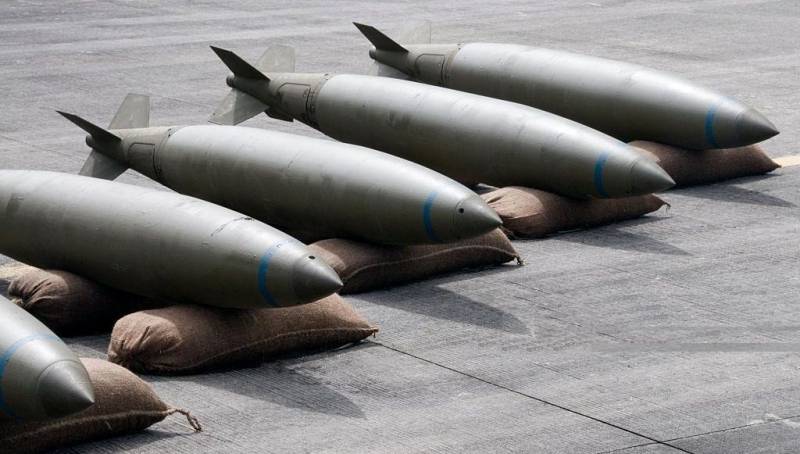 This most powerful weapon on the planet has five main damaging factors:
- shock wave;
- light study;
- electromagnetic impulse;
- penetrating radiation;
- radioactive contamination of the area.
The first four factors are of a very short duration, but very unpleasant and destructive. Penetrating radiation and radioactive contamination have common roots, but in fact they are different things.
Penetrating radiation is a powerful radioactive radiation that accompanies the decay of nuclei in the epicenter of the explosion. That is, it "turns on" at the beginning of the explosion and "turns off" when the nuclear reaction stops. In general, an X-ray machine, but millions of times more powerful.
The flow of particles from the epicenter diverges in different directions and hits everything that is not blown away by the shock wave. And then the particles run out of energy and that's it. Heavier particles like "alpha" fall earlier, lighter "gamma" particles fly farther. School physics course.
Considering that where nuclear decay occurs, the temperatures are huge, the particles get a decent charge and fly a decent distance. And they also participate in the subsequent radioactive contamination.
Radioactive contamination (RZ) is a more nasty thing, because it is long-playing. In the RP, both nuclear decay particles and "charged" products of a nuclear explosion and objects affected by radioactive particles at a distance from the epicenter take part.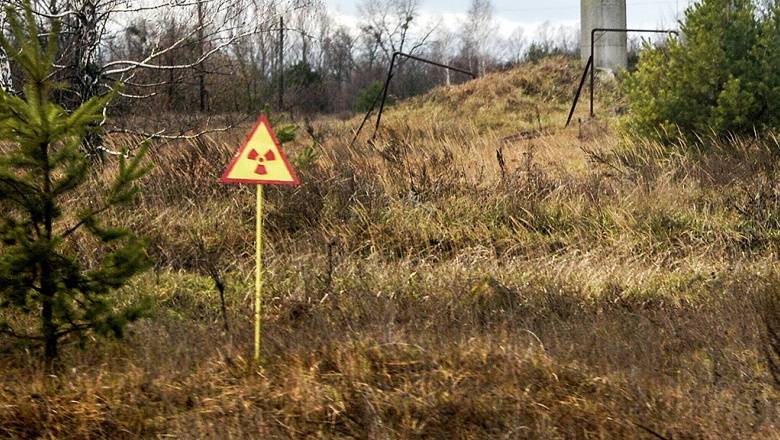 All this begins to "glow" and cause real harm even after a considerable time after the explosion. It all depends on which isotopes are released during a nuclear explosion. There are those whose half-life is calculated in hours, and there are those who have it in months and years.
2. Chernobyl.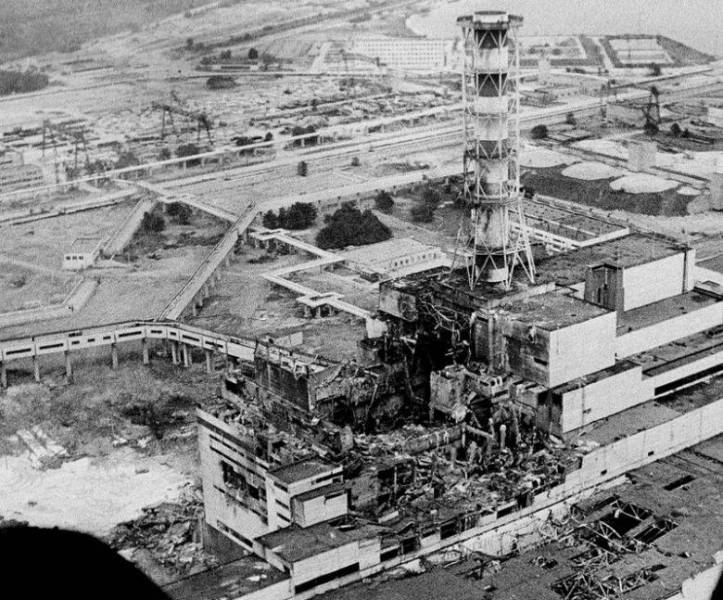 This is a separate phenomenon in the world
stories
. The Chernobyl disaster differed from a conventional atomic / nuclear explosion in that the reactor burned for several days. High temperatures and explosions ensured a prolonged release of contaminated material into the atmosphere.
I'll try to compare in a simple way.
Let's take two barrels of 200 liters each and pour 50 liters of gasoline into one, and diesel fuel into the second. If we calculate (approximately) by calorific value, we get about 80 liters. But we will stuff more old padded jackets, rags, pieces of wood and other garbage into a barrel with diesel fuel. And throw torches there.
Gasoline is expected to gouge heartily. Explosion. There will be a lot of heat, there will be smoke, there will be a stench. And that's it. But there will be no explosion in a barrel with diesel fuel. There will be a long fire with the release of the same amount of heat, but for a longer period of time. And all this will be accompanied by combustion products in the form of smoke and soot. Well, everything that is saturated with diesel fuel burns like that. And it will be expected to stink in full.
Heat will be released in approximately the same way, but in the case of gasoline, it is fast and relatively clean in terms of ecology. Diesel fuel and everything else will burn for a long time and start to smoke.
With radioactive substances in the bomb, in Chernobyl, the situation turned out to be approximately the same. There are substances that emit all their radiation very quickly and therefore quickly disappear. And there are those that will stink for decades, but not that deadly for all living things.
In their bulk, nuclear charges form substances of the first type during an explosion. They burn quickly, emit radiation simply in huge doses, but that is why the decay is very short.
Everything is in physics - the faster the source materials part with charged particles, the faster the entire decay ends.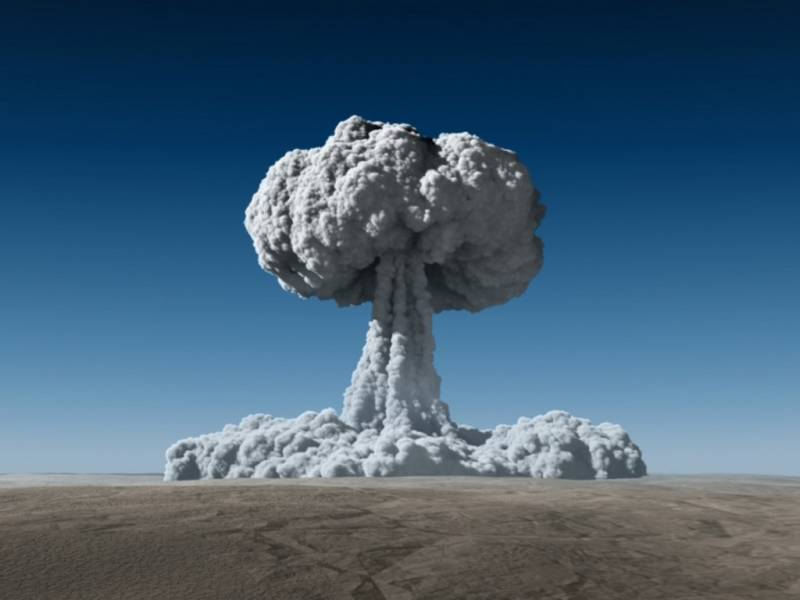 Therefore, already 10 hours after a nuclear explosion, the radioactivity of the epicenter and adjacent territories drops by 10-12 times.
After 2 days, the radioactivity decreases by 100 times. After 10-14 days, depending on the strength of the charge and the material, it is already possible to walk around the epicenter without significant harm to the body, if the body is packed in an OZK-type suit and a gas mask.
After 2-3 years, it is already possible to live at the site of the explosion. Proven, by the way, Hiroshima and Nagasaki. Cities began to be rebuilt almost immediately after the war, and people live there. Yes, there have been genetic disorders caused by radiation, but for the most part it was in people who received radiation doses from explosions.
But after the "slow explosions" of Chernobyl and Fukushima, substances of the second type are released into the environment. That is, they do not emit radiation as strongly as after the explosion of an atomic bomb, but their half-life can be measured in centuries.
They live in Chernobyl today. This is a separate conversation, who and how, but live. But in some areas of the Bryansk region of Russia it is impossible to live under any circumstances. Where the red-hot particles of fuel rods from the ill-fated reactor fell, blown away by the wind. There is still a level of radiation not compatible with normal human life.
Chernobyl can be called an ideal "dirty bomb" (GB), if not for several conditions that make it strikingly different from this type of weapon.
The main culprit of such a huge contamination was the atomic fire in the reactor, in which radioactive particles were born, ejected to a decent height. And it burned much longer than any nuclear explosion. Therefore, the infection occurred for decades, if not longer.
The "bomb" in Chernobyl was not detonated on purpose, this is already known to everyone. Stupidity, vanity, the desire to make a career - anything, but not a special intention to infect thousands of square kilometers with radiation. But this is how it happened.
Following the model and likeness of Chernobyl, the "dirty bomb" projects were created. What happened in Chernobyl, in principle, can be simulated in a cheaper way.
3. Dirty Bomb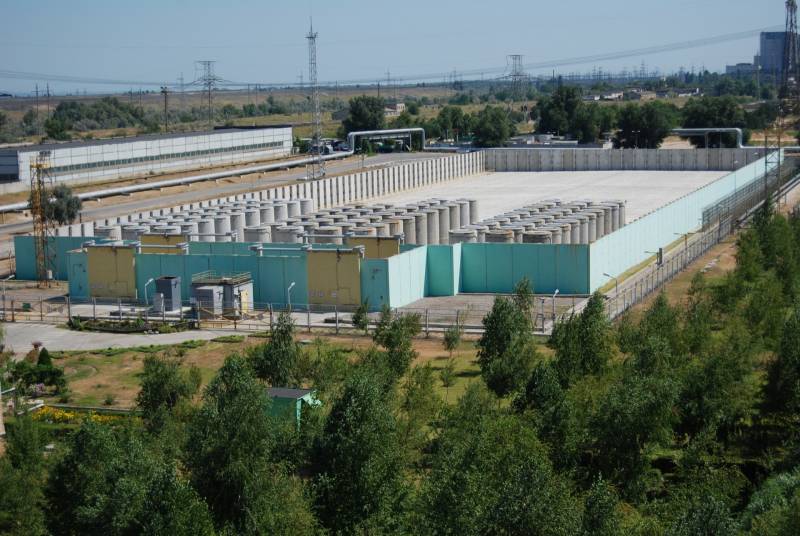 GB is called a radiological weapon. It is not easy to do, but very simple. In the minimum configuration, this is a container with radioactive materials that have a long half-life (spent fuel from the storage warehouses of some nuclear power plant is quite suitable), lined with explosives. Undermining such a container is expected to cause contamination of the area where such an explosion will be carried out.
The dream of a terrorist blackmailer.
The problem is that the explosion of a normal explosive will not be able to ensure the proper separation of radioactive substances over tens and hundreds of kilometers. Or it should be a very powerful explosion, tons of explosives. Implementing this is not that difficult, but dreary.
For real radioactive substances to enter the atmosphere and be carried by the winds, infecting decent areas, the explosion must be very powerful. Some sources say that a tactical nuclear weapon with a yield of 8-10 kilotons is quite suitable. But then the cheapness of GB disappears.
As an option (in the USSR, work was underway in this direction in the 60s) - spraying radioactive materials from an aircraft, both in liquid and powder form. Or place a container with radioactive substances in the warhead of a tactical missile, providing it with a demolition charge. So you can blow up warheads at the required height and disperse materials in the right area.
There are many options, but how viable are they, that is, how realistic is it to make territories unsuitable for human life?
Let's start with the fact that the use of a "dirty bomb" in a war is simply impractical. Of course, it is possible to make radioactive materials so contaminated the area that everyone, both military and civilian, would leave from there. But what's the point in that?
Territories are seized for their subsequent use. And here the situation is such that it is unrealistic to destroy the military with the help of the GB, civilian aliens will run away, their own will not come. It turns out dead lands that no one needs.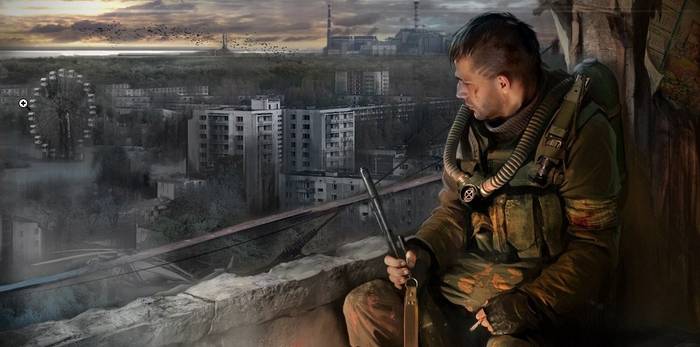 A nuclear bomb is much more effective. It instantly destroys all enemy manpower and equipment in a certain area, and this area is suitable for use after a while.
The effect of GB is too strongly extended in time. Yes, some part of the population of the enemy country will eventually die from radiation sickness and oncology, if infected from the heart. But it won't happen quickly. The war can simply end before the first effects appear, and it is necessary that no one in the territory where the GB is used have any idea that a "dirty bomb" was used there.
Given the availability of dosimeters, this is difficult. Here I myself can get mine at any time and make sure that nothing threatens my precious body. And drinking potassium iodide is not worth it, Cabernet or Merlot will be much more effective. Or more effective, but here it's already a matter of charge power.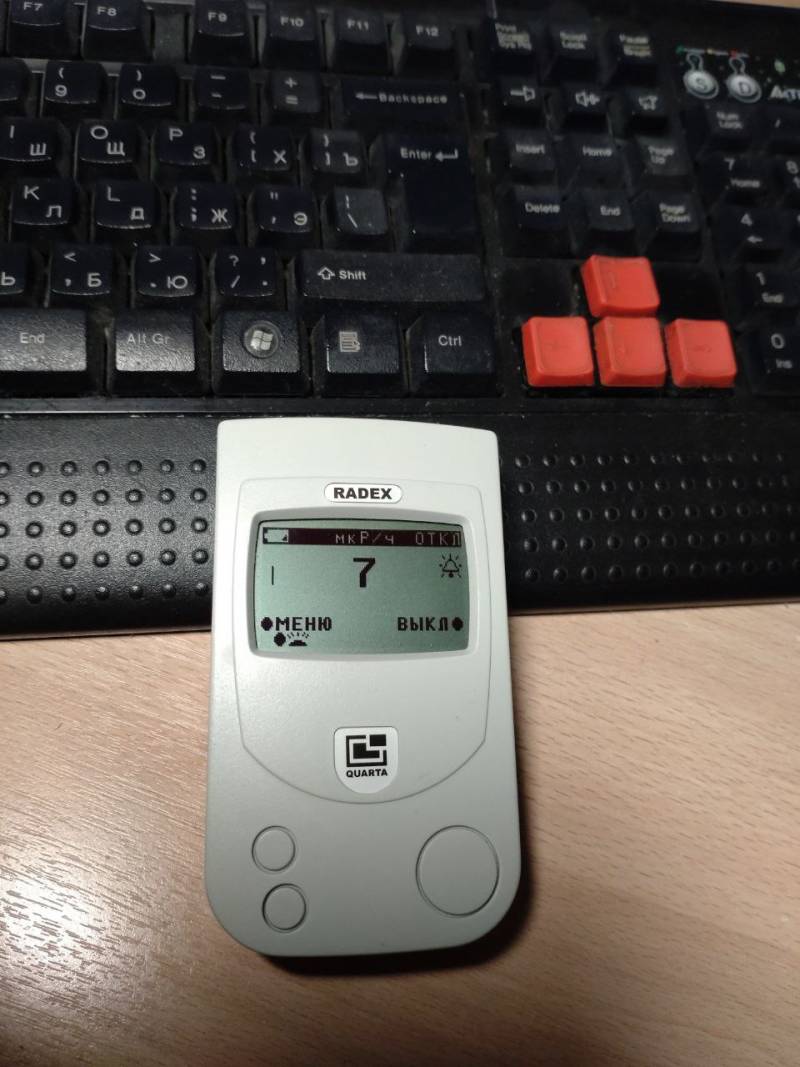 Also, don't discount the weather. A change in the wind - and here you have a cloud of radioactive dust flying to those who sent it. You know, it's like with gases in the First World War. Who will God send?
But even in the event that everything goes as it should, the result will be an area contaminated with radioactive materials in which it is impossible to live. No one, I emphasize, is not needed.
What is the conclusion?
The conclusion is simple: the "dirty bomb" is not a military weapon. It is the weapon of the terrorist blackmailer or the weapon of genocide for the losers.
Can Ukraine make and use GB to strike at Russia? Yes, easily. There is more than enough waste from nuclear power plants at the disposal of the Ukrainian side, it is possible to produce a certain amount of radioactive powder. The Armed Forces of Ukraine have missiles, that is, they have delivery vehicles.
Efficiency? Close to zero. The "dirty bomb" is a weapon of revenge, if you will. A party doomed to fail. It is possible to strike with such a thing, but here's the question: neutralizing the effect of such a bomb is also very simple. Today there is a very decent amount of anti-radiation drugs that can neutralize radioactive contamination. Yes, and GB can also be counteracted in many ways, from flushing buildings to cutting off the topsoil with special (or conventional) equipment.
A container with a radioactive substance and an explosive strapped to it is a weapon of a terrorist who is unlikely to use it. Too many concomitant factors will have to be taken into account for everything to go smoothly.
And undermining the storage facilities, launching a rocket with a container on the territory of a neighboring country - that's my word of honor, all this is not from a great mind.
So I will express the opinion of many smart people that it is not worth being afraid of a "dirty bomb", fools who can try to implement such a plan are more dangerous. But even in the case of implementation, it is not a fact that the desired result will be achieved.
The only thing dangerous about GB is the panic that information skillfully thrown into social networks can cause. This is the most significant thing that GB can do. Panic is a thing that is no less effective than the bomb itself, and the effect can be even greater than that of a real GB. Based on the situation with the same mobilization, I concluded that in terms of coming up with nonsense, believing in it and starting to replicate in instant messengers, our electorate will give odds even to the Americans.
After all, a fool - he does not become smarter even with a container of radioactive powder. And even more so with the phone and the Internet.