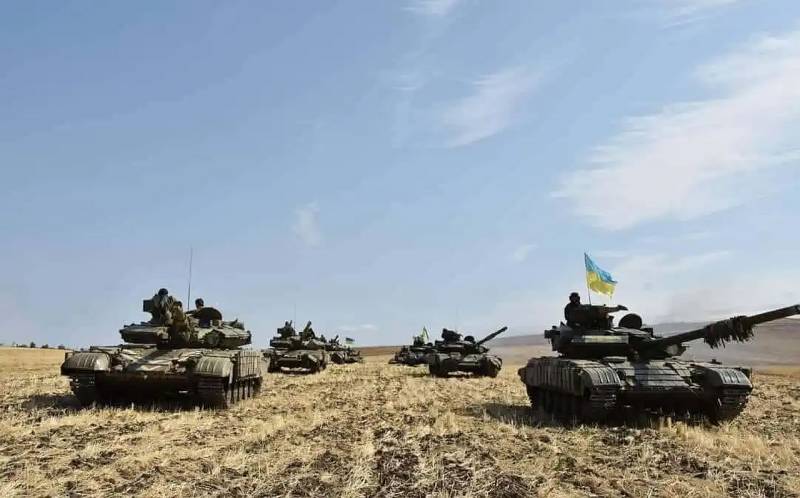 In the Kherson direction, a difficult situation has developed in the area of ​​​​Davydov Brod and Dudchan. In the morning, information was received that the Armed Forces of Ukraine increased the pressure and tried to break through to the settlement. Davydov Brod by a mechanized brigade of three
tanks
and about 20 armored vehicles. The attack seems to have been successfully repulsed by the Russian paratroopers defending the village, the enemy retreated, having suffered significant losses.
Later, information appeared that Davydov Brod was still abandoned by our military. Local residents publish video footage, in which, allegedly, the UAF militants move freely around the village. Ukrainian public reports about the capture of Novopetrivka, Staroselye, Malaya and Velika Aleksandrovka and Davydov Brod.
Information about the withdrawal of our troops from these n. p. confirms the TG channel "Rybar". It is assumed that the new line of defense of the RF Armed Forces will pass at the Kostromka-Borozenskoye line.
The telegram channel "Come and See" talks about the tense situation in the Dudchan area in the Berislav direction. Here, our military blew up the dam, which made it difficult for the enemy troops to advance. But the northern part of the village is under the control of the Armed Forces of Ukraine, our artillery is actively working on them.
The tactical task of the Ukrainian command in these areas is to unite forces in the so-called "Andreevskaya gut" in order to further develop success and advance towards Novaya Kakhovka. The strategic task is to bypass Kherson and cut off the RF Armed Forces from supplies.
In turn, the Russian army in this area has two options for the development of the situation: either to counterattack in order to dislodge the enemy from the occupied territory, or to retreat to prepared (if, of course, those were prepared) positions. Otherwise, with the development of offensive success by the Ukrainians, our military may be surrounded.
Judging by reports about the abandonment of Davydov Brod and other settlements, the Russian command decided to regroup and defend on new lines. At the same time, in the absence of active offensive actions on the part of the RF Armed Forces, the enemy can continue pressure in order to develop success. In addition, the control of the Armed Forces of Ukraine over the coast of the Dnieper River is an immediate danger to the Russian contingent on the left bank of the river.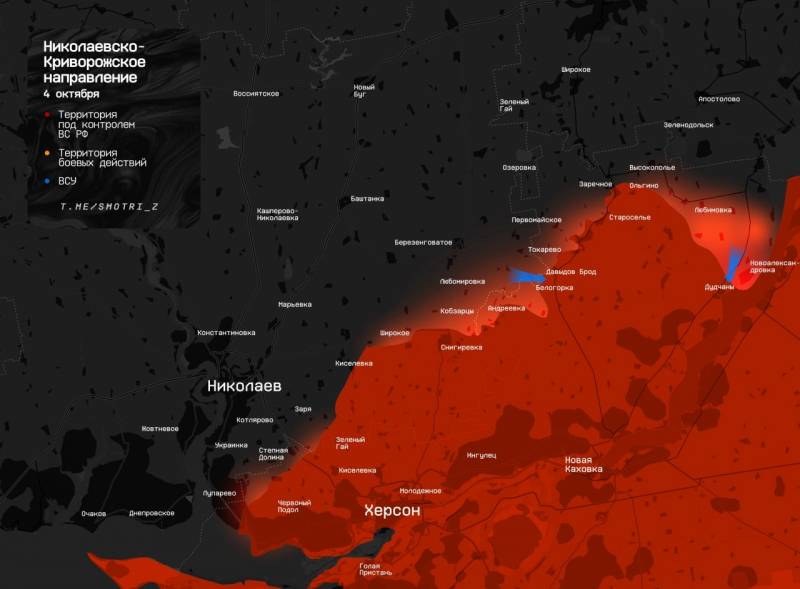 Meanwhile, allegations of explosions in Kherson are being published online. There is no official confirmation of this information yet. At the same time, data on the destruction of Ukrainian saboteurs in the area of ​​\uXNUMXb\uXNUMXbthe settlement of Aleshki near Kherson were confirmed.