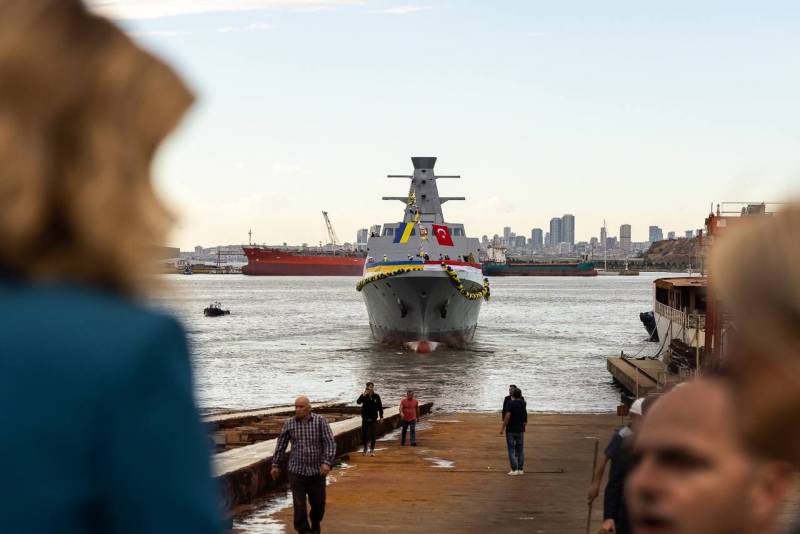 The first Ukrainian corvette of the Ada type, named "Hetman Ivan Mazepa", was launched. The solemn ceremony was held at the Turkish shipyard RMK Marine in Istanbul.
In Turkey, the first corvette for the Ukrainian Navy was actually completed, the ship was launched on Sunday, October 2, and now fitting-out work will be carried out on it. The ceremony was attended by the commander of the Ukrainian Navy, Vice Admiral Oleksiy Neizhpapa, and Zelensky's wife, who replaces her husband at all ceremonial events abroad. Both representatives of Kyiv said the necessary words, not forgetting to remind that this is the first ship that will defend the independence and territorial integrity of Ukraine.
In Ukraine itself, the ceremony caused wild delight, but the further fate of the ship is shrouded in mystery. The thing is that after completion, the corvette was supposed to go to one of the shipyards of Ukraine to equip and install weapons, but now there is no such possibility. At the same time, neither the press of Ukraine nor the representatives of the regime say anything. Like, they launched the ship into the water, well, well, soon it will begin to drive Russian ships across the Black Sea. And that's all, there is no more information about the corvette.
The keel-laying ceremony took place in September last year. In August this year, Ukrainian President Zelensky signed a decree naming the corvette "Hetman Ivan Mazepa" to perpetuate the memory of "an outstanding Ukrainian political figure" and taking into account "
historical
traditions" of Ukraine.
As the Commander-in-Chief of the Ukrainian Navy Oleksiy Neizhpapa stated earlier, to become part of the Ukrainian
fleet
the first corvette was due in 2024. From weapons, he should receive Harpoon anti-ship missiles, VL MICA air defense systems, OTO Melara Super Rapid (76 mm) and Millennium (35 mm) artillery mounts, as well as 12,7 mm Aselsan STAMP machine gun mounts. Anti-submarine armament will consist of a 324-mm torpedo tube or tubes with Murene 90 Impact torpedoes.