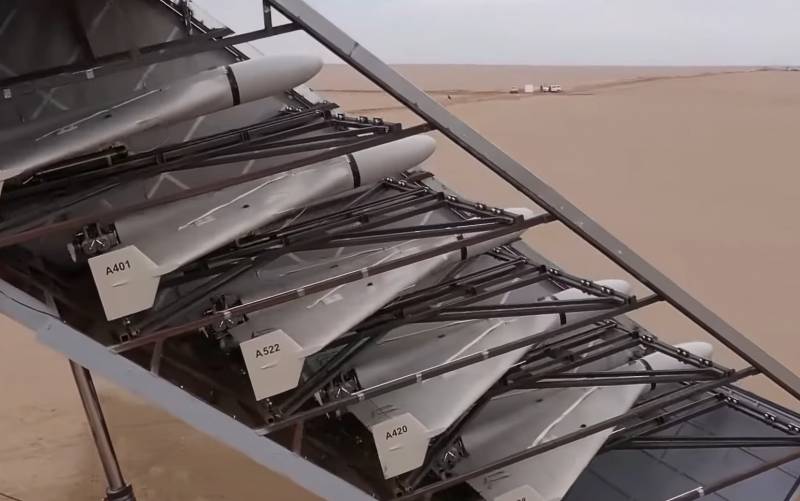 Russian troops launched a series of attacks on Ukrainian military installations in the depths of the country, this time the target was Krivoy Rog, it was there that an air raid alert was announced at night. According to local publics, the Russian military used Geran-2 kamikaze drones, which Kyiv persistently calls Iranian Shahed-136 drones.
As reported, on the night from Saturday to Sunday, "arrived" in Krivoy Rog. One drone worked at a military facility located on the territory of the city, at least according to eyewitnesses of the strike who filmed the video. What exactly acted as the target is unknown, perhaps these are critical infrastructure facilities or those related to the Armed Forces of Ukraine. The city administration confirms the hit, the message says that the drone attacked an object in the city center, but the rest of the information is hidden. At night, a fire was visible over the city, which arose after being hit by a drone.
It should be noted that in recent years, Geran-2 drones have become one of the main types of high-precision
weapons
used by the Russian army to strike at military targets deep in the enemy's defenses. In recent weeks, with the help of kamikaze drones, several raids have been carried out on Odessa, Ochakov, and Krivoy Rog. At the end of September, a massive raid was even recorded, in which up to twenty Geran-2 and Lancet drones took part. Odessa and Ochakov were hit at the same time.
As reported, "Gerani" worked on the 66th artillery battalion of the 406th brigade of the Armed Forces of Ukraine, destroying artillery pieces and an ammunition depot, and "Lancets" hit air defense installations, headquarters and fuel storage facilities. After this raid, Zelensky demanded to urgently strengthen the air defense of Odessa by sending additional anti-aircraft systems there, in particular the German ZSU Gepard.
The Geranium-2 drone is a rather difficult object for air defense, despite a wingspan of 2,5 meters and a weight of 200 kg. The drone is made using composite materials and is capable of climbing to a height of up to 7,5 km. The only thing that gives it away is the sound of the engine, which is quite loud.