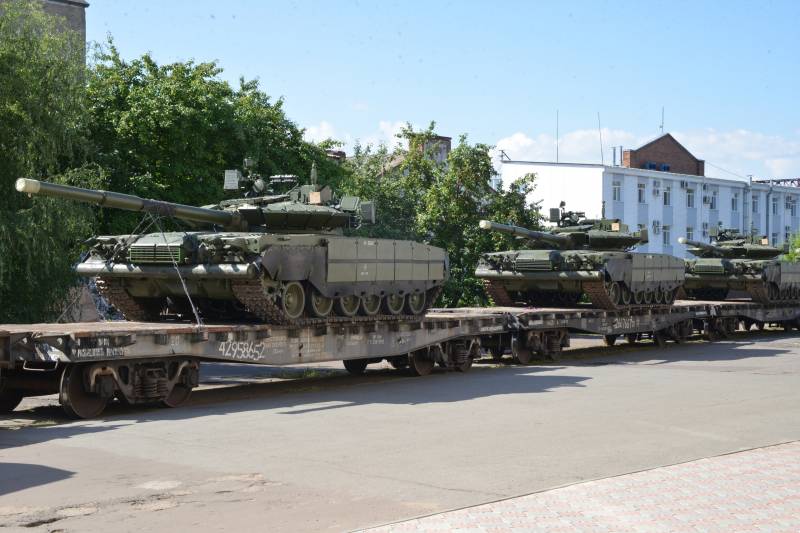 The Russian military received a large batch
tanks
T-80BVM, the equipment was shipped at Omsktransmash and has already been sent to the customer by rail. This was reported by the press service of "Uralvagonzavod".
According to the report, a batch of modernized T-80BVM tanks was delivered to the military as part of the state defense order, but ahead of schedule. How many vehicles the Ministry of Defense will receive is not reported, it is noted that all vehicles have passed mandatory post-repair tests and are fully ready for use for their intended purpose. The equipment contains letters with drawings by the children of the plant employees, intended for our servicemen. It has already become a good tradition.
Updated combat vehicles with a positive result passed the necessary tests, in the near future they will go to the military units of the Russian army
- said in a statement.
The T-80B tank and its modifications were produced at JSC "Omsktransmash" from 1979 to 1991, more than 10 thousand T-80 tanks of all modifications were produced in total. The latest version was the T-80BV tank, adopted by the Soviet army in 1985. The T-80BVM MBT is a new version of the tank upgrade developed in Omsk, which has improved basic combat qualities: firepower, mobility and command controllability.
The tank is equipped with a 125-mm cannon capable of firing guided missiles, a multi-channel sight, a modified 1250 hp gas turbine engine, an armament stabilizer and a driver's observation device. The tank is protected from fire by a complex of modular dynamic protection and an anti-cumulative lattice screen.