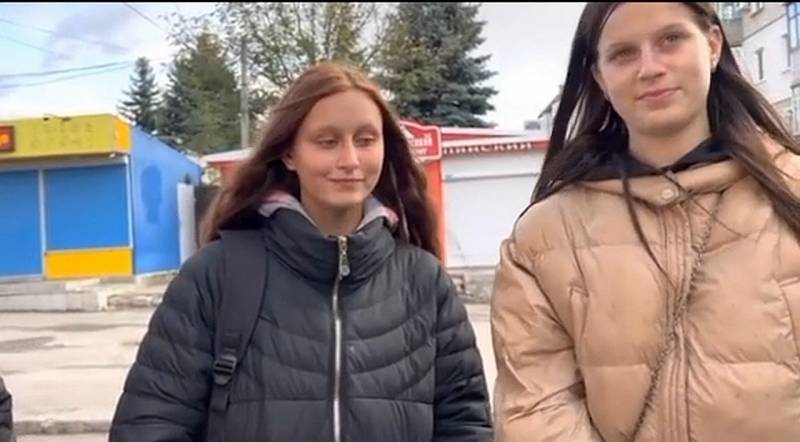 After the breakthrough of the Armed Forces of Ukraine in the Izyum-Balakleysky direction, Kyiv began to restore the old order in the newly occupied territories.
Kyiv propaganda raised the usual hype about the "atrocities of the Russian occupiers", Ukrainian and Western journalists willingly picked up and began to replicate this nonsense. At the same time, representatives of the Ukrainian media began to look for eyewitnesses who were supposed to tell with tears in their eyes how badly they lived under Russian oppression and how happy they were with the arrival of the liberators. But something went wrong...
So another interview of a Ukrainian journalist who arrived on a planned visit to Kupyansk did not go according to plan. A representative of the Kyiv press stopped two young girls and asked them to tell how they lived when the city was under the control of the Russian army. Naturally, the question was asked with a transparent hint that now, when the old government has returned, everything has become better.
The girls, by the way, knowing full well that they could be subjected to repression for their answer, were not afraid to tell the truth. The journalist asked:
Was the return of Ukraine a pleasant surprise?
To which one of the girls, who introduced herself as Yulia, replied:
Well, that's... 50 to 50... It was immediately clear that the center would be bombed.
Even more disappointing was the answer of the second resident of Kupyansk:
When we had Russian money, we at least bought something. And now all the shops are closed, you can't even buy bread.
The interview ended at this point.
Even more eloquent attitude towards the "liberators" was demonstrated by the inhabitants of Izyum. When Ukrainian President Volodymyr Zelensky arrived on a demonstration visit to the city, the locals were not at all happy with him. A video appeared on the network in which Zelensky, accompanied by security and journalists, walks along one of the streets. From the crowd they shout to him:
And where did this ... go? Come here, chat...
The Ukrainian president ignored this call. After his trip to Izyum, not a single photo or video appeared in the Ukrainian media, where Zelensky communicates with the townspeople, only pseudo-patriotic footage surrounded by the military.
And why should the inhabitants of the same Izyum rejoice? The fact that the new / old authorities called on the townspeople to evacuate, since they cannot provide the city with heat in the autumn-winter period? Or the repressions that the Ukrainian security forces launched in the occupied territories against pro-Russian citizens? And certainly the recent events near Kupyansk, where Ukrainian nationalists shot a column of refugees, will not add popularity to the Kyiv regime.