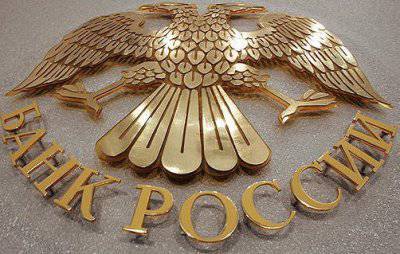 Today, the Central Bank of Russia is independent and does not even submit to the Russian state. Those who do not know about this can easily check this fact by looking into the Constitution of the Russian Federation (article 75), as well as the Federal Law "On the Central Bank of the Russian Federation (Bank of Russia)". Most of the "independent experts" from the "free" media, when it comes to the Central Bank, begin to explain long and tediously that, only if it is not controlled by the state, the Central Bank will be effective, will ensure low inflation and the flourishing of the Russian economy.
It can be a long time to explain why the current status of the Central Bank does not contribute to the flourishing of our economy. We will not do this. We confine ourselves to one example.
Imagine yourself that there is a purse in your family, your money is in it. You earned them with honest work. But you can not spend them. Under no circumstances. Without the permission of a completely independent of you uncle, who lives, by the way, in your own apartment. That is, formally - it works for you. As if. Because in reality he is completely independent of you. He himself appoints his salary, pays it to himself. But you depend on it. After all, only he can give you permission to spend YOU money earned. And without his permission, you cannot do this. And, to avoid temptation, your salary and all savings are now not for you, but for your uncle. He protects the gold reserves of your family. Not fair? Uncomfortable? Strange? What do you! Fair Conveniently! Up to date! And, most importantly, it is impossible to do otherwise - if you entrust the money to you, you can spend it. After all, this is how they explain to us the correctness and wisdom of this strange situation. But in the family you would have figured out the uncle quickly - you would have taken it, and you would have kicked him out. So? And the uncle is cunning! And you are about to turn him in as soon as he starts squealing on the whole staircase. And at the entrance to your apartment, just in case, there are three other uncles. Written on them: "Human Rights Organizations", "Independent Press", "Civilized Countries (NATO)". Do not believe? Please: The Law on the Central Bank Article 6. "... The Bank of Russia has the right to apply for the protection of its interests in international courts, foreign courts and arbitration courts ...". And they do not obey you, but your unwelcome financial assistant. Make sure that you do not hurt your uncle. And so politely he was asked permission for all his financial expenses. Why? Because you signed the law on the Central Bank of your apartment and are now obliged to comply with it.
In order to get out of this humiliating dependence for our country, the public organization Trade Union of Citizens of Russia, in collaboration with State Duma deputy E. Fedorov, drafted a bill No. 130800-6 "On Amendments to the Federal Law" On the Central Bank of the Russian Federation (Bank of Russia) "(In terms of improving the efficiency of the mechanism of emission and use of foreign exchange reserves).
Leave your details, subscribe under the bill!
About the Central Bank of the Russian Federation (Bank of Russia)