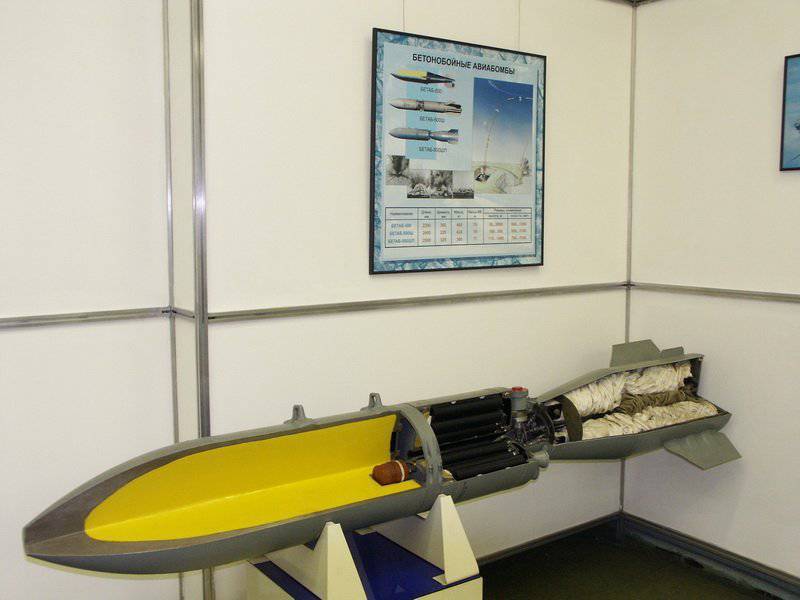 Model concrete bomb BetAB-500ShP. Photo Militaryarms.ru
Russian combat
aviation
has the ability to hit and destroy various fortifications, protected structures, etc. objects. Such tasks are solved with the help of guided and unguided missiles and bombs equipped with concrete-piercing / penetrating warheads. The armament consists of a number of such weapons with different characteristics and combat capabilities, providing high flexibility of use.
Bombing weapons
One of the main ASPs to combat fortifications are the BetAB series of free-falling concrete-piercing aerial bombs. Currently, several types of such products, developed in the recent past, are in service. They have a similar warhead, but differ from each other in other units and, accordingly, in capabilities.
The base product of the line is the BetAB-500 bomb. This product is 2,2 m long, 350 mm in diameter and weighs approx. 480 kg. The bomb is made in a hardened metal case with a pointed thick-walled nose fairing. In the internal volume is placed 76 kg of explosive and a bottom fuse, which is set to detonate after contact with the target. Due to its shape and strong body, BetAB-500 is able to break through 1-1,5 m of concrete.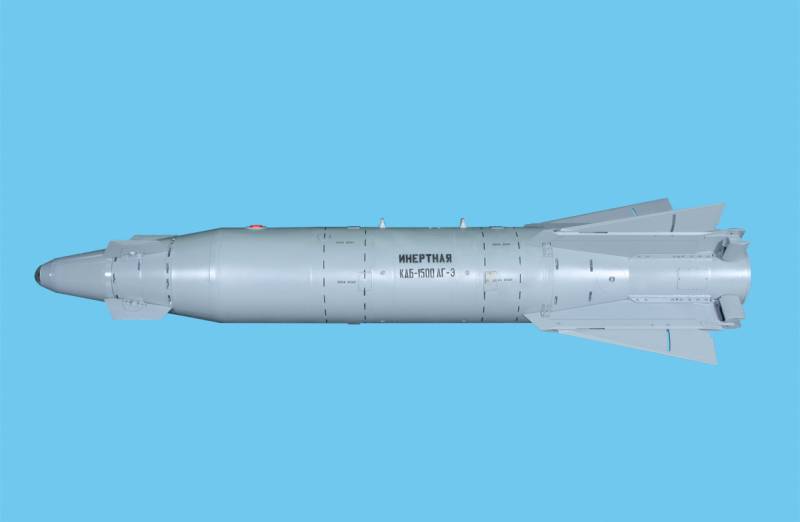 Product KAB-1500L-E. Photo SNNP "Region"
The BetAB-500U bomb is distinguished by its increased dimensions (diameter 450 mm and length 2,5 m) and weight - 510 kg. However, it carries only a 45-kg charge. This product is distinguished by the presence of an additional tail body, in which a braking parachute is placed. The dome opens during the fall and causes the bomb to fall vertically on the target. In terms of penetration, the BetAB-500U is similar to the BetAB-500.
The product BetAB-500ShP has a diameter of 325 mm and a length of 2,5 m and weighs 380 kg. The back of the main body is given over to the solid propellant booster; a separate case for the parachute is retained. The engine gives the bomb additional acceleration and provides the necessary penetration. In addition, the booster allows you to reduce the drop height without losing energy.
In the recent past, the KAB-1500 corrected bombs of several versions entered service with the Aerospace Forces. So, the KAB-1500L-Pr product is equipped with a penetrating warhead and is intended to destroy shelters and other objects. With a weight of approx. 1500 kg of such a product carries almost 1,1 tons of explosive; semi-active laser guidance is used with a CVO at the level of 7-10 m. The possibility of breaking through 20 m of soil and 3 m of concrete is declared.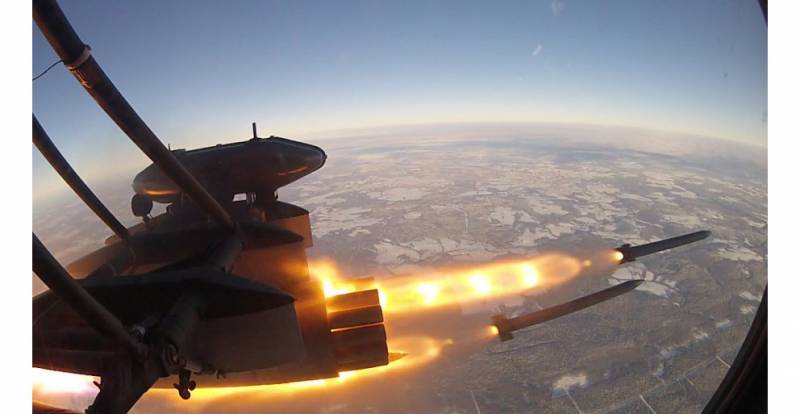 Unguided missiles S-8OFP "Armoured Pilot" on trials. Photo by NPK Tekhmash
Unguided rockets
There are several modifications of unguided missiles with concrete-piercing or penetrating warheads in service. So, the S-8 family includes S-8B and S-BM products. They carry warheads in a rugged hull weighing 7,2-7,4 kg and are capable of penetrating up to 800 mm of concrete. In the recent past, the S-8OFP Armor-piercing missile was developed with a heavier warhead and improved penetration rates. In addition, there is a function of undermining inside the affected object.
Two similar ammunition are included in the NAR S-13 line. The S-13 product carries 21-kg warheads and pierces 3 m of soil and 1 m of concrete. The upgraded S-13T missile received a reinforced warhead. The latter penetrates 6 m of soil and 1 m of reinforced concrete. After overcoming the obstacle, an undermining occurs.
The heaviest penetrating NAR of domestic production is the S-25-OFM product. With a length of 3,76 m and a mass of 370 kg, such a missile carries a 150-kg warhead, incl. 20 kg of explosive. The strong body provides penetration into the shelter through 1-1,5 m of concrete, followed by blasting.
Air-to-surface
Front-line aviation has a wide range of air-to-surface guided missiles with different characteristics. Some ASPs of this class are equipped with penetrating or concrete-piercing warheads, which allows them to hit protected enemy targets.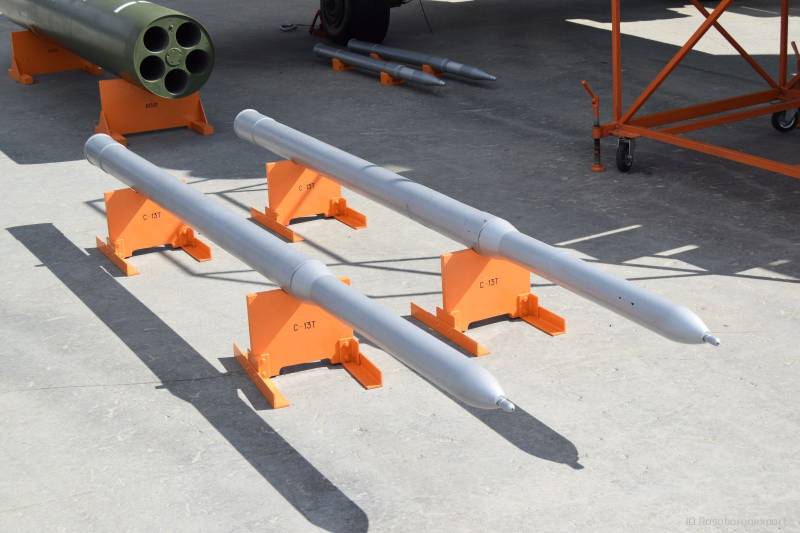 S-13T concrete-piercing missiles with a sub-caliber warhead. Photo "Rosoboronexport"
There are several modifications of the Kh-29 missile in service. They are capable of flying at a distance of up to 12 or up to 30 km and are equipped with a semi-active laser or television homing head. All variants of the X-29 are equipped with a high-explosive penetrating warhead weighing 317 kg. The average flight speed of up to 350 m / s allows the rocket to gain sufficient kinetic energy and break through 3 m of soil and 1 m of concrete.
Carriers of penetrating warheads are also Kh-59 missiles of several modifications. The first version of such an ASP carried a 148-kg warhead and delivered it to 40 km. With subsequent upgrades, the warhead became heavier to 310-320 kg, and the range reached the level of 280-290 km. New heavy warheads pierce several meters of soil and concrete.
One of the latest developments in the field of concrete-piercing air-to-surface missiles is the Kh-38 product, which is produced in several modifications. This is a short-range missile (40 km) with a modular architecture. Several types of GOS and two types of warheads have been developed for it, incl. penetrating. Penetration characteristics are unknown; probably, we are talking about combined barriers several meters thick.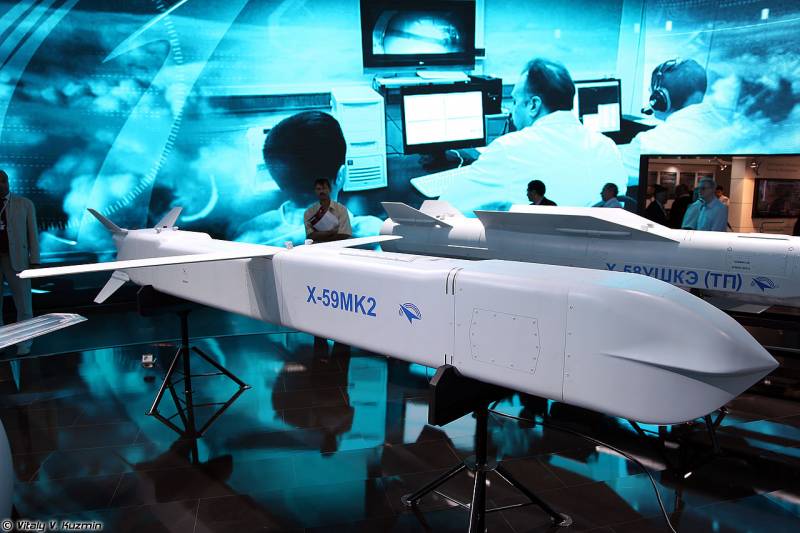 Kh-59MK2 is the newest missile in its family. Photo Vitalykuzmin.net
The highest combat performance is demonstrated by the Kinzhal hypersonic aviation complex. Its main component is an aeroballistic missile with unique flight characteristics. Due to the hypersonic flight speed, it acquires the highest kinetic energy and is an effective penetrating weapon. According to various estimates, the Kinzhal missile is capable of penetrating tens of meters of soil and concrete, and then undermining an underground facility.
Opportunities
Free-falling and guided bombs, as well as unguided and guided missiles with a concrete-piercing or penetrating warhead, can be used by almost all modern front-line aircraft. They can be carried by Su-24M and Su-34 bombers, Su-25 attack aircraft and all multirole fighters. Also, missiles and bombs can be used by army aviation helicopters, attack and transport-combat helicopters.
The only exception is the Kinzhal missile, the only carrier of which was the converted MiG-31 interceptor. In the future, this ASP is expected to be integrated with other carriers, incl. from long-range aviation.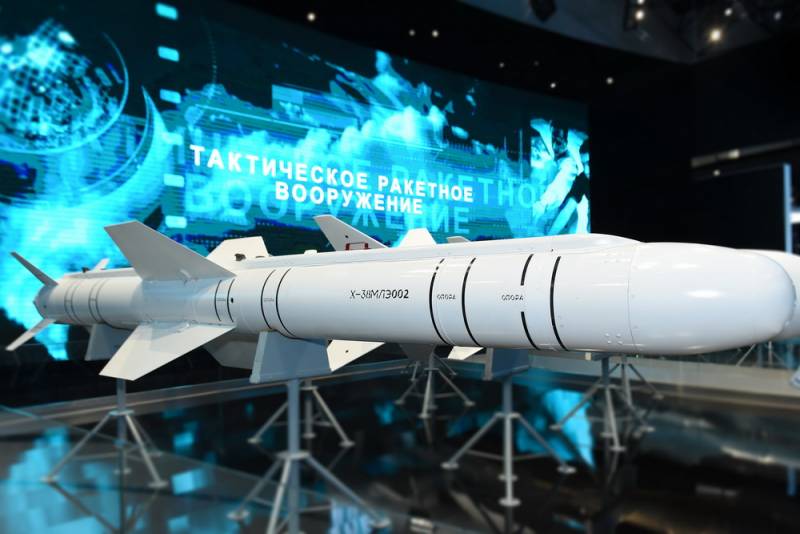 The Kh-38MLE missile is a carrier of warheads of several types. Photo KTRV
Through the efforts of industry, a wide range of ammunition has been created, including products of different classes with different characteristics. This simplifies the preparation for a sortie: it becomes possible to choose products that more fully correspond to the chosen goal.
The available ASPs make it possible to destroy or disable various objects and structures. Thus, unguided missiles are considered as a means to destroy runways and other infrastructure of enemy airfields. They break through concrete slabs and leave large funnels, temporarily decommissioning a lane or track. Also, missiles can hit some types of fortifications, command posts, etc.
Concrete bombs are offered to destroy point targets, such as various fortified buildings or underground structures. Guided missiles can also be used for such purposes. In both cases, the presence of guidance means allows you to maximize the use of the energy potential
weapons
. For particularly difficult targets located at great depths, there is now a special tool in the form of a Dagger rocket.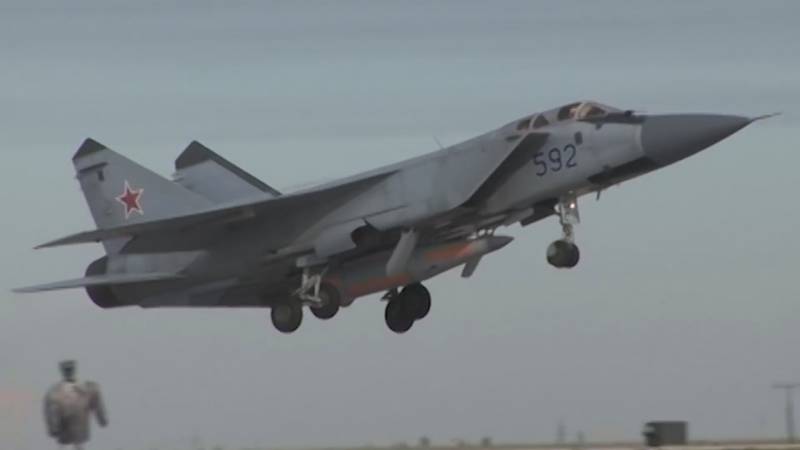 Aircraft MiG-31 with a missile "Dagger". Photo by the Ministry of Defense of the Russian Federation
Concrete-piercing ASPs of various types have been repeatedly used during tests and exercises, as well as in real operations. Thus, KAB-1500L-Pr bombs were used to destroy terrorist targets in Syria. The hypersonic "Dagger" was first used during a special operation in Ukraine.
For specific tasks
The front-line and army aviation of the Russian Aerospace Forces is armed with a large number of various weapons and means of destruction. Some types of weapons are designed to solve specific combat missions, such as defeating protected buildings and structures. For this purpose, several different bombs and missiles have been developed, incl. based on existing weapons.
The development of such ASP continues and gives new results. Not so long ago, new types of adjustable bombs and new modifications of unguided rockets have appeared. Also, the first hypersonic complex entered service. Apparently, a new generation of concrete-piercing weapons is already being created - and a potential enemy should not rely on the protection of concrete and soil.