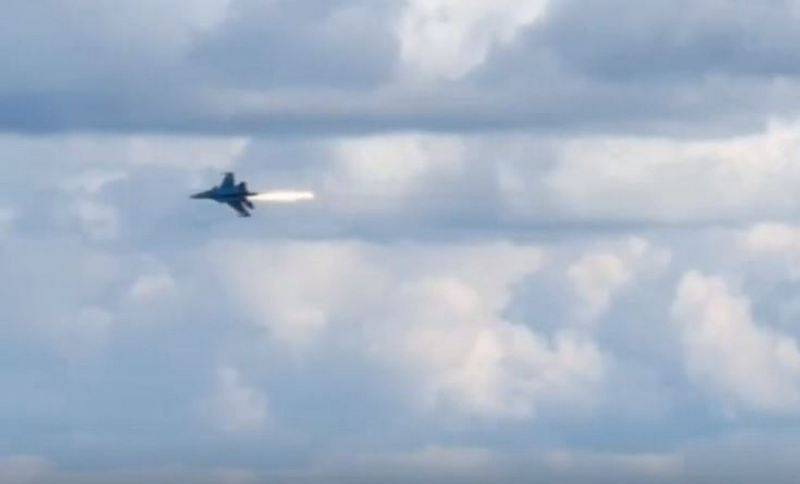 A video appeared on the Web with Russian fighters or front-line bombers, filmed, presumably in Ukraine. The first clip shows a flying aircraft with a burning engine, the second one shows the destruction of a fighter by means of air defense.
Now in order. On Saturday, Ukrainian and Russian Internet resources began to distribute a video with a flying Russian combat aircraft, followed by a fiery tail from one of the engines. It is assumed that this is a Su-34 front-line bomber. Ukrainian publics claim that this is a Russian bomber "struck" by the air defense systems of the Armed Forces of Ukraine, which was shot down and "fell down somewhere." However, judging by the video, this is not an anti-aircraft missile hit, but most likely an engine surge that caught the plane. The video shows that the pilot takes some action, trying to bring down the flames. At the same time, the plane continues to move and is not going to fall.
Although there is no confirmation, let's hope that the bomber made it to the airfield and landed safely.
But the second video shows the defeat of some aircraft, similar to a Russian fighter or front-line bomber. The plane moves at a fairly low altitude, then the engine part is damaged, followed by the fall of the car. Judging by the two opened parachutes, the crew ejected. In the Russian Aerospace Forces, double crews are used on Su-34 front-line bombers and Su-30SM multirole fighters, but we cannot say that these are Su-34s or Su-30SMs. Due to poor shooting and long range, it is not possible to determine exactly which aircraft it is, and it is also unknown where and when this video was filmed.