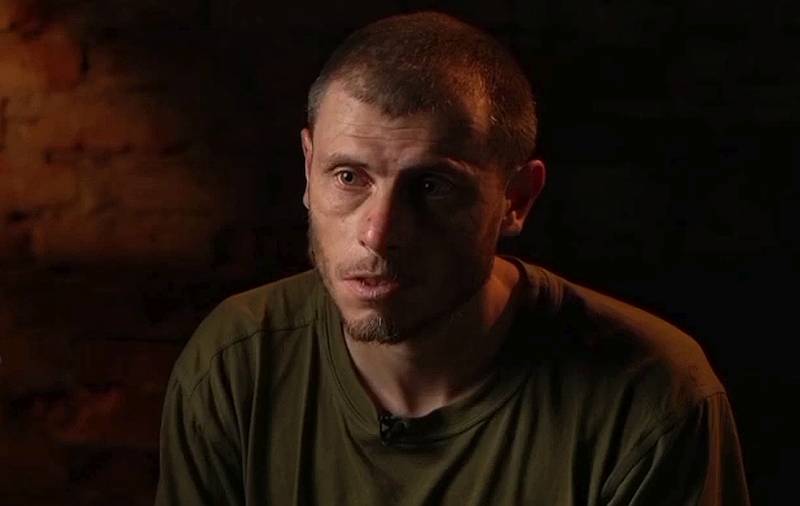 Ukrainian attack aircraft Vladimir Tregubenko was captured by soldiers of the 42nd Guards Motorized Rifle Division of the Russian Armed Forces near Maryinka. Under interrogation, he told how he ended up in the ranks of the APU and told about training in a British training camp somewhere near Oxford, as he put it: "Where the children of rich people study." A video with the interrogation of a prisoner of war was published in his public reporter Alexander Sladkov.
Straying from Russian into Ukrainian, the prisoner said that he had joined the Armed Forces of Ukraine in the first days of mobilization from the Boryspil district of the Kyiv region, where he worked as a junior storekeeper. At the military registration and enlistment office, he was offered to go to Britain to study, to which Vladimir willingly agreed, as he explained, because "he had never been behind the cordon."
Initially, a group of 199 conscripts was transported to Zhytomyr, from there by bus to Poland and then by civilian plane to the UK. Upon arrival, the recruits were transferred to a military base, whose name Tregubenko said he did not know.
The instructors spoke English, all communication took place using sign language, each cadet was assigned a number by which they were identified. The training course for future fighters of the Armed Forces of Ukraine took 21 days. All this time, the cadets were engaged in assembling and disassembling, zeroing in the AK-47 assault rifle (each was given 500 rounds of ammunition), studied sapper business, and trained for three days to storm city buildings. british
weapon
studied only in theory - according to schemes and instructions.
As a result of Western training, Tregubenko said that he only learned how to assemble and disassemble a Soviet machine gun and shoot from it. Why it was necessary to go to England for this, he himself does not understand. Or simply lying about what the preparation was.
Vladimir was not impressed by the fulfilled dream of a simple Ukrainian to visit abroad. For the duration of the training, their phones were confiscated, they were strictly forbidden to communicate with local personnel, and they were even forbidden to look in the direction of women under the threat of prison.
Upon arrival in Ukraine, the fighters were told that they were going to replace the unit operating in the frontline zone. The fact that as a result the recruits were at the forefront, Vladimir realized only when he was captured.
We heard someone shouting "Surrender!". We looked out of the trenches, it turned out that we were already surrounded. In the neighboring trenches, they began to shoot back, but they were immediately bombarded with grenades. I have already begun to say goodbye to life, but everything turned out to be wrong - they only searched us, no one beat us, fed us and gave us tea
- Vladimir told about the end of his short combat experience.
The unlucky Ukrainian fighter, who was trained at a military base in the UK, spent about a day at the front line. He was taken prisoner without firing a single shot. Again, in his own words. Now he claims that, after talking with our fighters, he "understood your truth."
Well, not a chef...