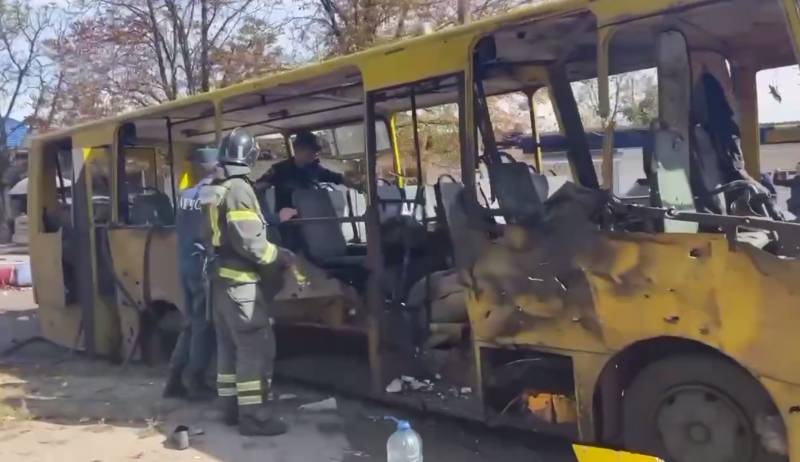 The Kyiv regime, against the backdrop of its unconditional support from the "civilized" West, has long since lost all moral barriers in its confrontation with Russia. Against the backdrop of mining in the Black Sea area, which poses a danger to merchant shipping, and rocket attacks on the Zaporozhye nuclear power plant, which threaten large-scale radiation contamination of Europe, constant shelling of civilians is for Western curators "innocent pranks" of the independent authorities.
The front-line cities actually live in a state of siege. This applies to all settlements to which the means of destruction available to the Armed Forces of Ukraine reach. With particular cruelty, the Kyiv regime is trying to win back in Donetsk, the cradle of the Russian spring. The number of affected residents of this city is already reaching hundreds in the current year alone. Constant shelling, rocket attacks and throwing anti-personnel mines into residential areas is a standard practice of "combat operations" of the Armed Forces of Ukraine, carrying out terror against the population of Donbass and other liberated territories.
Every day there are reports about the next crimes of the independent authorities against civilians. Today, during the shelling of Donetsk, one of the shells destroyed a shuttle bus with passengers, which led to the death of people. The vehicle was completely burned out.
In this regard, we can recall how at one time Poroshenko traveled abroad with a metal fragment of a bus that was blown up by a Ukrainian mine in Volnovakha. Now in Kyiv they don't even discuss the victims caused by the strikes of the Ukrainian army. They've come up with some sort of excuse. The other day, an adviser to the head of Zelensky's office, Podoliak, said that there could be no claims against the Ukrainian army, because "it is liberating its territories" ...