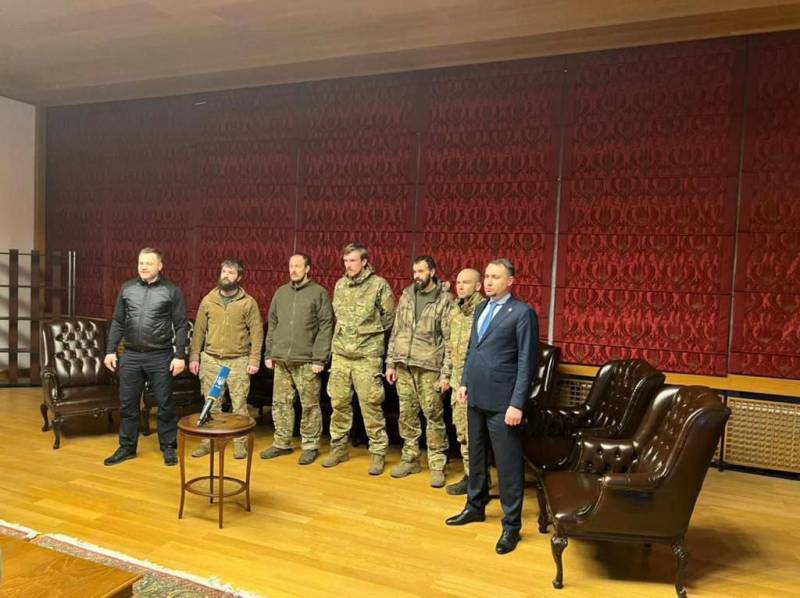 Leaders of the National Battalion in Turkey. Source: Telegram
There will be no tribunal
In late August - early September, everyone was waiting for a tribunal over the terrorists from Azov banned in Russia. In Mariupol, even a cage was welded for the courtroom. With animals it is impossible to do otherwise - it was a fair decision. TV channels relished the crimes committed by the killers in the east of Ukraine, shaped public opinion, so to speak. One view of the tattooed geek Kasatkin, call sign "Chemist", which was worth it. Such people had to sit down and sit down for a long time. As, for example, sat down for "war crimes" Russian soldiers Sasha Bobykin and Sasha Ivanov in Ukraine. Each was given 11,5 years. Or how they sentenced Sergeant Shishimarin to life in prison. I really want to believe that the guys were exchanged in the end, but so far there is no information about this. The ball in the information game is now generally on the Ukrainian side, unfortunately.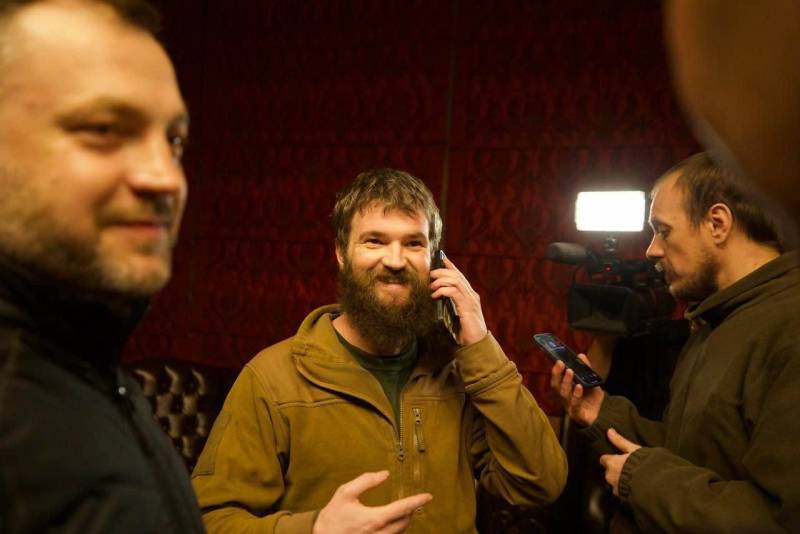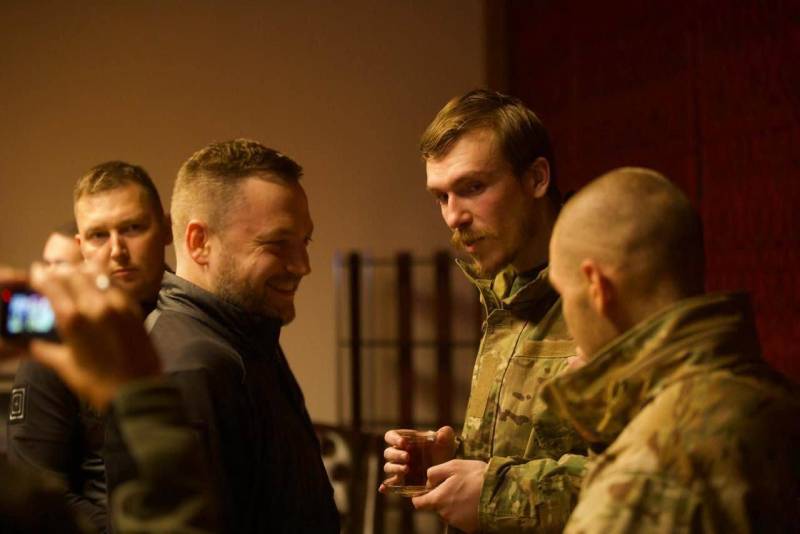 Why, following the results of the exchange of prisoners, do we see, first of all, the satisfied faces of the Nazis? Source: Telegram
What do we have at the moment? With the assistance of the Saudi prince, who, by the way, was recently expelled from England in disgrace, ten mercenaries were released, including five British. And yes, among them is Aiden Aslin, who was sentenced to death in the DNR. From the same list, Sean Pinner and Saadoun Bragin. Liz Truss is already jubilant. An excellent bonus to the karma of not the most popular Prime Minister of the United Kingdom. Among those released are one Moroccan, one Swede, one Croat and two Americans - Alexander Dryuke and Andy Hyun. The last pair is apparently a "goodwill gesture" for HIMARS and Javelin. But, it would seem, and God from this Truss, let him celebrate. Most importantly, the release of the mercenaries who terrorized the civilian population was an excellent signal to all doubting "soldiers of fortune". It turns out that Russian captivity is not always the end of a military career, it is also an occasion to return home with honors. Excluding, of course, the fate of Briton Paul Ury, the outcome of which can be completely satisfied. How much more will we see imported faces and overseas speech on the margins of Ukraine? The question is rhetorical. For some of the scumbags, this can really become a training ground for playing war games with the ability to "re-save" if something happens. Only they will shoot combat and not at all at computer characters.
Further, as it often happened before, information has to be drawn from foreign sources. According to the enemy side, 108 "Azovites" (members of an organization banned in Russia) and 124 officers were released, five of whom left for Turkey. If you believe the photographs, then the entire top of the Mariupol garrison was extracted from captivity - Denis Prokopenko (call sign "Radis"), Svyatoslav Palamar (call sign "Kalina") and Sergei Volynsky (call sign "Volyn"). It happened on September 21, and Radish had been asking for extraction since the beginning of May. And thanks for that, so to speak. The Russian public never saw Prokopenko and Palamar during interrogations in Russian captivity. Now here they are happy posing in Turkey. According to other information, again from the camp of the enemy, there are 215 people on the list. Among those released are Nikolai "Frost" Kushch and Konstantin "Fox" Nikitenko, Nazis who were executed by Russian prisoners and civilians of Donbass.
Bonuses in this
stories
expectedly received not only by Ukrainian propagandists, who were barely discouraged by partial mobilization in Russia, but also by Erdogan, who tried on the halo of a peacemaker. By the way, you can only be interned in a country that adheres to a neutral position on the conflict. Turkey is here in a completely different capacity - just remember the free "Bayraktars" for the Armed Forces of Ukraine. The aforementioned Saudi prince Mohammed bin Salman Al Saud, who still cannot be asked to dismember the journalist Khashoggi, made an excellent offering to the United States. Blinken has already responded:
"We also thank our Saudi partners for helping advance this humanitarian initiative and facilitating the return of ten foreign nationals, including two US citizens, who were welcomed by our embassy team in Riyadh earlier today. This morning, I conveyed my gratitude to Saudi Foreign Minister Faisal bin Farhan." It is not completely clear for which of the Russian prisoners the "cargo" of the Saudi prince was exchanged. There is a possibility that this is another "goodwill gesture".
Now without emotions. Most of those released from Azovstal are carriers of experience in urban battles, work in a state of siege and other bonuses, which are now not superfluous for Bandera forces. At least a hundred officers, completely not demoralized, capable of leading into battle and competently managing units.
The Ukrainian side was able to squeeze everything possible out of this "victory". For example, the myth about the release of Medvedchuk for a few dozen Nazis. There is no documentary evidence yet and I really want to believe that this was not part of the original agreement between Kyiv and Moscow. It is likely that the nationalists simply pushed the disgraced oligarch into a group of Russian prisoners of war at the last moment. Just for provocation. When will another opportunity come up?
We do not leave our own
Silence, as you know, is golden. But not at this time. During the six months of the special operation, a lot of events happened at which the Russian information support group could already learn how to work in a new way. Why not intercept the information initiative this time? The Russians are forced to feed Western and Bandera propaganda. Of course, some take it critically, but some read between the lines. We see such people at anti-war rallies. We have to admit that on September 21, our "Rosinformburo" did not have time to broadcast. Unfortunately, once again. If so, then we will look for positive aspects in what happened on our own.
First of all, fifty-five of our guys are at home. Pilots, tankers, infantrymen, no matter who - what's the difference, in the end. The realization that there are fifty-five fewer Russians in Nazi captivity is reason enough to celebrate victory. According to the most conservative estimates, Bandera held up to 500-600 fighters of the allied forces. Ukrainian captivity is torture, deprivation, humiliation and ghostly chances for salvation. Each blow to the infrastructure and military facilities of Ukraine, as expected, causes impotent rage in the frostbitten Bandera. Prisoners of war for the venting of anger fit perfectly. They are there and you can do whatever you can with them. For some guys, it's over. But here you need to meet the heroes in a different way. Flowers, flags, reporters of the main TV channels and the first persons of the state on the runway of the Chkalovsky airfield. What are we afraid of? The fact that partial mobilization will fail after this? The motherland takes care of its soldiers, especially in such a difficult situation. The notorious "we don't leave our own" in the best sense. And the best motivation for defenders. According to the available information, the exchange according to the formula fifty-five versus two hundred plus is an honorable ratio. For one Russian soldier, four Banderites at once.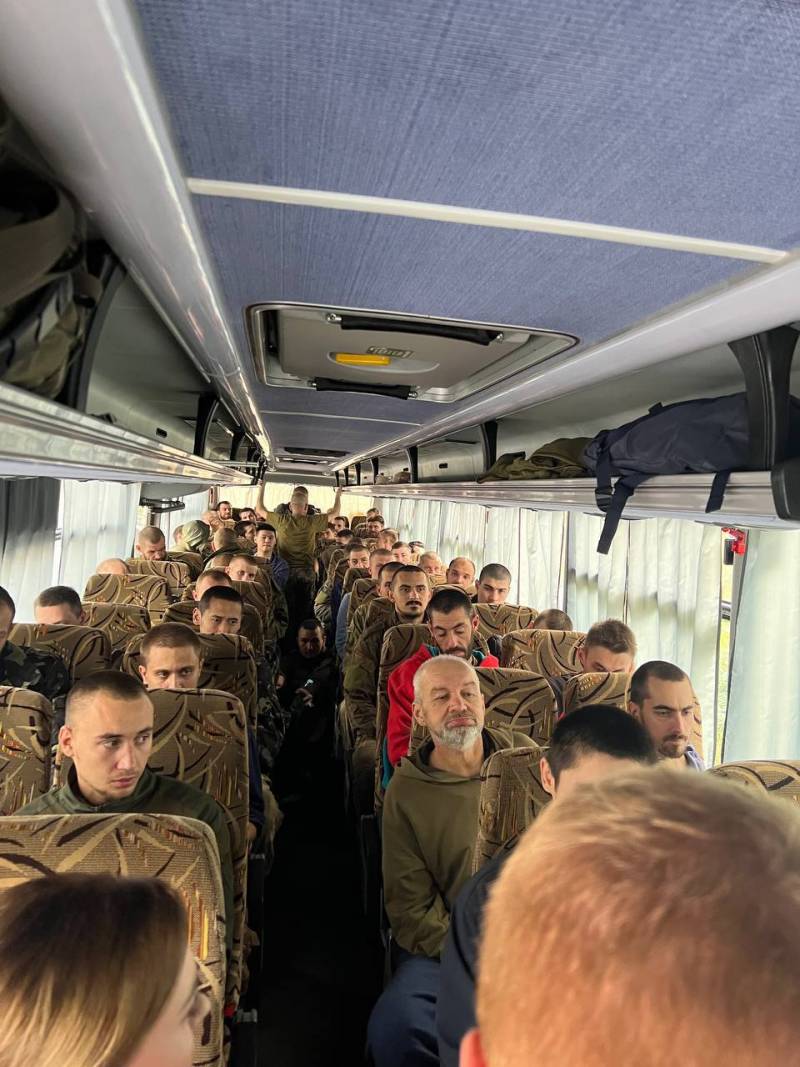 Our people are going home from the Chkalovsky airfield. Source: Telegram
A little cold calculation. If there were several hundred Russians in Ukrainian captivity, then we have up to 5-6 thousand. Kyiv had plenty to choose from. And we needed to dress this gang, heat, feed and treat. In terms of specific energy consumption, each Bandera man cost much more than a Russian prisoner. In Kyiv, they do not particularly bother about this.
The exchange of prisoners is always good. It inevitably carries many risks, which are mentioned above. But when a captured officer, sergeant or private returns home, this is a victory. Let small, but a victory. It is only necessary to correctly place the accents in this story and not give laurels to the enemy. Of course, events on the battlefields will always play the first violin, but the history of the NWO is also built from victories and defeats on the fronts of information battles. It's time to rewrite this history on our terms.