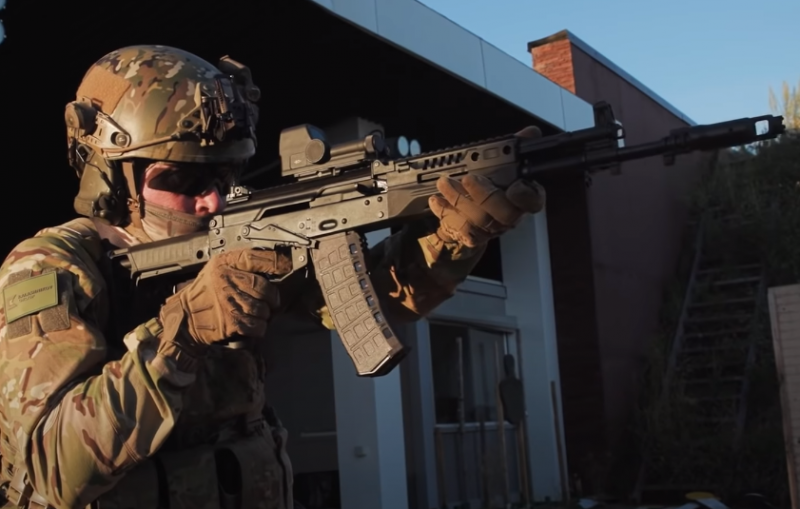 The AK-12 assault rifle, adopted by the Russian army in 2018, was finalized taking into account the experience of using it in a special military operation in Ukraine. The machine gun with the proposed improvements has already been presented to the Ministry of Defense. Alan Lushnikov, president of the Kalashnikov concern, spoke about this.
Since the beginning of the special operation, several meetings have been held dedicated to the machine gun. Taking into account the proposals received from the Russian military participating in the SVO, it was proposed to remove the cut-off mode for two shots, install a fire mode switch on both sides, as well as an adjustable butt cheek. Lushnikov did not mention any other changes. According to him, appropriate technical solutions were worked out, a prototype of a new machine gun was created, which was presented to the Ministry of Defense. Now changes are being made to the design documentation to launch the production of a new machine.
(...) in the shortest possible time, we selected technical solutions, made a prototype and demonstrated it to representatives of the Russian Ministry of Defense. Approved technical solutions are now being entered into the design documentation of the machine.
- quotes the words of Lushnikov
RIA News
As noted, the AK-12 assault rifle of the 2022 model differs from previously released models "for the better."
Adopted in 2018 by the Russian army, the AK-12 assault rifle has increased accuracy of fire, barrel survivability and improved ergonomics. It has three firing modes: single, automatic, and two-shot burst. On the
weapon
a removable muzzle brake-compensator is installed, it is possible to install a low-noise and flameless firing device. The buttstock is foldable, adjustable in length, there is a Picatinny rail on the receiver. A 40-mm grenade launcher is installed on the machine.
Caliber - 5,45x39 mm, weapon length in firing position - 880-940 mm, with folded stock - 690 mm, weight without cartridges - 3,5 kg, rate of fire - 700 rounds per minute.