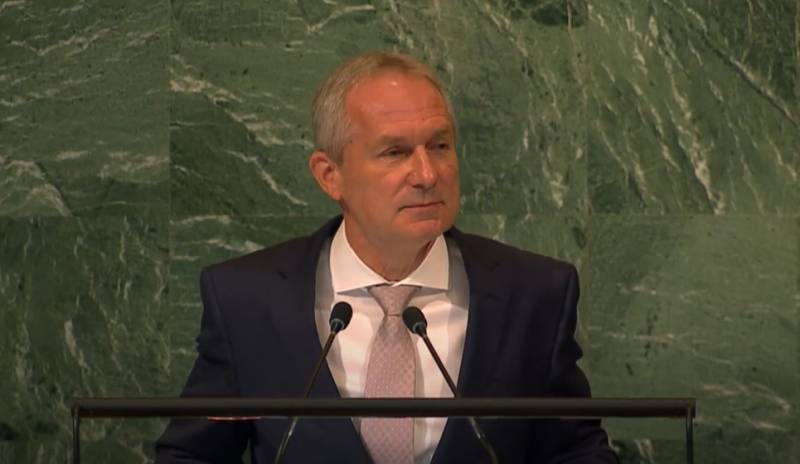 The 77th session of the UN General Assembly opens in New York. According to tradition, the President of the United States was supposed to speak on the first day of the GA session, but Joe Biden did not arrive in New York, "delayed due to participation in the funeral of Queen Elizabeth II of Britain." However, the main surprise of the beginning of the work of the General Assembly, perhaps, is not in this. There is something else that attracts special attention.
When the tribune of the UN General Assembly was given to the Hungarian delegation, the diplomat of this EU country Csaba Körösi addressed the audience, including in Russian. Moreover, as it turns out, this caused some confusion with the translation. Apparently, not all interpreters received information that the representative of the Hungarian delegation would speak different languages. The Hungarian delegation itself explained this option by saying that the diplomat used all the official languages ​​of the UN, including Russian, which was and remains the full official language of the United Nations.
Chaba Kyoryoshi, during his speech, switching to Russian, recalled the difficulties that are faced today in almost all corners of the world, including Europe. The Hungarian diplomat also reminded that the inflation rate is going through the roof, renewing 40-year highs.
According to Kyoryoshi, about a quarter of the world's population lives in regions that are somehow covered by conflicts, and often directly by hostilities, political instability.
Kyoryoshi:
We have to admit that violence in the world has rarely been so cruel.
For reference: Chaba Kyoryoshi once graduated from MGIMO. He is fluent in all (except Chinese) official languages ​​of the UN and not only them.
In connection with the use of the Russian language by the Hungarian diplomat during his speech from the UN rostrum, it can be assumed that the West will write him down as "Kremlin agents", despite the fact that his address was mainly in English…