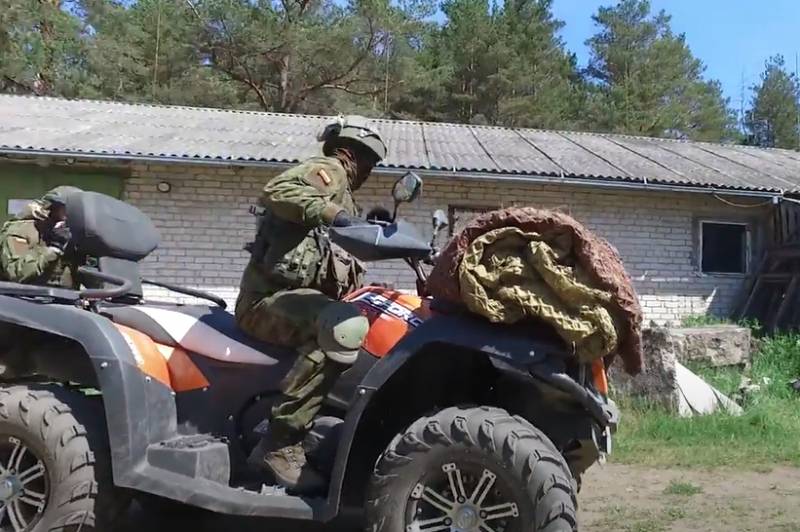 Military exercises "Strong Shield" start in Lithuania. They will be held in several regions in the north and northeast of the country and in the city of Panevezys. The purpose of the exercises is to train the soldiers of the Volunteer National Defense Forces to act in a civilian environment, enlisting the support and sympathy of the civilian population.
As you know, Lithuania pays great attention to the training of the Volunteer National Defense Forces. Vilnius has nothing to maintain a large professional army, and it is difficult to complete it in a difficult demographic situation. Therefore, the main attention is paid to the training of reservists and volunteers, who, in the event of hostilities, will be able to be quickly mobilized and begin resistance of a partisan nature.
Soldiers of the Volunteer Forces from the Vitsky district are now taking part in the military exercises. The municipal administration of the Pasvalis district claims that the military personnel who will take part in the exercises will travel on foot or in cars. They will have to use smoke bombs, explosives, flares in the performance of their tasks.
The military command believes that the exercise should increase confidence in the military in Lithuanian society. In addition, it is expected that people will have more confidence in the soldiers of the armed forces of Lithuania's allies in the North Atlantic Alliance.
Recall that the Volunteer National Defense Forces of Lithuania were created in 1991, that is, almost immediately after the country's independence. The main goal of formations in the event of hostilities is to resist the armed forces of the enemy, including through the deployment of a partisan movement.
In peacetime, the formation of the Volunteer Forces solves the tasks of eliminating the consequences of emergencies and natural disasters, protecting public order, but most of the time they are engaged in combat training.
The strength of the Volunteer Forces in Lithuania is currently about 5800, including 5000 volunteers and about 800 professional soldiers. Militarily, the formations of the Volunteer Forces are infantry units with little or no serious military equipment. Therefore, the military significance of such formations is very controversial, especially in a conflict with a stronger enemy.
But the Lithuanian military concept assumes that the main task of the national armed forces, including volunteer formations, is to hold out only for a while, until reinforcements from Western patrons - NATO allies come to the rescue. It is necessary to hold out, including using partisan methods. For example, these are ambushes from a forest area, the use of mobile sabotage groups on ATVs, etc.