Carlisle and Maria
In the old castle Jane Wilmore
A little night - ballads sound,
A string sings, a reproach arises,
Somewhere there are waterfalls
And the rumble of the surrounding mountains is long,
Communities are responsible.
Reader by
stories
Middle Ages (grade 6), part 2. M., 1998, p. 282–283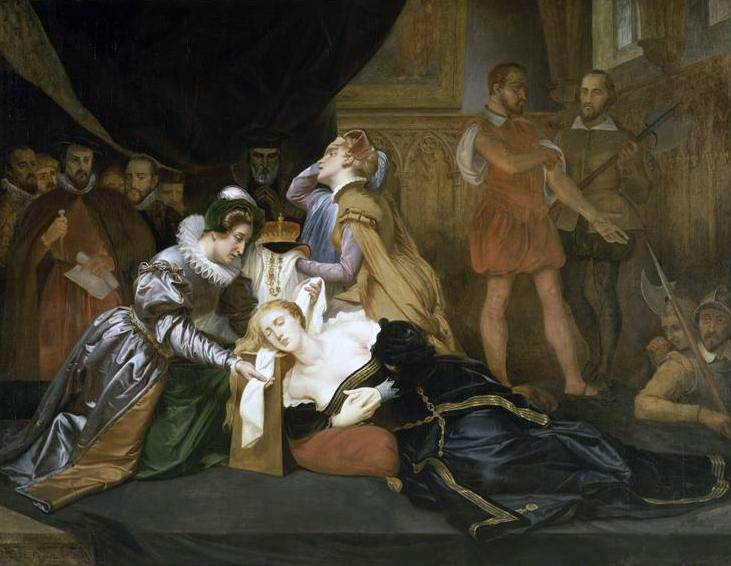 The Execution of Queen Mary of Scotland" by Abel de Puy (1785-1861). Museum of Fine Arts in Valenciennes, France
people and castles
"I would like to learn more about people whose names are associated with these or those castles. How did they live there, what did they do ... "
Here is what one of the readers of our site wrote to me about. And really - who's to say that it's not interesting? That's just because of the antiquity of years, the names of many inhabitants of the castles were forgotten, and if the names were preserved, then the details of their lives were erased. Or there are details, but the very figure of the inhabitant is interesting to the same British or French, but not attractive to our readers. Therefore, it was not so easy to choose both the castle and the person in the castle.
It was easier with the castle - this is Carlisle - the very castle that we just told you about, and there were plenty of famous people who visited it. However, perhaps the most interesting figure that ever lived in it was a woman ... Queen Mary of Scotland! Today we will tell you about her difficult fate.
Queen by destiny!
Mary was born in 1542 and became Queen of Scots when she was only six days old. While she was a child, Scotland was ruled by regents. In 1558 she married Francis, heir to the French crown, and when he became king in July 1559, a very important event took place: the thrones of France and Scotland were united. But eight months before this event, Mary's cousin Elizabeth became Queen of England.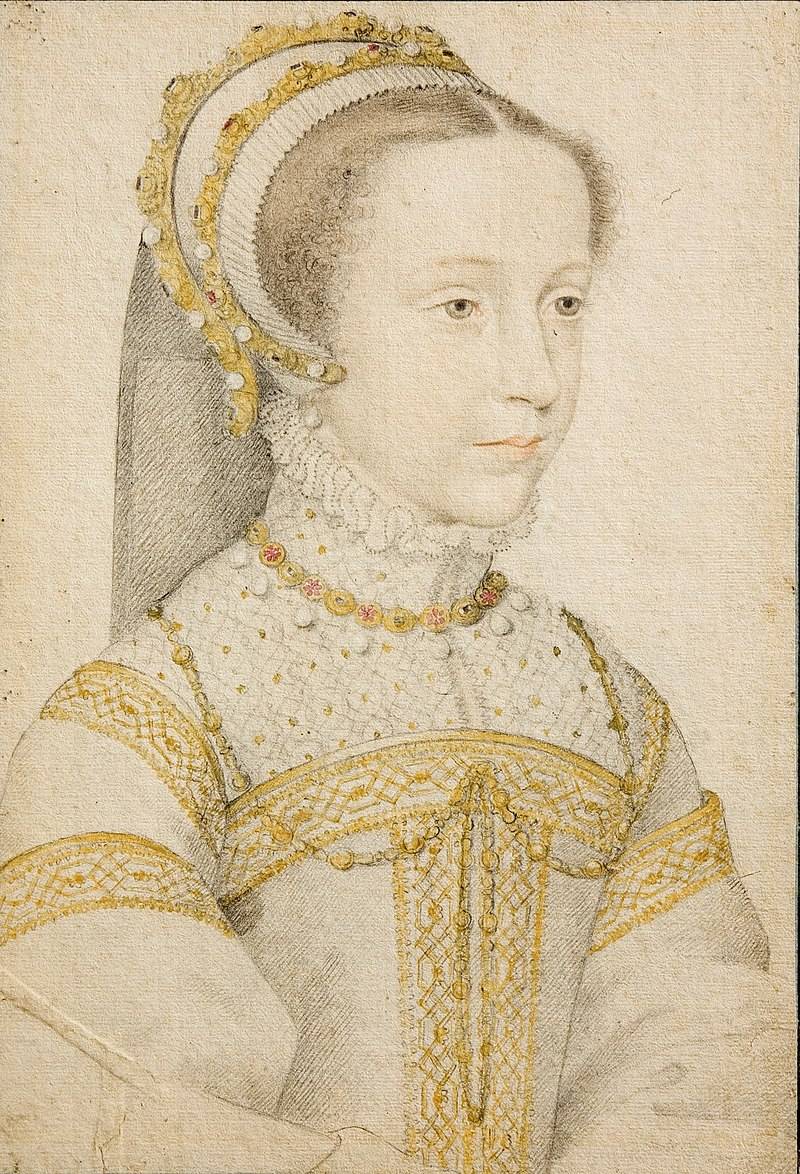 "Mary Stuart in her youth". Painter François Clouet, c. 1555–1559 Lubomirski Museum, Wroclaw, Poland
However, Francis died suddenly in 1560, and Mary, who had lived in France for most of her life, was no longer welcome there. She decided to return to Scotland to rule the country personally.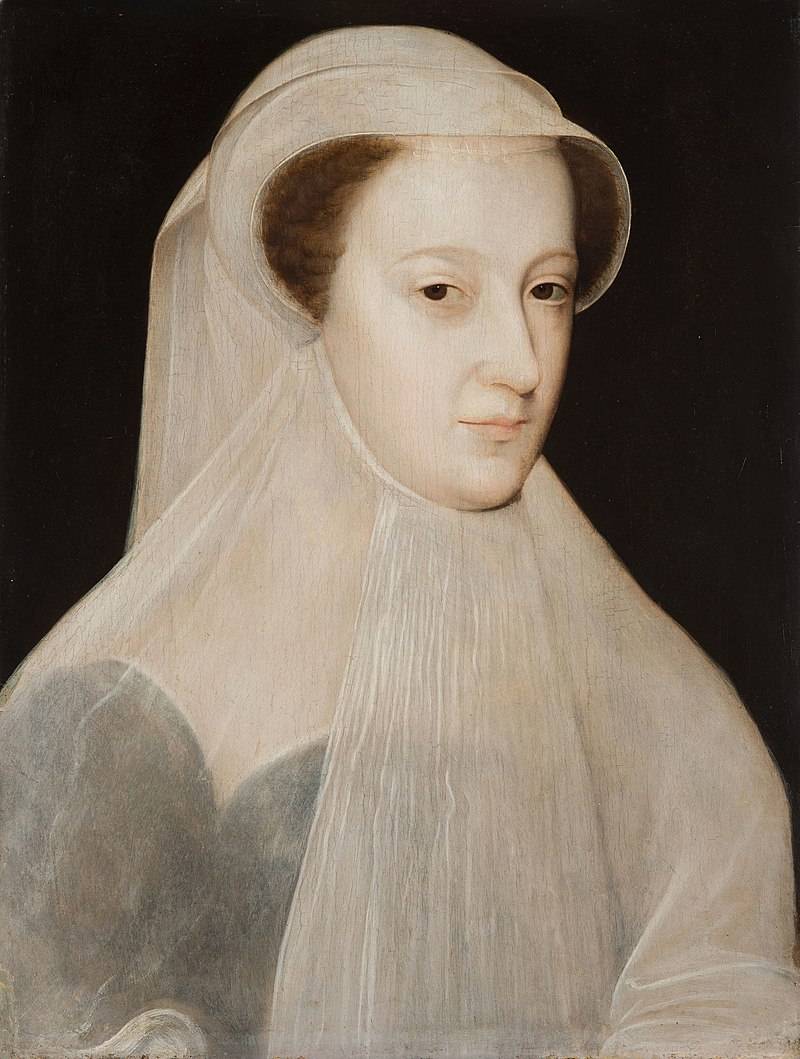 "Mary Stuart in white mourning after returning to Scotland". Artist Francois Clouet. Royal Collection of the United Kingdom
A difficult balancing act followed. As a Catholic queen, Mary struggled to govern a country that was officially Protestant and, to top it off, an ally of her former enemy, England.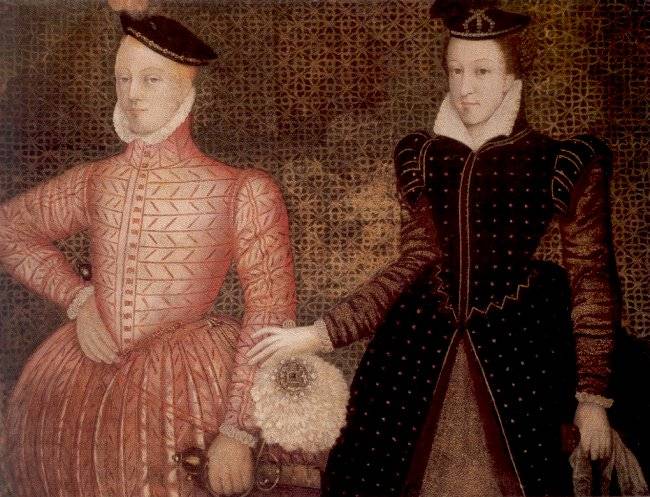 Lord Darnley on the left, Queen Mary on the right. Unknown artist. Hardwick Hall, Derbyshire, in the care of the National Trust
The balance was upset in 1565 when Mary married her cousin Henry Stewart, Lord Darnley, who was a Roman Catholic. The following year, their son James was born, but the marriage soon fell apart. And not only did it break up, it is important how it happened.
It was said that the queen was very much carried away by her secretary David Rizzio (or Riccio), and Darnley did not like this at all, like the coldness of his wife. A conspiracy was formed, as a result of which Rizzio was killed right in front of the pregnant Maria, who tried to protect him, again, in front of Darnley himself.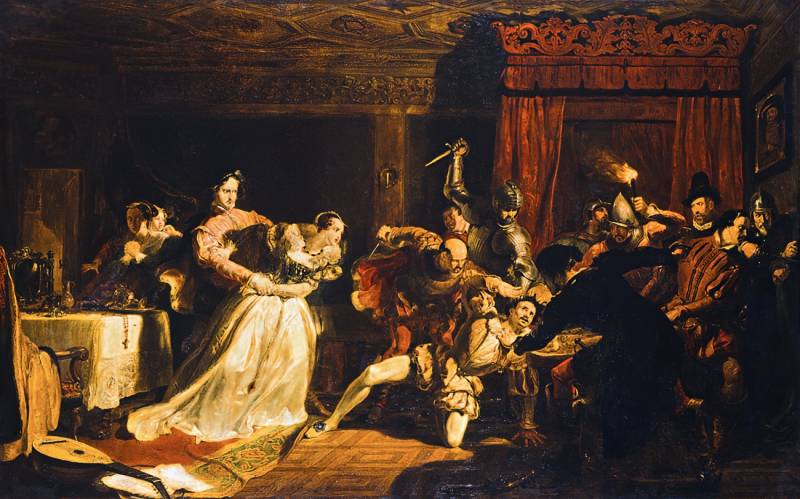 "The Assassination of David Riccio". Painting by Sir William Allen (1782–1850), 1833 Scottish National Portrait Gallery
And a year later, early in the morning of February 10, 1567, under mysterious circumstances, a house exploded in Kirk-o'Field, a suburb of Edinburgh, where Lord Darnley was recovering from illness at that time. The body of Maria's husband, along with the body of his servant, was found in a nearby garden. At first it was believed that they died in the explosion. However, upon closer examination, it turned out that they had been strangled and killed before the explosion.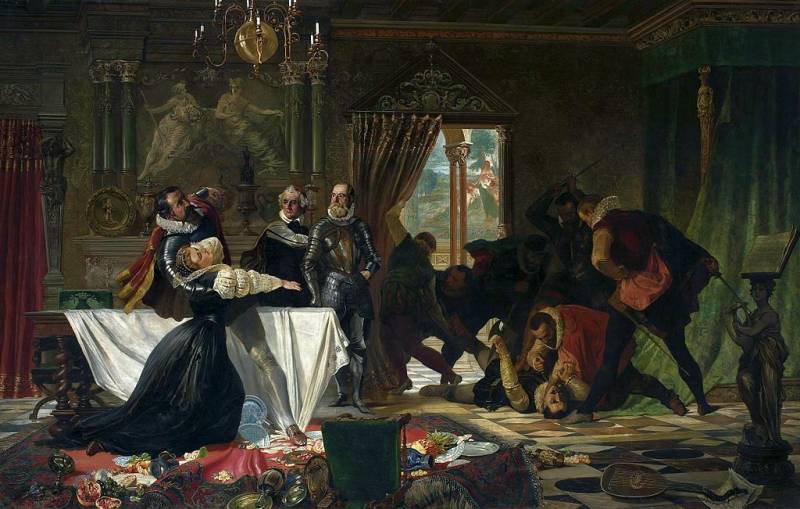 The topic of Riccio's assassination excited many artists, so paintings with this scene hang in various museums. "The Assassination of David Riccio" (1868) by Jean Lulvet (1833–1889). National Museum in Warsaw
Although this has not been proven, many believed that in this way Queen Mary avenged the murder of her favorite. According to another theory, the fourth Earl of Bothwell, James Hepburn, was involved in the murder of her husband. And this hypothesis also has a right to exist, since Mary and James got married shortly after the death of the unfortunate Darnley, and death is the surest way to eliminate a rival!
Three months of grief for the queen and then again in the bed of voluptuousness - by that time they were considered the height of immorality, and as a result, many Scottish nobles rebelled against Mary.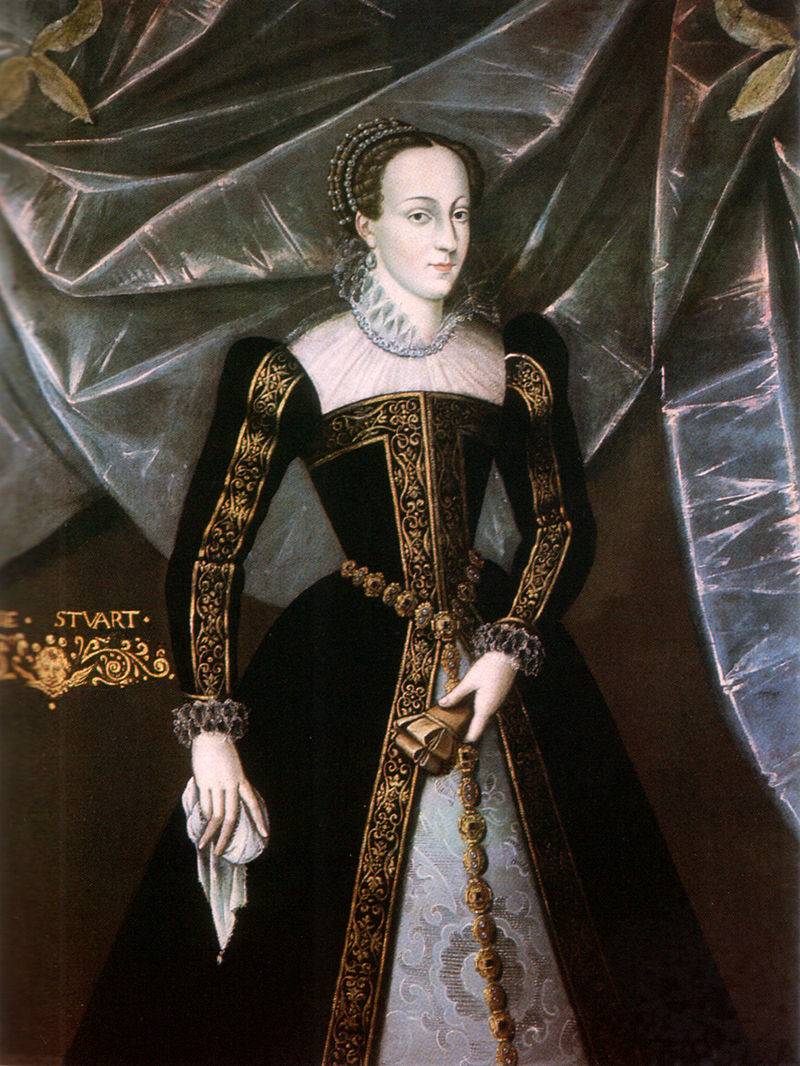 "Portrait of Mary, Queen of Scots (1542-1587)". Unknown artist. St Mary's College Blairs Museum - Scottish Catholic Heritage Museum
Both she and Bothwell lacked strength, and on June 15, 1567, Mary surrendered to the rebels and was imprisoned on the condition that her husband would be allowed to go into exile. In July, she was forced to abdicate in favor of her young son.
This, apparently, was considered sufficient by her enemies. But Mary turned out to be cunning and already in May of the following year she escaped from her prison, Lochleven Castle, again gathered the troops of her adherents (and they are always found even with fallen monarchs!), And was again defeated in Langside, not far from Glasgow.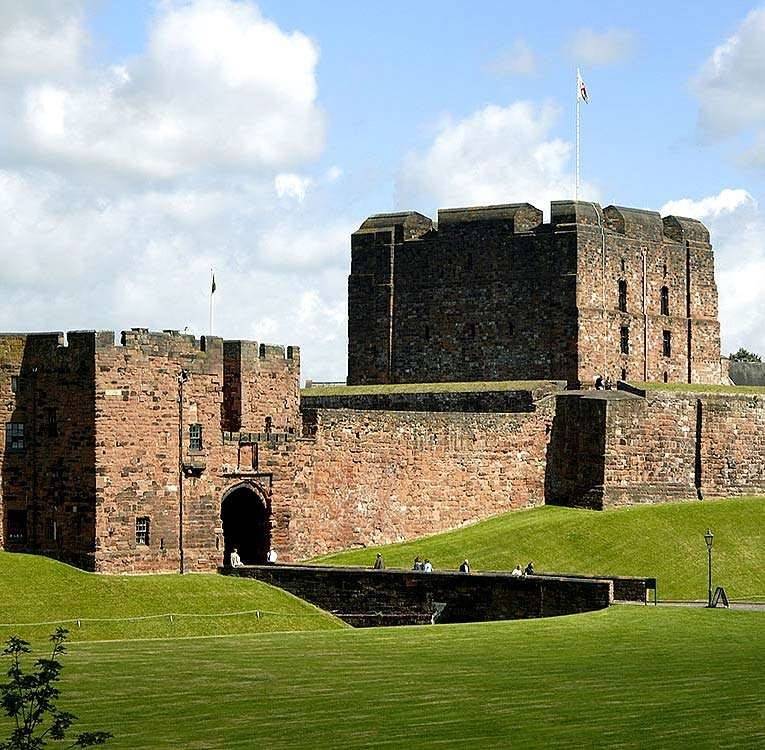 Outer gatehouse (left) and keep (right) of Carlisle Castle
Arrival in England
It was at this point that Mary decided to seek asylum in England. Her supporters begged her to stay in Scotland or go to Catholic France. But she was convinced that Elizabeth - her cousin and, like her, God's anointed - would help her raise an army to return in triumph to Scotland. Before leaving Scotland, she wrote a letter to Elizabeth asking for a meeting and sent a diamond ring as a token of her friendship.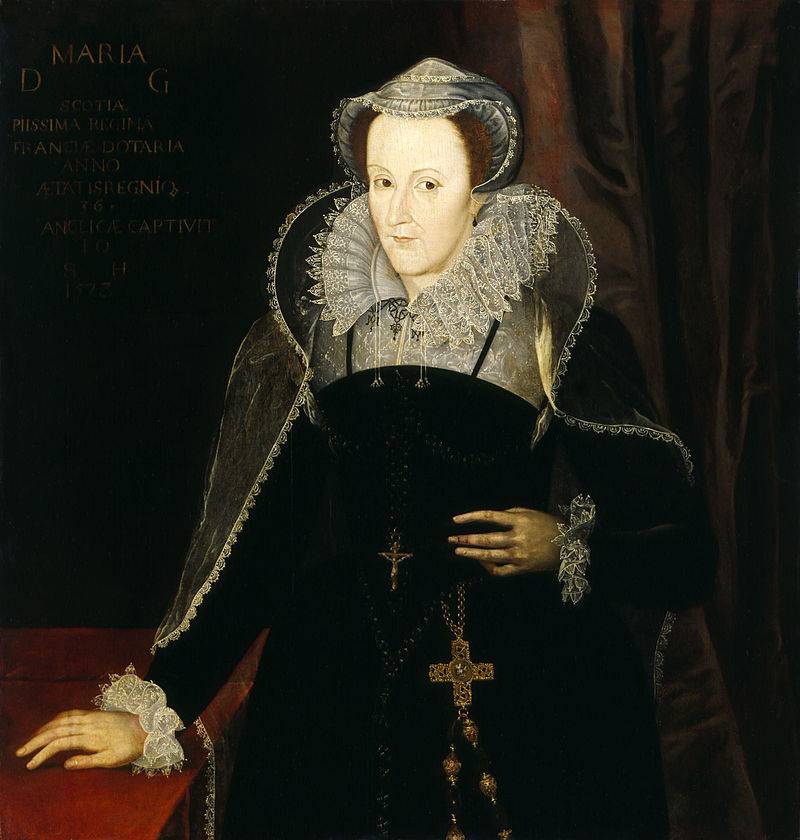 Mary Stuart in England, c. 1578 Nicholas Hilliard is believed to be the author of the portrait. National Portrait Gallery, London
Without waiting for an answer, she and 16 of her supporters made a four-hour passage through the Solway Firth (a strait that is part of the border between England and Scotland). They arrived at the port of Workington in Cumberland (modern Cumbria) in the early evening.
The next morning, Richard Lowther, Deputy Governor of Cumberland, provided an honorary escort to take Mary to nearby Carlisle Castle.
At this point, Mary's status was uncertain. She came of her own free will and was neither a prisoner nor a hostage. But from the moment she arrived at Carlisle Castle, she was surrounded by armed guards, which, however, given the proximity of the warlike Scots, did not arouse her suspicions. So, on May 20, she wrote to one of her supporters that she was "well received, accompanied and treated with respect."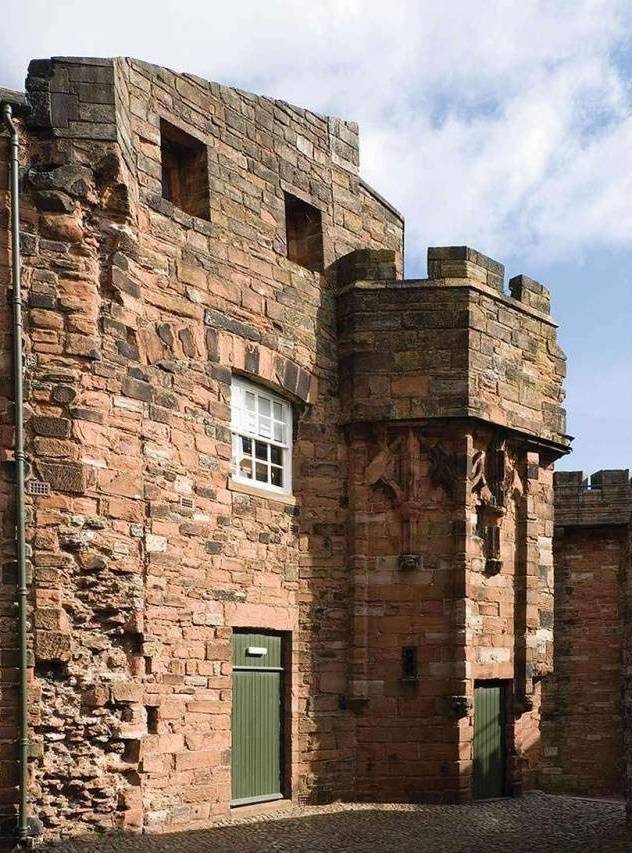 This octagonal stair tower once gave access to where Mary lived at Carlisle Castle.
Maria in Carlisle
Elizabeth sent Sir Francis Knollys, one of her trusted courtiers, to Carlisle to look after Mary. The watchman, however, was soon simply fascinated by her:
"She was a noble woman, because she did not care about ceremonies, except for the recognition of her royal class; then she spoke freely with everyone, regardless of their rank, and showed a tendency to talk a lot, be bold, pleasant and very familiar.
True, his life could not be called calm, since he had to live in constant fear that Maria would run away. He allowed her to walk on the grass in front of the castle, and this place was later even called "ladies' walk" and marked on the plan of the castle. Twice he let her watch the members of her entourage play football against each other. But when she went on horseback to hunt hares, "she rode so fast on every occasion" that he decided that this would not happen again.
Plan of Carlisle Castle with the "lady's walk" against the wall and the places inside the castle where she was also allowed to walk
Arriving with only a handful of escorts, Maria was allowed to send for many of her old co-workers, as well as her own clothes—she refused to wear anything else. Soon carts arrived from Lochleven with clothes and personal effects. Among her many attendants was Mary Seton, a lady-in-waiting who helped her escape captivity in Scotland. The Queen cut off most of her hair after the Battle of Langside to avoid being recognized. But Mary Seton styled her hair so skillfully that "every day at dawn ... she had something new on her head."
To maintain a proper royal lifestyle, Mary borrowed money from city merchants. However, the cost of maintaining her small court fell mainly on Queen Elizabeth. The Queen of England paid an average of £56 a week for goods such as meat, fish, spices, biscuits, butter, heating peat and wine.
Mary was placed in what was then called the Watcher's Tower, in the southeast corner of the courtyard. It later became known as Queen Mary's Tower.
This two-storey building was added to the castle in 1308 in order to have excellent housing in it. It is said to have had a window from which Mary could look over Scotland. This is supported by an 1830s description of "a spacious room called the queen's bedchamber, lighted by two windows facing south and one facing north" on the ground floor. The description of the tower emphasizes that it had "richer architecture than other parts of the castle".
In 1835, the tower was demolished when it was on the verge of collapse. All that remains today is an octagonal tower with a staircase that once gave access to this tower.
Mistake at the cost of death
Whatever Mary hoped for, her decision to seek asylum in England proved to be a disastrous mistake. The fact is that it put Elizabeth in a difficult position. In private, she sympathized with Mary as a fellow monarch who had been imprisoned and deposed. However, both she and her advisers, especially her chief adviser William Cecil, considered Mary to be very dangerous.
As a Catholic with a claim to the English throne in addition, Mary on English soil was both a potential rallying point for all Catholic rebels and a possible reason for the invasion of Catholic forces from abroad. And if she were restored to the Scottish throne, then England would be alone surrounded by Catholic countries. It was convenient for the English to leave the Earl of Moray, Mary's half-brother and Protestant, as regent in Scotland.
Fortunately for Elizabeth, Mary was under suspicion of involvement in the murder of her second husband, Darnley. It was a sin not to use such a pretext to discredit her, which was soon done.
Although Mary hoped for a speedy return to the throne, Knollys told her in late May that this was not possible until she was acquitted of Darnley's murder. Mary pleaded not guilty, but refused to stand trial, insisting that only God could judge the sovereign. Despite her passionate letters to the queen asking for a personal meeting, Elizabeth did not give her an audience.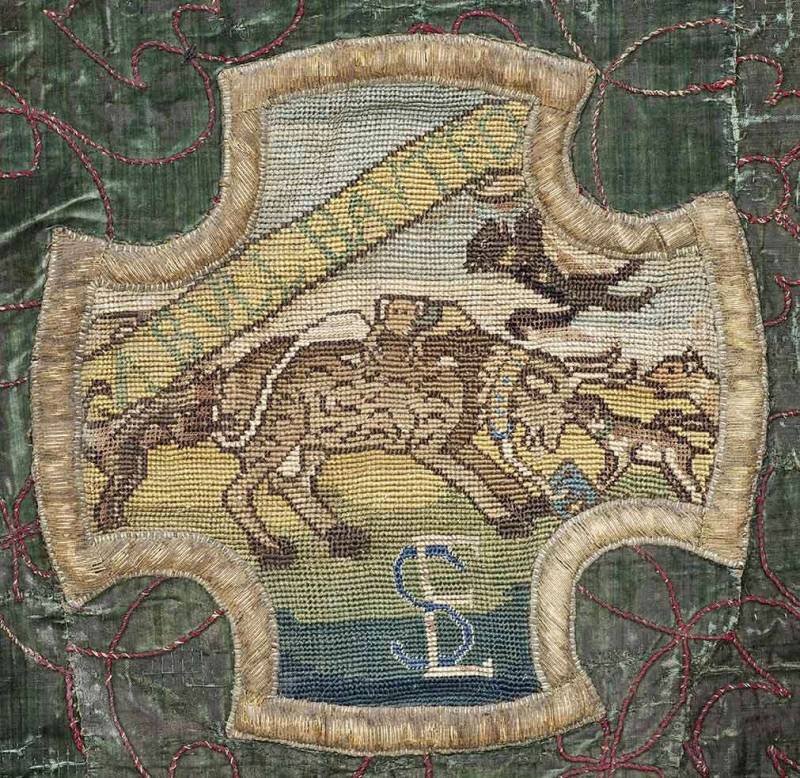 Detail from a needlework panel (now in Oxburgh Hall, Norfolk), one of many made by Mary, Queen of Scots and Bess of Hardwick during Mary's imprisonment. By the way, in the same Scotland, lace craftsmanship reached its peak during the reign of Mary Stuart. The queen loved needlework, knew how to embroider, and she herself composed various patterns: images of birds, animals, plants. The National Trust Photolibrary/Alamy Stock Photo
queen in captivity
As a result, Mary reluctantly agreed to the investigation of the charges against her. At the end of July 1568, before it began, she was transferred south to Bolton Castle in Yorkshire. Moreover, in order to transport the queen, her retinue and her property, it took four crews, 20 pack and 23 riding horses.
The investigation began in October. Even though the Scots presented incriminating evidence against Mary (which was almost certainly falsified), Elizabeth stated in January 1569 that there was no evidence in any case. Nevertheless, although she was no longer accused of any crime, Mary remained in England. Legally justified, she de facto became a prisoner, and her own relative.
Bolton Castle was the first of many places where she would be in later years. From the beginning of 1569, the Earl of Shrewsbury, a prominent nobleman, became her guardian, and Mary now traveled with him between his several castles and estates.
Despite the fact that she was under house arrest, she was treated as an exiled ruler and guest - she had her own household, she could receive visitors, she was granted privileges and luxury.
This hit Shrewsbury's finances hard, as well as his marriage. Mary initially spent much time with the Countess of Shrewsbury, Bess of Hardwick. But in the end, as is often the case with women, they quarreled, in addition, Bess began to suspect Mary of having an affair with her husband.
Plan of Fotheringhay Castle
During Mary's many years in captivity, her presence on English soil provoked a number of Catholic plots to assassinate Elizabeth and place Mary on the throne of England. However, there was no evidence of her involvement in them, and Elizabeth had no choice but to endure this "time bomb" next to her.
However, in 1586, Mary became involved in a plot to assassinate Elizabeth. She was found guilty of treason. Elizabeth, finally convinced that she would always pose a threat to her while she was alive, signed her death warrant.
On February 8, 1587, Mary Stuart was beheaded at Fotheringhay Castle. Interestingly, she went to the execution with a dog named Geddon under her dress. And when the executioner cut off her head, the body was lifted, in the folds of her long dress a dog was found, clinging to the feet of the dead Mary.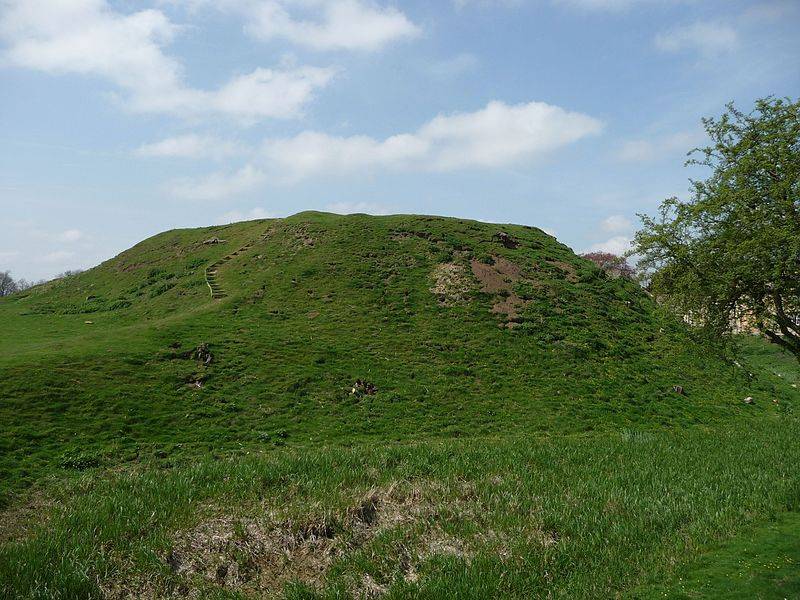 And here is what remains of Fotheringhay Castle. Only hill. As if fate itself punished its walls for the crime committed in them ...
At first she was buried in Peterborough Cathedral, but in 1612 her son James, who became King of England after the death of Elizabeth I, ordered her remains to be transferred to Westminster Abbey, where they were buried a second time in the immediate vicinity of the grave of Queen Elizabeth, her more fortunate rival.
On the other hand, it was the tragic death of Mary Stuart that for many centuries inspired poets, artists, composers, writers, and then filmmakers to create works based on her image!
PS
Photos of the site english-heritage.org.uk were used for design