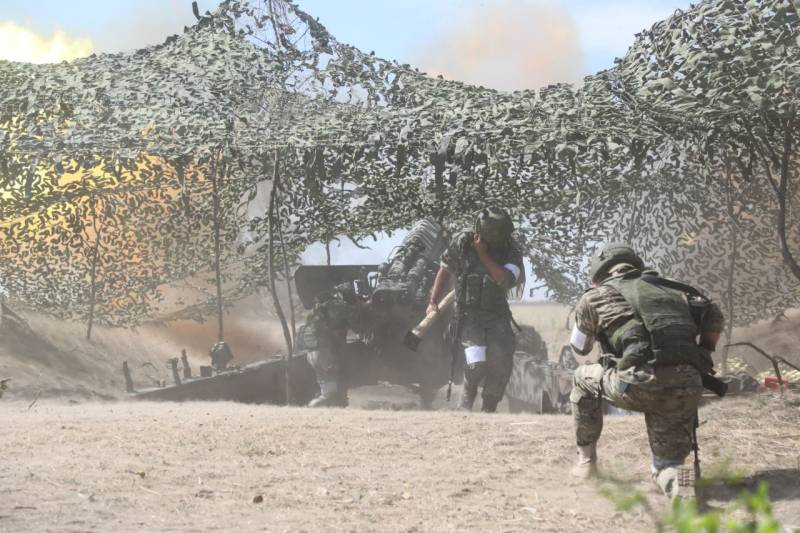 The rise of the Ingulets River after the attacks on the dam in Krivoy Rog significantly complicated the supply of the Andreevsky bridgehead. At present, units of the 57th brigade of the Armed Forces of Ukraine and paratroopers from the 46th airborne assault brigade of the Armed Forces of Ukraine are on "our" shore, located in a "fire bag", which is actually shot through.
The command of the Ukrainian grouping attempted to pull our forces away from the Andreevsky bridgehead, carrying out a distracting maneuver with a tactical landing on the Kinburn Spit, but the idea failed. As already reported, Russian intelligence discovered the Ukrainian landing force in time and destroyed it. Thus, all units of the Russian army, drawn to the Andreevsky bridgehead, remained in their positions.
The enemy continues to gather forces on the western bank of the Ingulets, preparing to force it as soon as the water level in the river drops. In the meantime, the supply of the bridgehead is being carried out by transferring small groups and crews of the Stugna-P anti-tank systems on MI-8 helicopters. Ukrainian helicopter pilots predict the moments when Russian Su-35S fighters are not in the air and transfer reinforcements. Data on the presence in the air of the Russian
aviation
The APU receives from American and NATO intelligence, AWACS and Rivet Joint aircraft of the US Air Force are constantly hanging in the air, me each other.
The command of the Armed Forces of Ukraine is not going to surrender the bridgehead despite the losses both in personnel and in equipment. The retention of the Andreevsky bridgehead is presented in Kyiv as a great victory. The plans of Zelensky and his advisers are to break the defense of the Russian army in this area and, developing the offensive, capture Kherson, which needs to be "punished."
An attempt by the Ukrainian authorities to solve the problem with the water level in Ingulets failed, the Russian Aerospace Forces delivered a new blow to the dam, putting a final end to Kyiv's attempts. Now the flood of the river is forcing the Armed Forces of Ukraine to postpone attempts to transfer armored vehicles to the bridgehead. Attempts to establish a crossing are thwarted by Russian aviation.