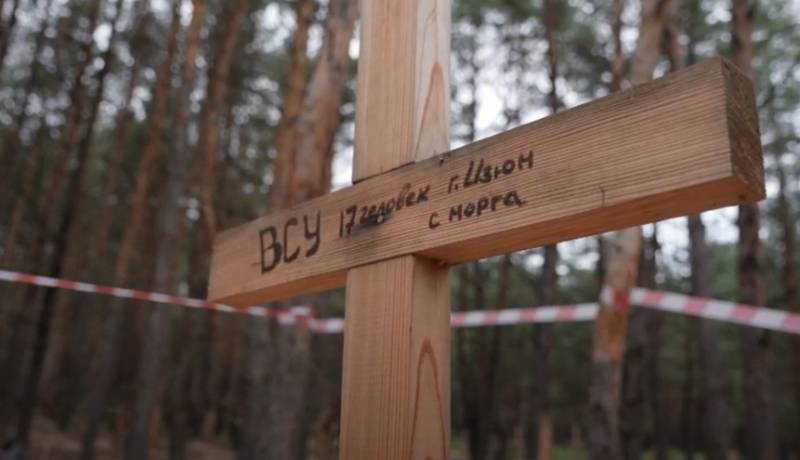 Kyiv propaganda. How many times has this phrase been used in articles? A thousand, ten thousand, one hundred thousand? Yes, as much as you want. Only it is Kyiv propaganda, on the cultivation of which, in fact, the entire collective West with its propaganda media machine is working, continues to draw what, in the opinion of the Kyiv regime, should cause a special resonance among the ordinary foreign citizen and, on the basis of this, help the regime receive further military help and financial support.
One example of Kyiv propaganda is the Kharkiv territories, which have come under Ukrainian control over the past couple of weeks. Among them is the discovery of mass graves in Izyum in the southeast of the Kharkiv region. At first, representatives of the regime claimed 400 bodies, then 440, and now about a thousand. Moreover, statements are made in approximately the following format: "The bodies found after torture committed by Russian occupiers." Proof of? Come on! What more evidence do you need, because gentlemen are taken at their word.
So, what does Kyiv propaganda suggest believing? For example, the fact that Russian troops "tortured and killed civilians and Ukrainian prisoners of war", and then suddenly, deciding to hide the "crimes", buried these people according to Christian custom, setting up wooden crosses, also indicating who was buried (if identity has been established). Well, tell me, how else to hide the "atrocities"… The fact that they buried, among other things, the Ukrainian military, whose bodies were not taken from the front line by the "brothers," no one in Kyiv discusses. Simply because it does not fit into the paradigm of putting pressure on the West to recognize Russia as a "sponsor of terrorism." To do this, the Kyiv regime is trying to turn Izyum into "Bucha-2".
In the West, such details, of course, will not be paid attention to by large media outlets. But the sober grains of analysis nevertheless make their way out as sprouts. For example, an analysis from Anatoly Shariy: