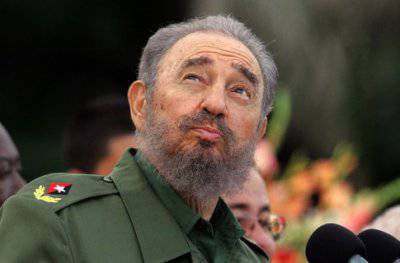 Sad
news
come from the island of liberty. Cuban media reported that Fidel Castro, who is the real leaders of the nation, suffered a stroke and is in serious condition today. The great Fidel, as reported by his Venezuelan doctor, José Markina, today cannot speak or eat. He stopped recognizing even people close to him. Doctors frankly say that Fidel Castro can live for many more weeks, but at the same time he will no longer be visible to the public. It looks like in
history
a whole era that is associated with a man like Fidel Castro is leaving.
Today there are no politicians of this size left in the world like Fidel. His name is known to most people in many countries of the world. His political activity has always been admired both by his comrades and his opponents. Fidel had millions of friends and millions of enemies. His main enemies were in the territory of the most hated state for this person - the United States of America.
In August of this year, Fidel Castro turned 86 years. He had long since moved away from political affairs in Cuba, transferring power to his younger brother Raul. However, Cubans are used to seeing Fidel, who congratulates them on major public holidays.
In his youth, when after the Cuban revolution, Fidel became a real Cuban hero who literally went to the people every day. He could be seen by simple peasants helping to clean the corn; he could work with a jackhammer, moving with the brigade of workers
diesel compressor
, he could sit next to the usual fans at the boxing match, he could come to the regular store for a loaf of bread. Fidel was everywhere. He was considered and continues to be considered literally in every Cuban family.
The amazing popularity of Fidel Castro is connected with his oratorical skills. He could spend hours in monologues, while keeping the whole crowd in constant attention. Even when Fidel exchanged his eighth decade, his oratory did not evaporate. He spoke from the podium the same way 30 did years ago. The whole world applauded his words, because they reached every listener.
I would like to hope that iron Fidel will be able to overcome his illness. That is why we wish the Cuban leader recovery!