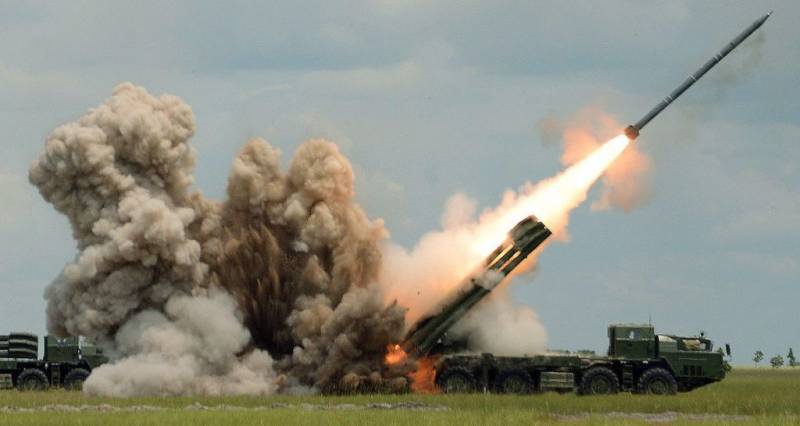 Russian MLRS "Tornado-S". Photo by NPO "Splav"
Leading developers continue to develop the direction of multiple launch rocket systems and get very interesting results. So, in recent years there has been a tendency to a constant increase in the firing range. The latest models of MLRS missiles are capable of flying hundreds of kilometers and delivering a heavy warhead to the intended target with high accuracy.
development of existing
It is obvious that the firing range of the MLRS is determined mainly by the parameters of the rocket. Accordingly, the easiest way to create a long-range complex is to develop a new missile with improved performance. It is this approach that has been used in a number of domestic and foreign projects of recent times.
So, in order to increase the main combat characteristics of the Russian MLRS 9K58 "Smerch", the project 9K515 "Tornado-S" was developed. It provides for the preservation of a standard launcher with 12 300 mm caliber guides on a special wheeled chassis. At the same time, the combat vehicle receives new means of fire control and rockets with improved performance.
Specially for Tornado-S, 9M544 and 9M549 missiles were created; the emergence of new similar ammunition is possible. They are made in a standard 300 mm hull, but are significantly heavier than older missiles. New products are distinguished by the presence of a control system and trajectory correction based on satellite navigation. In addition, an improved solid-propellant engine has been created for them.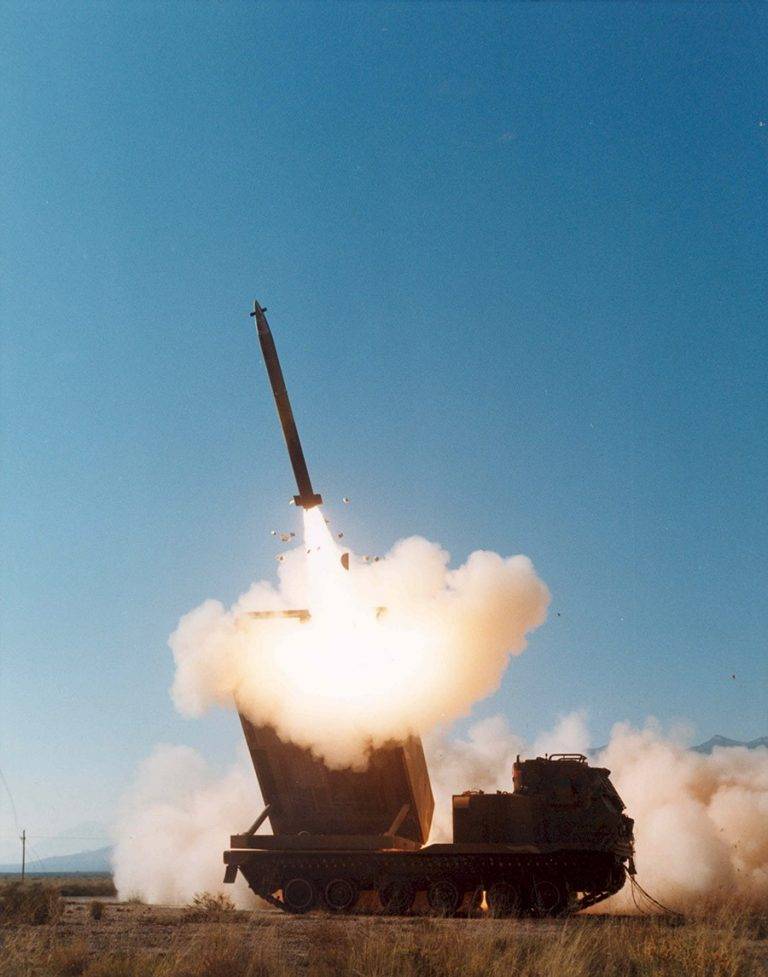 An American MLRS M270 launches a GMLRS missile. Photos Lockheed Martin
The firing range of the Smerch MLRS, depending on the type of projectile, reached 70 km. Products with a range of 90 km were developed. For Tornado-S, this parameter reaches 120 km. In addition, the industry reported the possibility of creating missiles with a range of 200 km.
The American MLRS M270 MLRS and M142 HIMARS have undergone a similar upgrade in the past. Initially, M26 / 28 missiles with a range of no more than 40-45 km were developed for them, but then the GMLRS family of ammunition appeared. These shells are used with standard launchers and require a new SLA. In this case, a significant increase in range is achieved.
The GMLRS family currently includes six serial missiles - M30, M31 and their modifications. They retained the dimensions of their predecessors, but received satellite navigation-based guidance and an improved engine. The firing range increased to 92 km. GMLRS missiles are equipped with a cluster or monobloc warhead weighing 91 kg.
The development of the promising ER GMLRS rocket is coming to an end. This project provides for a slight increase in the dimensions of the rocket, but this does not affect the ammunition load of the MLRS. Due to the larger engine, the flight range was brought up to 150 km. As before, the rocket is guided and guided along the programmed coordinates.
Next generation
The use of existing platforms provides known benefits, but imposes certain limitations. As a result, it makes sense to develop completely new MLRS, the design of which initially allows obtaining high range characteristics. Several samples of this kind have appeared and entered service in recent years.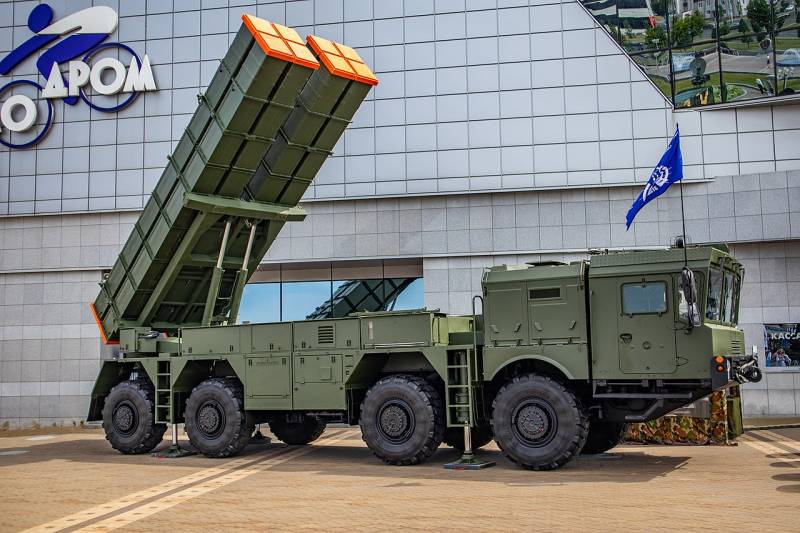 Launcher MLRS "Polonaise". Photo by Wikimedia Commons
Since the early 200s, Chinese industry has been promoting the new A2015 guided missile on the market. In the early years, she did not interest foreign buyers, but then the situation changed. In 2016, a new MLRS "Polonaise" of the Belarusian-Chinese development was demonstrated. Belarus provided the chassis and other components, and the rocket part was of Chinese origin. In XNUMX, the Polonaise was adopted.
The A200 missile is a 301 mm munition with a length of 7,26 m. It is equipped with a satellite guidance system and has a detachable warhead. Three variants of combat load are reported. Due to the efficient solid-propellant engine, a range of 200 km is achieved.
In 2014, a new MLRS was spotted during an exercise in North Korea. The real name of this complex is unknown; abroad it was designated as KN-09. This is a wheeled combat vehicle with a launcher with eight 300 mm caliber guides. Apparently, it uses advanced fire control tools. Later, a similar machine with 12 guides appeared.
The exact characteristics of the KN-09 are still unknown. According to foreign estimates, the firing range can be at the level of 180-200 km. Accordingly, shells for such a MLRS must have means of correction or guidance. It is supposed to use GLONASS or Beidou navigation systems.
New records
The modern level of technology makes it possible to further increase the firing range of the MLRS. Systems of this kind in terms of their characteristics are as close as possible to operational-tactical missile systems. This provides noticeable benefits, but at the same time raises questions about the appropriateness.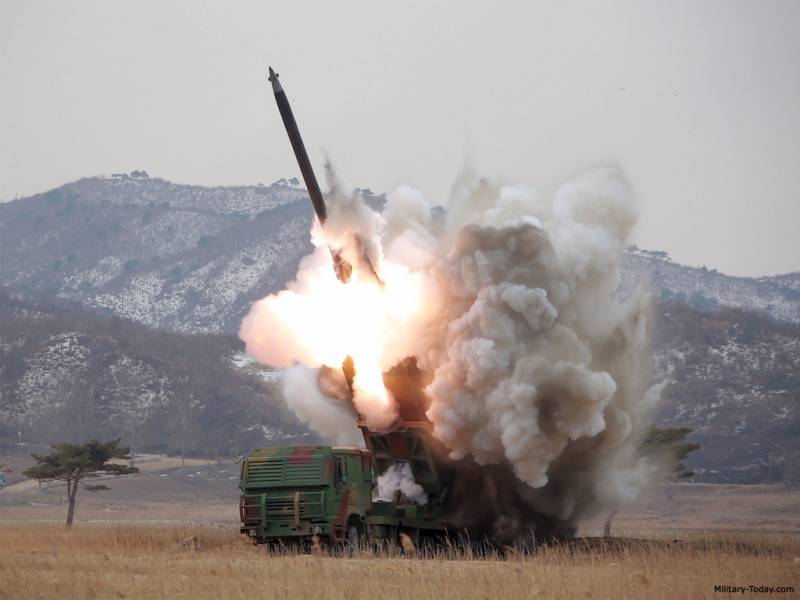 North Korean KN-09 system on exercises. Photo military-today.com
In 2019, the PLA received a new modular MLRS PHL-16 or PCL-191. It is made on a special wheeled chassis and can use three types of ammunition in different calibers. Missiles of different types are placed in unified TPK; the launcher carries two such products. The size of the ammunition load depends on the ammunition used.
In multiple rocket launcher mode, the PHL-16 uses 300mm BRC3/4 rockets as well as BRE2/3 products. Their maximum range reaches 130 km. One TPK holds five such shells. There is also a container for four 370 mm BRE6 rockets. In this case, the firing range is 220 km. With the help of a 760-mm BRE8 rocket, one in each TPK, the MLRS turns into an OTRK. The export version of the missile has a range of 300 km, the version for the PLA, according to various sources, up to 500 km.
Also in 2019, a curious version of the "super-large-caliber MLRS" was tested by the DPRK. This sample received the foreign designation KN-25. Initially, this system was based on a tracked chassis, and in 2020 they showed a similar model on a wheelbase. According to various sources, by now the KN-25 could enter service and get into combat units.
MLRS KN-25 has a unique caliber - 600 mm with a length of approx. 8 m. It was possible to place six guides for such ammunition on a tracked vehicle, four on a wheeled vehicle. Test firing was carried out at targets at different distances, with single missiles and in one salvo. Foreign intelligence recorded a maximum range of 380 km. Apparently, the missile is correctable / guided.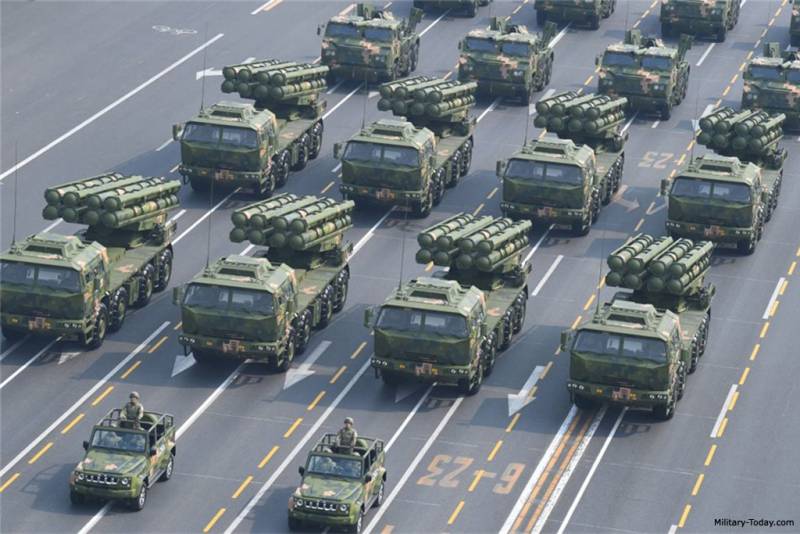 Ceremonial calculation of the Chinese MLRS PHL-16. The vehicles are equipped with TPK for 300-mm rockets. Photo military-today.com
Opportunities and feasibility
It is easy to see that over the past 10-15 years, the leading countries have shown significant progress in the field of multiple launch rocket systems. By increasing the caliber and using new components, the range of missiles and the accuracy of hitting targets were increased significantly. New systems of this kind have a number of strengths, although they are not without drawbacks. In addition, the feasibility of creating some of these MLRS raises questions.
The obvious advantage of the new MLRS, for which such projects are being developed, is the increased firing range. It allows you to attack and hit targets at a greater depth of defense - or from more distant positions in the rear. Accordingly, the security of systems and calculations is increased or the zone of potential strikes is increased. At the same time, the presence of control systems virtually eliminates the dispersion of projectiles and ensures high accuracy in hitting targets.
Large-caliber MLRS with a range of at least 150-200 km are becoming an analogue or competitor of full-fledged OTRK. Such competition has its own specifics, and a comparison of different samples may not be in favor of long-range MLRS. In particular, rockets for MLRS are seriously inferior to OTRK missiles in terms of payload and combat qualities. In addition, while maintaining the "normal" calibers, operational-tactical missiles win in terms of firing range.
However, new types of MLRS also have some advantages. So, the launcher carries and can sequentially use several missiles. They can hit one area target or several point targets, incl. scattered across the area. The lower combat load is compensated by the accuracy of the hit and other capabilities that the OTRK does not have.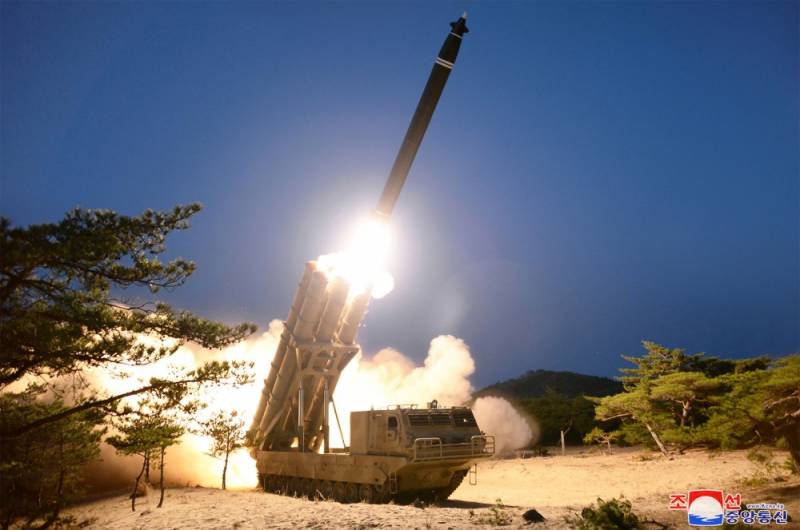 Launch of a 600 mm KN-25 rocket. Photo by CTAC
Of particular interest in this context is the North Korean "ultra-large caliber MLRS" KN-25. In terms of design, this is indeed a volley fire system that has undergone scaling. However, in terms of performance characteristics, this is already a full-fledged OTRK with a good firing range. At the same time, the KN-25 inherited an ammunition load of several missiles from the original KN-4 class. 6-380 missiles with a range of XNUMX km give the complex special capabilities and set it apart from other MLRS and OTRK.
Development potential
Thus, despite all the simplicity, multiple launch rocket systems continue to develop. Due to the introduction of new technologies and components, the range and accuracy of shooting are increased, up to obtaining the most interesting results. New progressive MLRS can even compete with weapons of other classes.
All these processes have a curious result. The appearance of MLRS with a range of more than 200-300 km does not exclude the operation and use of simpler systems with a shorter range. Accordingly, multi-component rocket artillery is formed from systems of different types, capable of hitting various targets in the widest range of ranges.
Such a weapon system is highly flexible in use, which is why it is of great interest to any ground forces. And therefore, it should be expected that the observed processes of development of the MLRS in the future will continue and lead to new interesting results.