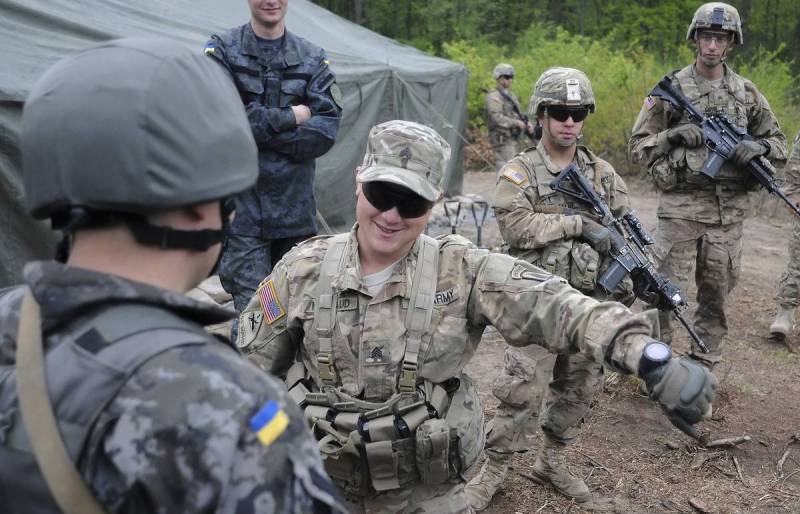 We talk a lot about the fact that the counteroffensive was being prepared for several months by NATO headquarters. We write a lot and post photos and videos about the supply of Western equipment to Ukraine. We publish interviews with foreigners who were captured during the fighting in the Donbass. And all this happens at the same time.
I don't understand, why pretend to be fools? We pretend! Most readers of our publication are well aware of what military service is. They not only know, but also understand how much time is needed to train a specialist to work on modern weapons systems.
But the soldiers and officers of the Armed Forces of Ukraine can master any system not even in months, but in ten days. How many various equipment is at the front today, and all of it not only works, but fights, opposes our
tanks
and armored vehicles. Not weird? Or maybe the answer is simple, and no one hides it? It is enough to listen to the broadcast in some clashes ...
Mercenaries, are they in the Armed Forces of Ukraine?
Naturally, simple questions arise about who the mercenaries are and whether they are in Ukrainian units. Questions are not idle and require the correct answer. The fact that foreigners are involved in hostilities on both sides has been known to readers almost since the beginning of the conflict. Since the beginning of the NWO, reports of foreign involvement have become commonplace.
Why are these expensive fighters needed at all? Whatever they say about solidarity, about passionate love for Ukrainians and Ukrainian democracy, about the desire to protect the unjustly offended, mercenaries are not philanthropists, but people for whom war is good money, a comfortable life worth risking.
It is clear that no one will hire infantry for big money. Why, if there are free local soldiers? The life of an infantryman, whether a soldier or an officer, is measured by a fairly small number of battles. The platoon commander won back two or three days - it's already good. This applied in the past to all specialists in rifle units.
Grenade launchers, machine gunners, snipers in squads were trained from ordinary soldiers right into the unit. Only mechanics, drivers of infantry fighting vehicles and armored personnel carriers were trained in special units. But they were also local, conscripted fighters.
Who could not be trained in combat conditions? First of all, intelligence officers, saboteurs and specialists in foreign weapons and equipment. In addition, the supply of any new "goods" requires the personal presence of a specialist. Even a foreign-made mobile hospital is difficult to master without a specialist. Not to mention the MLRS systems and heavy artillery.
In addition, mercenaries are most often from retirees or people transferred to the reserve for some reason. So, in any case, they do not own the latest, most modern models of equipment and weapons. That is why the first deliveries of American howitzers were not equipped with the latest sights. Why, if no one knows how to use them?
I think this explains the small number of mercenaries who were captured in the first months of the NWO. The wounded and the dead were either evacuated or the corpses were destroyed by burning. I wrote about this before. In any case, the mercenaries who arrived first were not significant support for the UAF.
Snipers, due to more advanced rifles, frayed their nerves, but with the advent of counter-sniper groups in the allied forces, their importance has significantly decreased. Scouts and saboteurs also received a rebuff from the relevant Russian units. The only ones who are still causing trouble for the allies are miners. And even then only because they mine a lot.
NATO army units
During the Ukrainian offensive, we saw a completely different picture. No, rifle units, DRGs and tankers acted mostly in a clear and predictable manner. Today, when the skies are teeming with drones, the actions of almost all DRGs or other units are broadcast live, like in a computer game. If desired, they can be tracked almost around the clock.
But look how gunners and rocketmen operate. How well the crews of air defense systems work. I'm not talking about combat work directly, although who can divide it on the front line into combat and non-combat ... I'm talking about how skillfully both sides use all the advantages of their systems. And this is with well-functioning counter-battery systems and air tracking systems.
A soldier in a trench who decides to call someone on a cell phone receives a personal mine in two to three minutes. And the artillery system, which produces much more "noise", manages to fire two or three shots and change positions before something either arrives there. Paradox? No, the training of the personnel of the calculation of the system.
By the way, this is also the reason why there is no Ukrainian language on the air. Even perfect knowledge of a foreign language lengthens the execution time of an order by almost an order of magnitude. A soldier trained to receive commands in his native language will act faster. Like an officer giving commands.
Now NATO is considering the possibility of supplying more modern systems to Ukraine. I do not think that the widely discussed reason for this - the desire to further arm the Armed Forces of Ukraine - is correctly voiced. NATO, at least the European component of the bloc, simply completely "cleaned up" their arsenals. One of NATO's goals was precisely this. Remove all junk from the arsenals in Eastern Europe.
So, already today our armies are at war with NATO units. In the same high-tech area. MLRS and heavy artillery, air defense and missile defense systems, possibly in the VSS. And with the increase in the supply of such units will become more and more. And they will be hidden less and less, simply because it will be impossible to hide.
I am sure that already today we have evidence that NATO is present directly in Ukraine. There is the name of the units and subunits, as well as the places of their permanent deployment, participating in the battles. But these facts are not voiced for some reasons unknown to us.
NATO against us or...
Naturally, the question of the future arises. Is NATO really preparing to fight Russia? Is a new war inevitable? It is impossible to answer this question with XNUMX% certainty. Europeans clearly don't want war. We, too. But judging by the actions of European governments…
Washington, on the contrary, would like us and the Western countries to shoot each other a little. Especially against the backdrop of a possible US-China conflict. Personally, I doubt this development. And about the beginning of the European war, and about the beginning of the American-Chinese war. Too much at stake...
And Ukraine?.. Everyone is well aware that the Ukrainians have done their job. Another hypothetical competitor destroyed. Nobody wants this country anymore. But they will use the pathological anti-Russian attitude for petty harm to Russia. This means a war to the last Ukrainian with the use of European soldiers, European equipment and weapons.
Washington is already implementing another program. He forms a shock fist in Poland. It is a fist from the armored forces, modern
aviation
и
fleet
. So, no one will leave us alone in the coming decades ...
By the way, I think it's time to voice a new slogan "Victory (in Ukraine) or death (of the European Union, and possibly NATO)"! Moreover, death from the cold is closer to spring. Death - in the sense of collapse ...
Maybe it's time to directly point to those whose soldiers are now dying in Ukraine?