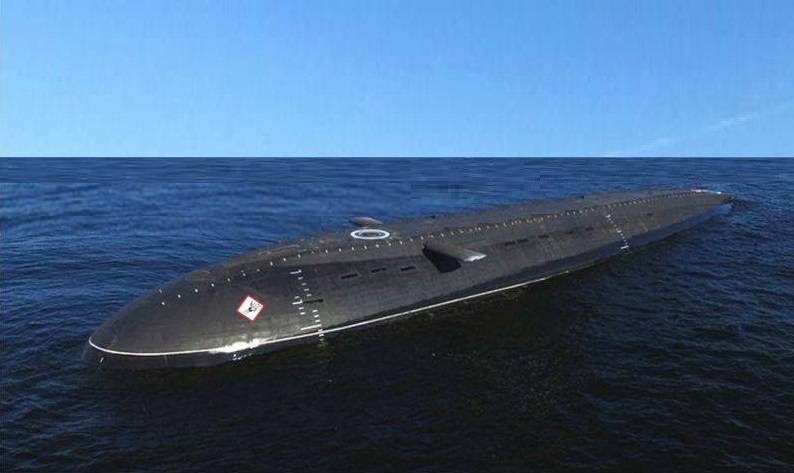 "Poseidon" and its technologies
"Poseidon" - strategic
weapon
a new type, autonomous uninhabited underwater vehicle (AUV) torpedo, with an unlimited range of underwater travel, with a nuclear engine, with a nuclear warhead of increased power. Since its inception, this complex has caused a lot of controversy, and the positions of the parties in this case can be diametrically opposed - from delight to complete rejection. However, discussing the feasibility of creating and deploying the Poseidons in their current form is not the purpose of this article, and there is not much point in this, since the Poseidon has almost become a reality. In any case, Poseidon is a weapon of strategic nuclear deterrence, the use of which would mean the beginning (continuation, end?) of a global nuclear war.

AUV "Poseidon" (Status-6). Image by wikipedia.org
Is there any expediency in creating a Poseidon with a conventional warhead, or another kamikaze AUV using Poseidon technology?
In the material
"Operation Baltic Ballet"
the possibility of destroying naval bases (Navy), ports and coastal industrial facilities with the help of civilian ships turned into floating conventional munitions of increased power, actually comparable in terms of TNT equivalent to tactical nuclear munitions, was considered.
By the way, in the comments to the above material, an opinion was expressed that such a method of armed struggle could be considered an act of terrorism. In this connection, the question arises, since when is the destruction of naval bases, ports and industrial infrastructure of the enemy considered terrorism? Maybe the bombing of factories, fuel storage facilities of Nazi Germany is also terrorism?

Will civilians die? Of course, civilians will die, and even cats and dogs, and this is very sad, but what alternative do we have? It is one thing to bring a dry cargo ship loaded with thousands of tons of explosives to a deliberately peaceful coastal city without industry and blow it up - this is really terrorism. Another thing is if it is a naval base or a fuel hub of the enemy, but the fact that they are adjacent to the city - well, this is the horrors of war.

For example, when Poland pumps weapons and ammunition to Ukraine, its population does not protest, but even supports its government - they do not care that cities and villages are being fired from the artillery and multiple launch rocket systems (MLRS) supplied to the Armed Forces of Ukraine (AFU), in which there is no Russian armed forces. One can only imagine what kind of bloodbath the Ukronazis will arrange in the LPR and DPR, in the Crimea, if they win, and after all, no one in the US and Europe will even utter a word about terrorism or genocide. So should we shed tears about the possible "collateral losses" of Poland and other states openly hostile to us?
However, back to the technical part of the question.
In the existing overall restrictions, the AUV cannot carry a conventional warhead capable of inflicting significant damage to the naval base or coastal infrastructure. But it is not necessary to use the Poseidon itself and the carriers for it. Earlier, we have already talked about how the technologies implemented in the Poseidon AUV can be applied to solve other problems.
For example, in the article
"Nuclear reactor for nuclear submarines. Will Poseidon lay Dollezhal's egg?
considered the possibility of using developments in creating an energy source for the Poseidon AUV to create a small-sized nuclear reactor for promising small-sized submarines - nuclear submarines in the dimensions of diesel-electric submarines (DEPL), which could massively saturate the Russian navy ( Navy).
However, Poseidon hides not only the latest technologies for the construction of small-sized nuclear reactors - no less interesting is its control system, capable of navigating and controlling AUVs in the water column, presumably ensuring high accuracy of the route at intercontinental distances.
Judging by the fact that, in addition to the Poseidon, the Russian military-industrial complex (MIC) is developing a number of AUVs for various purposes, Russia has some success in creating autonomous systems for navigation and control of underwater vehicles.
The question remains: this navigation and control system can be installed on what carrier that has sufficient dimensions to accommodate a conventional warhead comparable in its equivalent to a tactical nuclear charge?
From diesel-electric submarine to AUV
As a possible "donor" can be considered diesel-electric submarines (diesel-electric submarines), whose service life is nearing completion - usually such submarines (submarines) are either sent to the reserve or scrapped. In the Russian Navy, these will most likely be Project 877/636 diesel-electric submarines.
Let's designate a promising ANPK "kamikaze" with a conventional warhead, comparable in its power to a tactical nuclear weapon, as "Dagon".

Diesel-electric submarine of project 636 (left) and dismantling of the cabin in the process of transformation into AUV "Dagon" (right)...
(... of course, this is not so, just the performance of work on the Magadan diesel-electric submarine). Image by wikipedia.org
The transformation of a diesel-electric submarine into a shock ANPK "kamikaze" will require significant changes in its design. First of all, it is necessary to dismantle and remove all equipment that provides control of the submarine crew, life support systems, torpedo tubes and racks for torpedoes, a diesel generator and fuel tanks for it, batteries, a periscope, a snorkel and much more, it may be advisable to completely dismantle felling - this will reduce underwater resistance and acoustic visibility of the future Dagon AUV.
In fact, only the hull, electric motors, gearboxes and controls with the corresponding lines, as well as the technological equipment necessary for their operation, will remain from the diesel-electric submarine. And in return, the diesel-electric submarine-ANPA "Dagon" will need to be equipped with a source of electricity that determines the power reserve, and a powerful conventional warhead.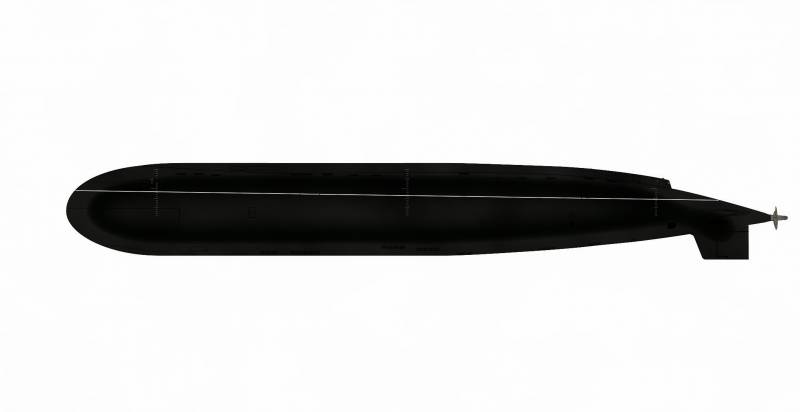 Profile of the AUV "Dagon", made on the basis of diesel-electric submarines of projects 877/636
What can be the range of an underwater AUV that uses a power source without the possibility of recharging? As a starting point, the latest Japanese Soryu-class non-nuclear submarines equipped with lithium batteries can be considered. According to open data, the range of their underwater movement can exceed 10 (!) Kilometers.
Soryu-class non-nuclear submarine. Image by wikipedia.org
Since we have a "one-time" AUV, it is also advisable to use a single-use source of electricity, and several options can be considered.
Seawater-activated batteries used in domestic electric torpedoes can hardly be considered the best solution - according to open data, they have low efficiency. In addition, the use of sea water makes their characteristics unstable (there is a dependence of their characteristics on the salinity of sea water, which is not the same in different parts of the World Ocean).
Lithium batteries can be considered a better option - batteries, not batteries (they are often confused). The specific capacity of modern lithium batteries is about 265 W * h / kg, while for lithium-manganese dioxide batteries (Li-MnO2) it is up to 280 W * h / kg, lithium-disulfide iron batteries (Li-FeS2) - up to 300 W*h/kg, for lithium sulfur dioxide batteries (Li-SO2) up to 330 W*h/kg, and for lithium-thionyl chloride batteries (Li-SOCl2) up to 600 W*h/kg.
The self-discharge of lithium batteries is approximately 1-2% per year, i.e. equipped products can be stored for years with minimal loss of range. The temperature range of lithium batteries is also much higher than that of rechargeable batteries - in some types, the minimum use temperature reaches minus 80 degrees Celsius.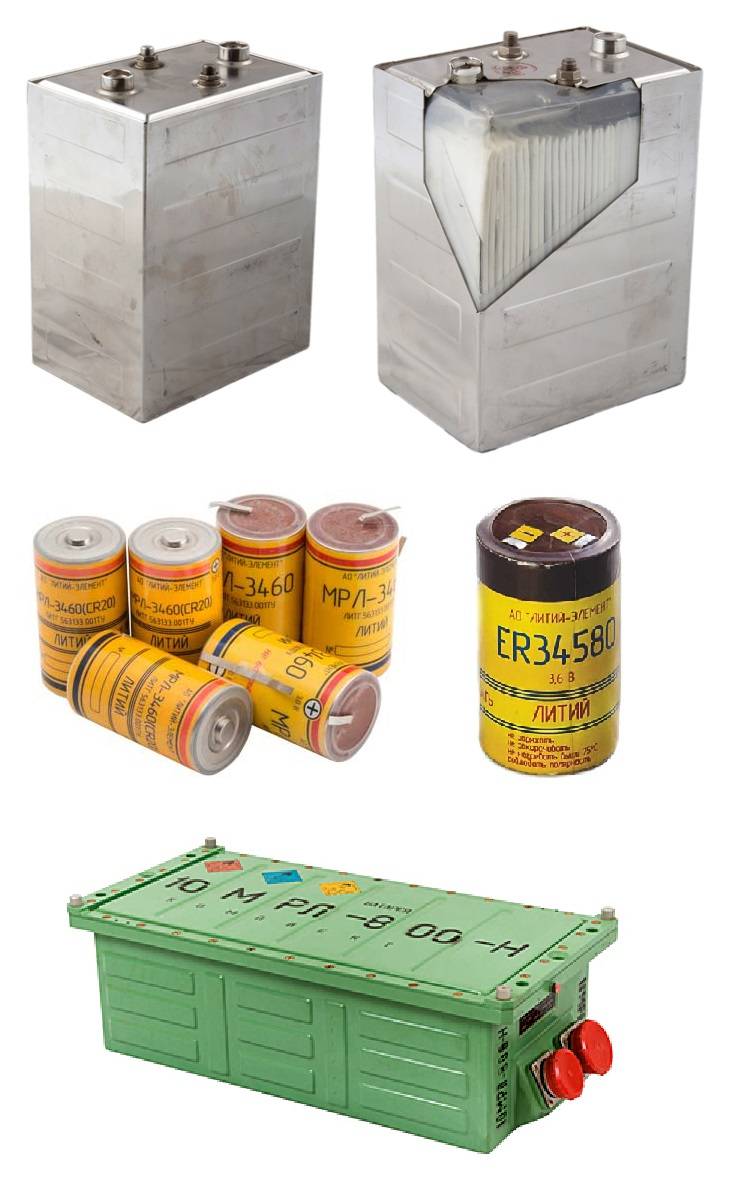 The Russian enterprise Lithium-Element JSC produces lithium-manganese dioxide (Li-MnO2) and lithium-thionyl chloride (Li-SOCl2) industrial batteries. Image lithium-element.ru
As an alternative, the use of an air independent power plant (VNEU), for example, based on fuel cells, can be considered. Its development for Russian non-nuclear submarines is stalling, the question is, what is the reason for the delay? If this is a small resource or limited power, then this is not critical for a one-time AUV.
And yet, lithium batteries are expected to be the best option in terms of a combination of parameters such as service life, need for maintenance, and specific energy intensity.
The ratio of the volumes occupied by lithium batteries and the warhead will determine the range of the AUV and the explosive power of the warhead in TNT equivalent.
The assembly of lithium batteries and the warhead can be made in a modular version, thus, by varying the number of battery and warhead sections in the manufacturing process, it is possible to change the ratio of the AUV range and the power of its warhead. Taking into account the high specific capacity of lithium batteries, as well as dismantled equipment and structural elements of diesel-electric submarines, for an AUV range of about ten thousand kilometers, presumably, a warhead power of 1–1,5 kilotons of TNT equivalent can be achieved.
Goals and objectives, tactics of application
For what tasks can the kamikaze AUV be used? What targets to hit?
First of all, objects of coastal infrastructure can be selected as targets, for example, terminals for receiving liquefied gas, coastal gas distribution hubs, ports for receiving and pumping oil products, oil platforms, underwater sections of gas and oil pipelines.
For example, in the event that the conflict between Russia and the countries of Europe enters the hot phase, with the help of the AUV "Dagon" it would be possible to degas Europe - to destroy most of the routes for supplying European countries with pipeline and liquefied gas, and at the same time with oil products, making
PJSC Gazprom video about freezing European cities
reality. It will be extremely difficult for European countries to ensure the protection of not only naval bases, but also civilian ports, as well as coastal industrial facilities, especially since one successful AUV penetration into the affected area will be enough to destroy them.
There are about 30 LNG terminals throughout Europe. Image by wikipedia.org
Another option is the destruction of enemy combat and auxiliary ships stationed in the naval base. The benefits of fighting
fleet
enemy by destroying ships and submarines in their bases were previously discussed in the material
"Goals and objectives of the Russian Navy: destroy half of the enemy's fleet"
.
With dense placement, one kamikaze AUV can destroy and / or damage dozens of ships and submarines. This task is more difficult, since naval bases can be well guarded, and approaches can be mined. But even here there are options, for example, a sequential attack on the naval base by two or three kamikaze AUVs.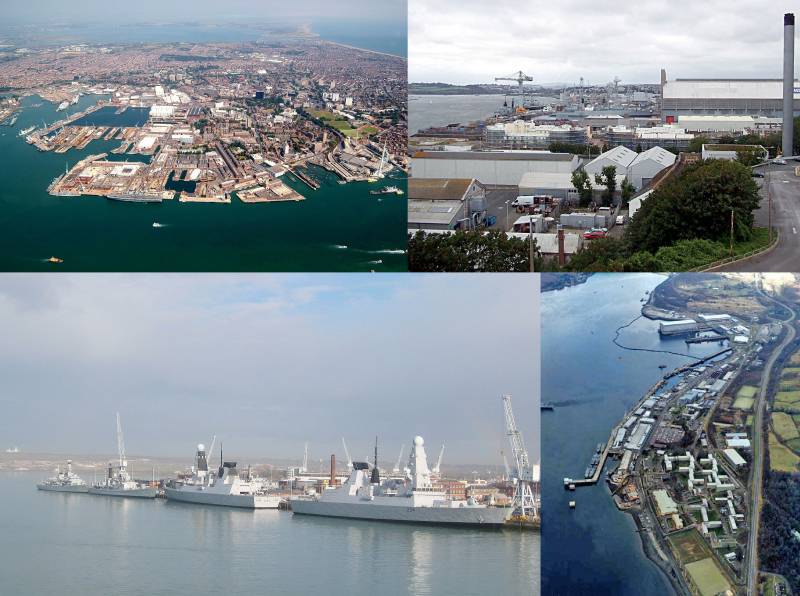 Half a dozen AUVs "Dagon" could potentially permanently deprive the UK of the title of sea power
At the same time, the possibility of attacking the AUV "Dagon" of enemy ships on the high seas is under a big question - how accurately will it be possible to bring the AUV to the ship's strike group (KUG) of the enemy and will it be possible to withdraw it at all before it is detected and destroyed? What effect will an underwater / surface explosion with a power of 1-1,5 kilotons produce?
Even within the framework of the Russian special operation in Ukraine, the Dagon AUV can find application, although this is an extremely specific battlefield for the kamikaze AUV. For example, the bridge across the Dniester estuary, it seems that it was disabled after repeated strikes with high-precision weapons, but the author does not have unequivocal information on this matter. And one AUV "kamikaze" could inflict such damage, after which it would not be possible to restore the bridge across the Dniester Estuary in the foreseeable future.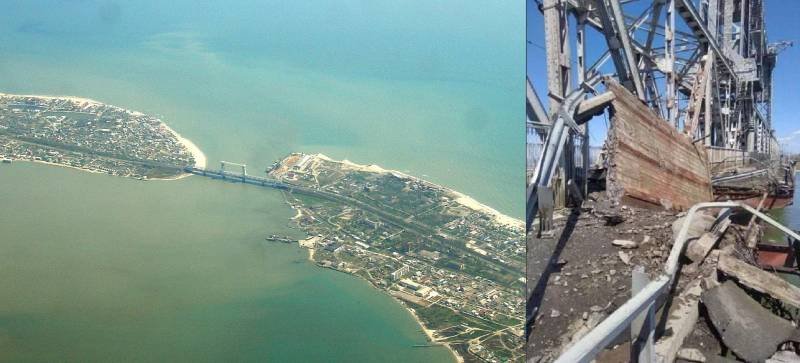 The bridge across the Dniester estuary (left) and the result of a strike on it with high-precision weapons (right) - after the explosion of the Dagon AUV, the bridge would have to be rebuilt
Or
take at least the fuss with Snake Island, how much equipment was lost, how much trouble it was
? It would be possible simply to give the Armed Forces of Ukraine (AFU) the opportunity to gain a foothold on it better, to simulate several attempts to capture, to give the opportunity to strengthen the defense. And then, the explosion of one kiloton of TNT would not have left stone unturned on this island. The military effect would not be very great, but the psychological one is huge.
Conclusions
AUV "Dagon" is a very specific weapon system, as in the case of AUV "Poseidon", it simply has no direct analogues, and, accordingly, there is neither experience nor proven tactics for its use.
AUV "Dagon" is not a weapon of mass production, at least not immediately - first you need to understand how difficult it will be to implement and effective in use.
First of all, the very fact of using a conventional warhead, comparable in terms of TNT equivalent to a tactical nuclear weapon, is of interest - there have not yet been precedents for the deliberate use of weapons of such destructive power.
On the other hand, the fact that the deployment of an AUV of the conditional Dagon project with a conventional warhead comparable in its power to tactical nuclear weapons cannot be ruled out, it can become a serious deterrent for our potential and real opponents, who must understand that, in unlike nuclear weapons, there are no deterrents for the non-use of the Dagon AUV, which means that their military and industrial facilities can really become targets for such weapons.