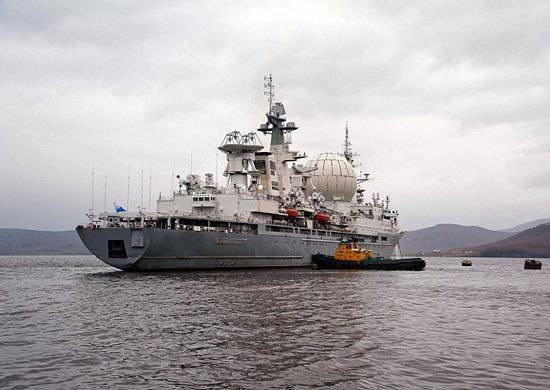 Pacific ship
fleet
"Marshal Krylov" under the command of Captain 1st Rank Igor Shalyna went to sea to perform tasks for its intended purpose.
This ship can be considered unique. After all, he is the only one in his class in the fleet who performs the tasks of ensuring flight design tests of new types of rocket and space technology (spacecraft, cruise and ballistic missiles, launch vehicles, etc.). With a length of more than 200 meters and a crew of about 350 people, "Marshal Krylov" is able to reach speeds up to 22 nodes. On board can also be two search and rescue helicopters Ka-27.
24 July 2012, the ship turned 25 years. In order to maintain the components and mechanisms in good condition, the ship was put on a long dock repair in Vladivostok, during which the whole complex of works on support systems was performed. After that, "Marshal Krylov" successfully passed sea trials in the Amur Bay. Now, according to Igor Shalyny, it is necessary to check the level of crew professional training already at sea.
Today, the Marshal Krylov ship of the 1914.1 project is one of the largest and most equipped ships of the Russian Navy, representing the latest achievements of Russian scientists and designers.