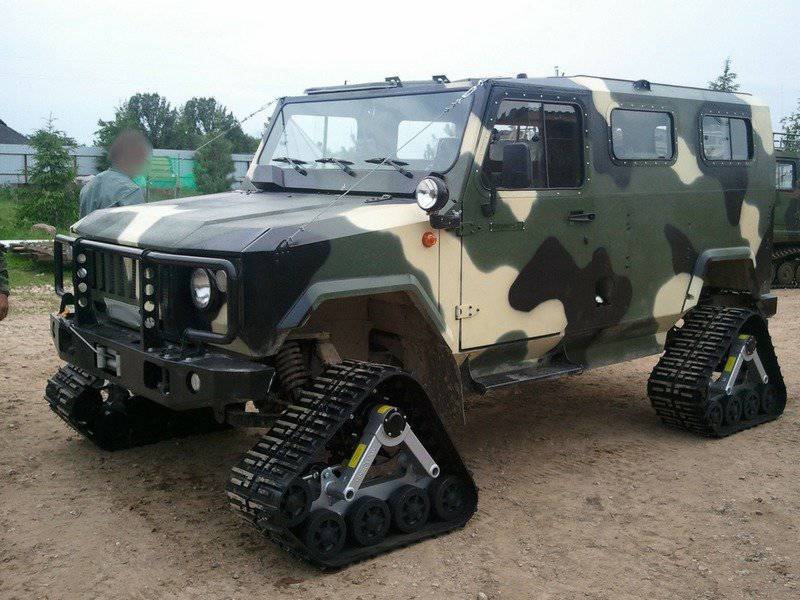 The caterpillar modification of the Scorpion light assault vehicle will be tested in the Moscow region in December. Instead of wheels, the car has four tracked propulsive devices — devices of a triangular shape that create tractive effort by rewinding tracked belts.
- Now two such sets are made. We are doing a unified chassis, so we can install propellers on any car, all of them were originally prepared for this, "Alexander Shore, general director of Zashchita Corporation, which manufactures Scorpio LSHA, told Izvestia.
According to him, a wheeled vehicle can turn into a tracked vehicle even in field conditions.
- To replace the need: two people from the crew, a jack and a set of propellers that are installed on regular places, initially having factory training for their installation. The trained crew will make the replacement in literally 20 – 25 minutes.
It is assumed that the "Scorpion-LSHA" on tracked engines can be used in the Arctic brigades.
... Alexander Shor told Izvestia that the car will have winter testing at one of the landfills in the Moscow region.
"When we reach the snow cover from 50, we will experience again," he noted. - In the future, if the Ministry of Defense determines the need for this modification, so-called type tests will be carried out - additional: not for the full cycle, but only for the difference between the car and the base modification. In the case of their successful passage, the modification will be accepted for supply, but this can be said not earlier than the fall of 2013 of the year.
He especially stressed that the Defense will offer the Defense modification of the tracked modification after the Scorpion base armored car is accepted for supply.