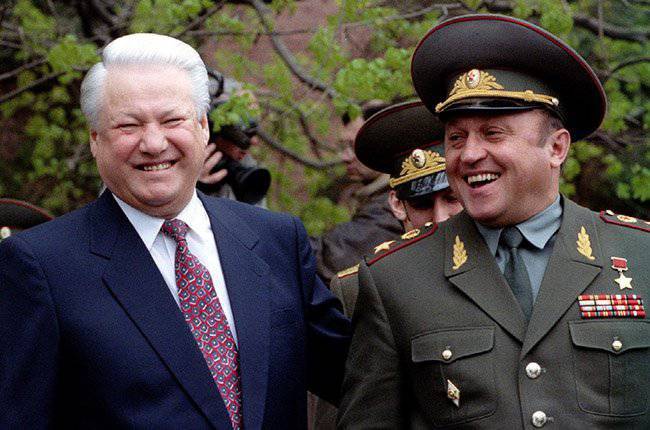 What the first Russian defense minister never told about Boris Yeltsin, the war in Chechnya and the storming of the White House
Alfred Koch and Petr Aven, colleagues of Pavel Grachev on the Russian government at the beginning - mid-1990-s, interviewed the former Minister of Defense for his book "The Revolution of Gaidar". This is the last interview with Grachev, who passed away on 23 on September 2012. And, of course, the most sincere. Here are published excerpts from the many hours of conversation between the three former ministers.
About Boris Yeltsin and his entourage
- Yeltsin then (at the beginning of 1991 of the year - Forbes) was in disgrace, and Yazov and Achalov (Dmitry Yazov and Vladislav Achalov, at that time Minister and Deputy Minister of Defense, the first subsequently became a member of the Emergency Committee, the second was supported by the Supreme Council during the 1993 coup of the year. - Forbes) had a negative attitude towards its activities. I knew Yeltsin only by hearsay ...
And now they call me, they say: "Boris Nikolayevich will talk to you". "Pavel Sergeevich, hello, I know about you, heard and so on, I want to visit the Tula Airborne Division." I say: "Here you need permission from the Minister of Defense." "And what, you yourself can not?" I say: "Itself, of course, I can not, but I will call, ask." Called Achalov. He thought, said: "Now I will consult with Yazov". Fifteen minutes later he calls and says: "Well, that, Yazov allowed, only you meet him more accurately. There is no need for bread and salt, there is no need to jump in front of him and so on. Accept him so coldly, do not feed, do not particularly drink, do not rant anything. "
Yeltsin arrives with his retinue. And in the process of this acquaintance, it seemed to me that this was a rather pleasant, intelligent, independent person. To be honest, I already liked him even then, although Achalov called me several times and said: "You see how we instructed, so behave yourself." Well, I answered him: "Vladislav Alekseevich, he is a normal person. Why should I not show what is in the Airborne Forces? "" Well, look, just don't feed or drink it. "
Well, I shot, moved, then Yeltsin said: "Well, what, lunch?" And I already gave the command to the rear commander to make a good lunch in the tent. After all the shows, I started him in a tent, he looked - he naturally liked the table. I asked: "How about alcohol?" He: "With pleasure!"
We had a good time with him, we drank, and there was a lake nearby, only the ice was gone. He offered me a swim. We undressed and jumped with him. All guards jumped behind us ... And Korzhakov (Alexander Korzhakov, head of security of Yeltsin. - Forbes) jumped. And where would he go? At that time, Korzhakov was no one, a senior lieutenant picked up on the street, who was forced out by his own guys. This is how we, after our acquaintance, embraced and parted as comrades.
Naturally, they immediately stuck with me that I met him too well. Again, Achalov called, saying: "Well, it won't be that easy for you" ...
... When Russia actually gained its independence in August 1991, we gathered from him [Yeltsin], went to the forest. Man six or seven was. Boris Nikolayevich himself suggested: "Let's fraternize. I won't throw you in my life, and let us swear on blood. " They took a knife, cut each other's hands, licked blood ... I, Korzhakov, Kozyrev (Andrei Kozyrev, Minister of Foreign Affairs - Forbes) ... Is this, like his late Victor, the KGB? He recalled: Barannikov (Viktor Barannikov, then Minister of Security of the Russian Federation - Forbes), Rutskoi (Alexander Rutskoi, Vice President of the Russian Federation - Forbes) was not. Skokov (Yuri Skokov, Yeltsin's advisor at that moment - Forbes) and someone else, two people ... We found a tire there, laid out a drink, a snack. The tire, apparently from the Belarus tractor, boarded and swore on the blood on its initiative. And then he threw all of us. Suddenly.
About the coup 1991 of the year
- Somewhere in June-July of 1991, Yazov says: "Kryuchkov wants to get to know you (Vladimir Kryuchkov, chairman of the KGB of the USSR, member of the Emergency Committee. - Forbes)" I come to Lubyanka: uncomfortable, of course. I did not have time to go to the waiting room when the door opens and he meets me. This seemed to me: quiet, modest ... I sit, tremble. Though I am a paratrooper, but uncomfortable, of course. Such an office is hard ...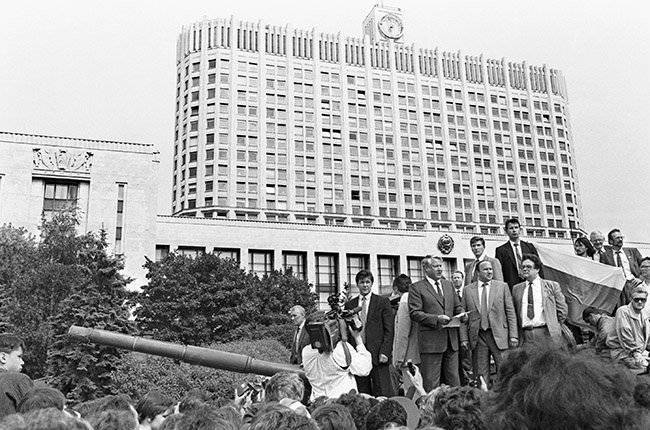 "The situation in the country is incomprehensible. Mikhail Sergeyevich [Gorbachev] inappropriate got sick. Politburo without a leader. Some ferment in the people begins. " I listen so carefully. "You see, it's possible that a situation when ..." From afar began: "I, like, wanted to ask you, perhaps a situation will arise when the support of the Armed Forces will be necessary." I say: "For what purpose?" "Well, maybe the people will not understand. It will be necessary to take the most important objects under protection. Well, actually, I invited you to work out a possible plan for a peaceful transfer of power from Gorbachev to the Politburo if it is impossible to continue working. " I say: "I do not know such plans." [Answer:] "No big deal." He says: "We will give you two more people and send you to the suburban residence. You relax there at the same time, and make a possible plan of action. "
We arrived at a luxury cottage in the woods. The table is laid, only the waitress, no one. "We will work here." They thought, wondered, got their documents on the transfer of power in various African countries, tried on: nothing fits. I'm sitting, silent. I see, the guys do not behave very actively, because, in principle, they themselves are confused ...
In short, we worked for three days, worked and could not think of anything clever. The only thing I insisted was that the role of the Airborne Forces should have been that, if possible, enter Moscow and take the main buildings under protection so that they would not break it, as in 1917 year ...
Two weeks passed after that. I thought that was all. [But August 16 1991] Ahalov says: "Order. Prepare two divisions for possible entry into Moscow, listen to the radio and watch TV. " I gave the command to the Tula division to prepare for the march on their own and the Bolgrad division (airborne division stationed near Odessa. - Forbes) to land on the Chkalovsky airfield.
When Tchaikovsky started playing on TV, Achalov calls me: "Enter the Tula Division". I say: "For what task?" "Take the most important objects under protection, etc.". These objects were drawn in advance. I gave the command: "Forward." The division quickly coped. After a while Yeltsin's call: "Where are your troops?" I say: "One division is heading for Moscow, and the other is in Odessa, ready to parachute to Chkalovsky airfield. "You, he says, will you shoot me?" I say: "Boris Nikolayevich, no one will shoot" ... He was afraid that the command would be given to capture him. Personally his.
He believed me that I would not storm him with his battalion at the White House.
And the team to capture the White House was 17-th in the evening. Achalov called and said: "Well, this is the situation, it will be necessary to capture Boris Nikolayevich after all." I say: "Give us a written order. This is the same blood, the same will start shooting everywhere. They will not give him up without a fight. " "You will have a written order." "Will - I will fulfill, I will not - I will not." After that, I immediately at the headquarters of the Airborne Forces, here in Sokolniki, I gathered my peasants, deputies, saying: "So and so". We talked and our decision was reduced to the fact that no matter what the order was, not to shed blood and not to storm anything. They called their special forces, besieged so that they would not capture us. Skokov (at that moment Yeltsin's adviser - Forbes) came to us. I say: "Yur, tell Boris Nikolayevich that even if I order you to storm you, I will not. Because blood will be shed, it will still be a failure of this drunken Politburo, and I'm the main fighter. It's easy for me to die, but I have a family, children. " He says: "Thank you."
Then they call me again: "In the morning I need to capture. At seven o'clock". I again have my wildebeest: "If there is no written order, I will not take any action." Seven in the morning, I do not take any action. I call the reception [Yazova]. There, some peasant replies that the Minister of Defense is resting and asking him not to wake up. I think: "Wow, such a time, and he is resting." Called Achalov, there is also a reception room, they say: "It is resting, I asked him not to disturb." I say: "Tell me that this is Grachev, they say, about a written order. We sort of agreed, waiting for sitting ... ". They say: "give". I say: "Everything, we will not storm, we will wait" ...
We breathed a sigh of relief: they would not pass, they freaked out. Well, the men and I drank brandy.
About the coup 1993 of the year
- On the night from the second to the third [October 1993], about three o'clock in the morning, Boris Nikolayevich and Korzhakov came to me in the Ministry of Defense, several other people. Well, a little bit yielded ... A little bit undermined, so excited. Boris Nikolaevich says: "Pavel Sergeevich, here the mayor's office and Ostankino are captured. To calm and not allow further development, we must take these guys in the White House. "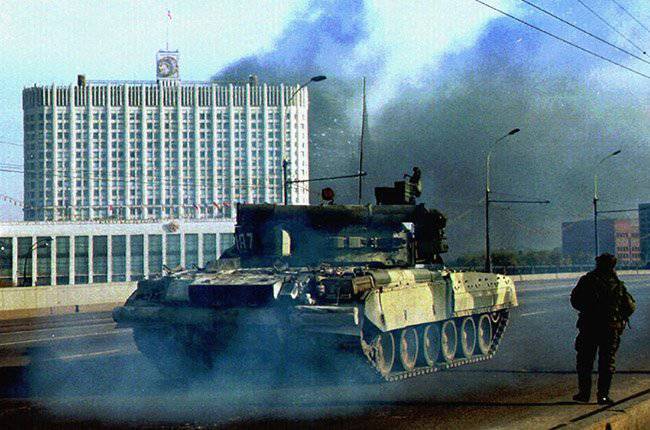 Well, I, as usual, say: "Boris Nikolaevich, a written decree, and I am ready for anything." Then Korzhakov spoke: "What is the written decree? Boris Nikolaevich, I knew that they would start to coward too! " I say: "Listen, you shut up." Well, Yeltsin was furious here: "There will be a written decree for you." Lied, by the way: he was never there. Then, after a sobering-up at five in the morning, he called me and said: "You see, Pavel Sergeyevich ... You see what kind of situation ..." Be ... me ... In the spirit that it seems like you have to do oral ... Well, I say: "Boris Nikolaevich, Of course I will. What needs to be done? " "Grab all these guys." Well, I tell him: "Boris Nikolaevich, I have the 119th regiment standing parachute-landing at the White House. There are no problems, but we will incur losses. " "What do you suggest?" I say: "I propose to scare them." "I will bring the tank to direct fire and inert piz ... well, several times. They themselves will run away, wherever. At least they will go down to the cellars, the sniper will also run away after these shells, and there, in the cellars, we will find them. " "Good". Well, I take the tank to the stone bridge near the "Ukraine", I myself go to
tank
, I put him as a gunner-operator of the captain, for the driver-mechanic - the senior lieutenant, I go up to the tank, and the bullets clatter - cap, cap, cap, cap. At the end, I think they will not get it. I say: "Guys, can you see the roofs? Count out. One, two, three, four, five, six, the seventh window. This, presumably, is Khasbulatov's cabinet (Ruslan Khasbulatov, chairman of the Supreme Council. - Forbes), they are there. You have to get there, out the window. "Are there shells?" - "Combat or such?" "What kind of combat?" Are you crazy? Let's go. " - "Good".
And below is a lot of people already. At our place, onlookers love the same way they came to the theater. I say: "Guys, look, you will not fall, the people will perish. Then everything will be torn apart. " To the captain I say: "Will you fall?" "I shall fall! Just think, less than a kilometer. " "Did you see the back, American embassy?" Look, bangs about the embassy, ​​there will be a scandal. " "Comrade Minister, everything will be fine." Well, I say: "Fire, one." Look, the first - bang, just flew through the window. I say: "Still have?" "There is." "Here are five fugitive yet, fire!" He is dumas-dumas-dumas. Look, everything is on fire. Handsomely. All at once the sniper from the roofs instantly fled, as they brushed away a hand. Well, and when the snipers were swept away, the tanks finished shooting, I gave the command to storm the 119-th regiment. They opened the door, they shot there. Well, of course, I had nine dead, there was some shooting inside, but they put a lot of them ... Nobody considered them easy. Lot.
And the captain of the Hero of Russia was given. Senior Lieutenant - Order of Courage, in my opinion. Surnames were immediately classified and sent to serve in other parts. And the White House quietly began to burn, burn, burn. Pashka Borodin (Pavel Borodin, later the head of the Presidential Affairs Department - Forbes) then says to me: "Pavel Sergeyevich, what a fine fellow you are" - "And what for?" - "So much money was given to us, I will repair it". I say: "Pash, and how much sleep ... did he?" "No, no, no, not a dime."
About Dzhokhar Dudayev and the beginning of the war in Chechnya
- He (Dzhokhar Dudayev, at that time the President of the Chechen Republic within the RSFSR. - Forbes) began to talk about independence not from what he wanted to secede from Russia. He, as a mountain man, was simply stung by the fact that he, the popularly elected, does not reckon, is not invited to the Kremlin, and they say that you are the trash of society for 100%. And he was a general of the Soviet Army, an excellent pilot, division commander. I talked to him a lot. He said: "Pash, nobody wants to talk to me. I am the president, no matter how bad and so on. I was chosen by the people. Kohl don't want to talk to me, then to hell with you. I will put a question to the people about secession from Russia. " How many times have I informed the government. I say: "We must talk to him." All in bayonets: there is nothing for Boris Nikolayevich to take Dudayev!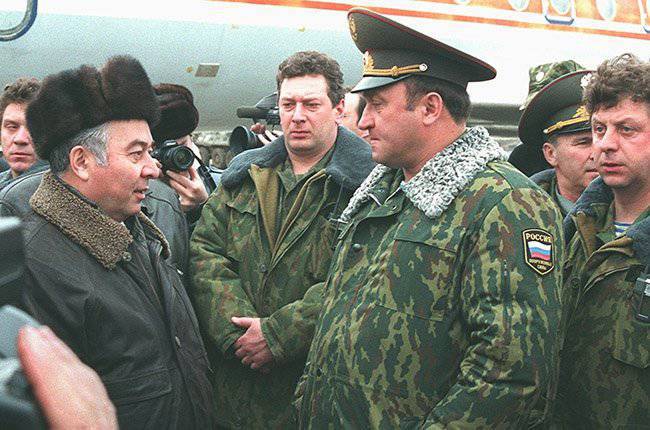 I went to him. Let's go to his house (the meeting of 1992 of the year in Grozny is described. - Forbes). There, all these guys, Basayev (Shamil Basayev subsequently commanded Chechen militants, was killed by the Russian special services in the 2006 year. - Forbes) and all the others sat. Normally I was treated. They planted the table laid "with a deflection." I say: "Johar, what are you doing there ... do you do it?" He says: "No one wants to talk to me. Rutskoi even sent me to x ... by phone. If I don't react, my guys will not understand me, and the people will not understand. "
I say: "I, probably, will withdraw the troops." "No, I will not let you withdraw." I say: "How not to give? I will shoot. "And we will shoot." "What are you doing?" In short, to sum up, his resentment towards our attitude towards all of this led.
[In 1994 year], it was necessary to invite the delegation led by Dudayev to his office and begin negotiations. No one wanted to. In short, everyone refused a peaceful solution. It was demeaning to them. Go, they say, storm. At first, everyone hung up on me, until the Chechens themselves said: "Grachev has nothing to do with it, he was the only one against the war."
At this meeting, when I said no, Viktor Stepanovich [Chernomyrdin] stood up, although we had been friends since then, and said: "Boris Nikolaevich, we do not need such a defense minister." Then Yeltsin took a break. They left to solve my question. Ten minutes later, Boris Nikolayevich comes out and says: "Pavel Sergeyevich, we will not dismiss you, but in ten days we will prepare for warfare." Then I said: "Winter is already on the nose and so on, what kind of military operations can be in those conditions when you don't get through, don't pass, fogs,
aviation
"doesn't fly, artillery doesn't know where to hit, and so on?" "When do you offer?" "In the spring, and before that, negotiate." I wanted to delay time: maybe we can manage to reach an agreement. Neither x ... me! I say: "Viktor Stepanovich, you will be personally responsible for this matter." After that, he and I became cold to each other ...
Read the full interview and introductory words of Koch and Aven in the November issue of Forbes magazine.