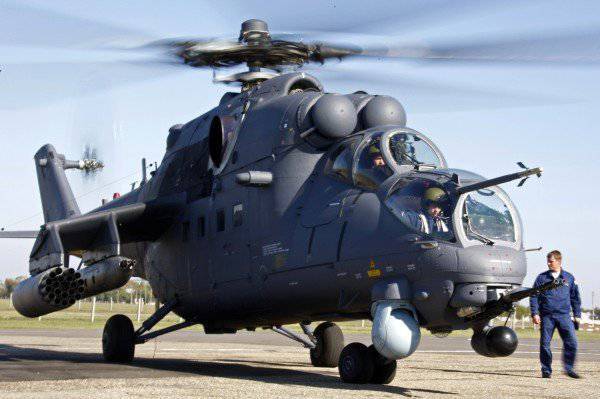 At the Korenovsky airbase, located in 70 kilometers from the capital of Kuban, the first test flights of the new improved Mi-35M helicopters took place. Three combat vehicles took off at once.
In total, the air base of these machines four. As already reported, the last two attack helicopters arrived here in mid-August right from a Rostov manufacturer.
To manage new products, the pilots underwent special retraining at the Center for Combat Use and Retraining of Army Flight Personnel
aviation
in the city of Torzhok, Tver region.
"Five crews have done so far - ten Kuban aces," says the pilot of the air base, captain Andrey Skidanchuk. - At first, everyone went through theoretical training, then everyone flew with an instructor. It all took about a month, approximately 150 training hours. In principle, there was no difficulty, because managing new cars is much simpler than its predecessors.
The Mi-35M helicopter is an upgraded version of the Mi-24. According to the military, it is intended to destroy the enemy's armored vehicles, evacuate the wounded, and transport goods in the cabin and on the external sling. The machine has a mobile unit with a gun barrel GSH-23 caliber 23 millimeter and anti-tank guided missiles of the "Sturm" type. One of the design features are lightweight non-retractable landing gear and shortened wings - such a machine weighs much less than its predecessor.
In addition, the Mi-35M has a more powerful engine than its predecessor. The height of the flight of the car has also increased - now it is more than six thousand meters.
The helicopter is equipped with night vision devices and a thermal imaging surveillance system that allows you to detect and recognize objects at any time of day at a distance of several kilometers. There is also a modern satellite navigation system associated with the on-board computer. This reduces the time for determining navigation parameters, calculating the route and issuing it to the monitor screen of the crew commander more than twice.
Miracle cars military pilots not only lifted into the air, but also tested their equipment. At the airbase held small exercises. Three crews on the brand new Mi-35M shot from all
weapons
on land targets.
According to the press service of the Southern Military District, it is planned to send six more such vehicles to parts of the district by the end of 2012.