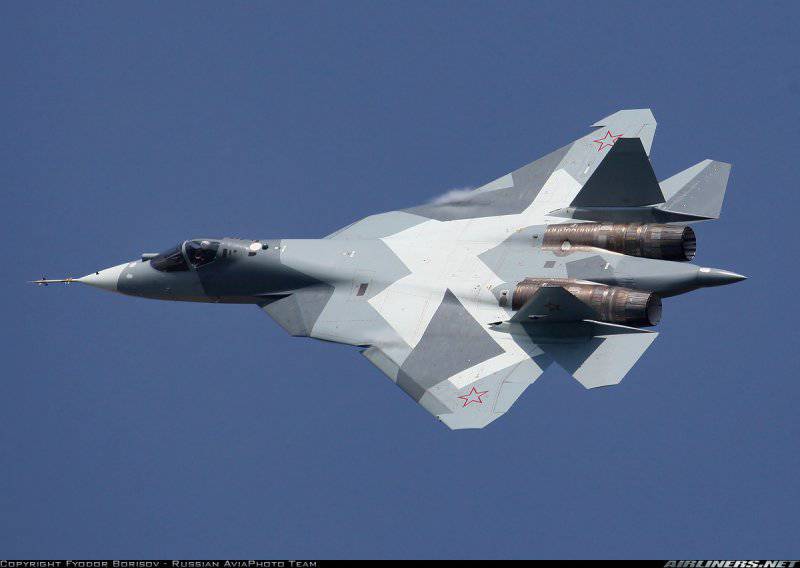 The Indian Air Force Command decided to reduce the amount of orders for advanced fifth-generation FGFA fighter jets, which are being created jointly with Russia on the basis of the T-50 (PAK FA). According to Lenta.ru with reference to India Strategic, the volume of aircraft purchases will be reduced from 214 to 144 units. What is the reason for the reduction of the order for aircraft, is not specified. The Indian Air Force intends to purchase only single-seat versions of a promising aircraft.
According to Indian Air Force Commander Norman Anil Kumar Brown, a promising fighter for the Indian military will differ from the Russian T-50 only onboard equipment. At the same time, FGFA will not undergo significant structural changes. Earlier, Brown said that the Air Force intends to buy 214 FGFA: 166 single and 48 double versions.
The command of the Indian Air Force estimated that the creation of a double version of FGFA makes the entire project more expensive by two billion dollars. At the same time, the effective dispersion area of ​​a two-seater plane in the frontal projection will be 15 percent more than in the single-seat version. In December, 2010, Russia and India signed a contract for the development of a draft technical project of FGFA worth 295 million dollars.
As expected, at the end of 2012, the beginning of 2013, India and Russia will sign an agreement to conduct development work on the FGFA fighter development project. The total cost of the project to create the Indian version of the Russian PAK FA is currently estimated at 11 billion dollars. At the end of August 2012, India announced that it intends to spend about 20 billions of dollars (developing and purchasing aircraft) on FGFA during 35 years.
According to preliminary data, India will receive the first FGFA prototype in 2014. Earlier it was planned that Russia would hand over the first batch of serial FGFAs to India in 2017, however, the Indian Ministry of Defense believes that the contractor will not meet the previously agreed deadlines and delay the delivery of aircraft. According to Indian military estimates, the second and third FGFA prototypes will arrive in India in the 2017 and 2019 years.
The length of the FGFA is 22,6 meters, the height is 5,9 meters, and the maximum take-off weight is 34 tons. The fighter will receive engines with all-round thrust vector control and will be able to fly thousands of kilometers to 3,88. FGFA will be able to reach speeds of up to two Mach numbers (about 2,3 thousands of kilometers per hour). The Indian version of the T-50 will also be exported to third countries.