Kissinger: US is on the brink of war with Russia and China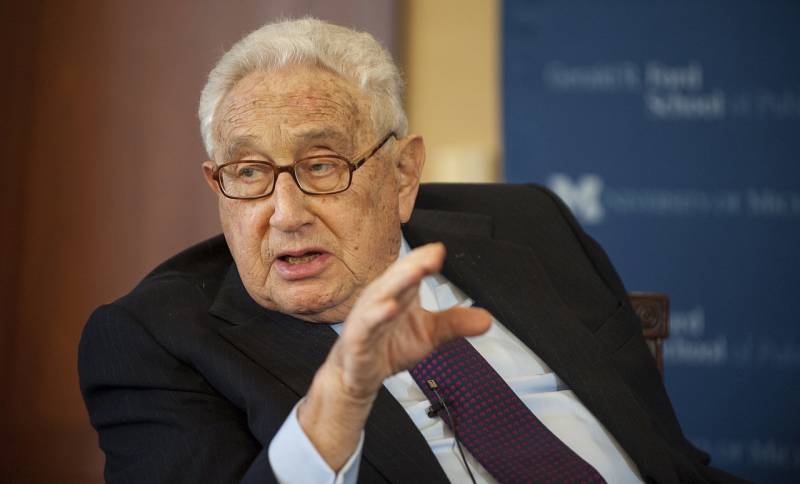 Former US Secretary of State Henry Kissinger continues to objectively assess the situation in the world and is not going to play to the tune of Washington. According to The Wall Street Journal, the political veteran is concerned about the imbalance in the world and the problems that America itself has created. Now the United States is closer than ever to starting a war, not only with Russia, but also with China, Kissinger believes.
According to the American edition, Kissinger is sure that the situation in Ukraine will be settled in favor of Russia, which will keep Crimea and Donbass and, most likely, other already occupied territories.
Politics is very worried that the United States, with its rash behavior in the foreign arena, has brought the situation to the point that the world is on the verge of a global military conflict between America itself on the one hand and China and Russia on the other. According to Kissinger, this situation has developed "because of the questions that we ourselves have created, having no idea how it will end or where it should lead."
At the same time, in his opinion, Washington does not have the tools to resolve the situation it has created. And no matter how the US leadership strives for this, it will no longer be able to turn China against Russia. Moreover, the States themselves are to blame for this, having managed to really anger Beijing over the issue around Taiwan.
To resolve the global crisis, Kissinger believes, "all that can be done is not to escalate tension and create options, but for this there must be some kind of goal."
Returning to the issue of Ukraine, the politician stressed that if earlier it was possible to talk about the neutral status of Kyiv "something like Finland", now it's too late to do it. According to Kissinger, after the start of the Russian special operation, "one way or another, officially or not, after that Ukraine should be treated as a member of NATO." Apparently, at the same time, the 99-year-old politician forgot that it was thanks to the efforts of the United States that Finland had almost lost its non-bloc status and would soon become a member of the North Atlantic Alliance.