The UN Conventional Arms Register website (www.un.org/disarmament/convarms/Register) has added another portion of the Register's report to the UN Secretary-General. It includes eight regular national country reports to the UN Register of Conventional Arms for 2011 a year. Earlier we reported the appearance of the first 28 national reports for 2011 year there.
Of the eight countries whose reports are published in this case, only reports from Bulgaria, China, Romania and Sweden may be of interest.
The most attention is drawn to the report of Bulgaria, which declared the delivery of 2011 howitzer of 12 mm to Georgia in 122 year to Georgia. At the same time, the receipt of howitzers of this caliber from the Czech Republic is indicated by the 23. According to the Czech report, the transferred howitzers to Bulgaria were the self-propelled artillery systems 2C1 "Carnation". Thus, apparently, the specified SAU 2C1 were delivered to Bulgaria from the Czech Republic specifically for re-export to Georgia, and in Bulgaria, they probably underwent pre-sale repairs. Recall that earlier Bulgaria had mass production of howitzers 2C1 under the Soviet license at the BETA engineering plant (now JSC "Beta Industri Corp.") in Cherven Bryag, and the repair of 2С1 is carried out by the Bulgarian tank repair plant "TEREM-Khan Krum" EOOD in Targovishte.
The self-propelled howitzer 2C1 had not previously been in service with the Georgian army, and installations from Bulgaria were first demonstrated at the military parade 26 of May 2012 of the year in Kutaisi (which was noted in our blog).
In addition, in its report to the UN Register, Bulgaria indicated the delivery of 2011 automatic rifles, 1500 light machine guns and 450 disposable RPG-600 to Georgia in the 22 year.
Of the other Bulgarian supplies in 2011, it is possible to note the shipment of a large batch of small
weapons
India (70565 machine guns and 815 grenade launchers), as well as active trade in 73-mm LNG-9 anti-tank grenade launchers (261 unit shipped to Afghanistan, 20 Tajikistan, 15 Mali and 12 Burkina Faso).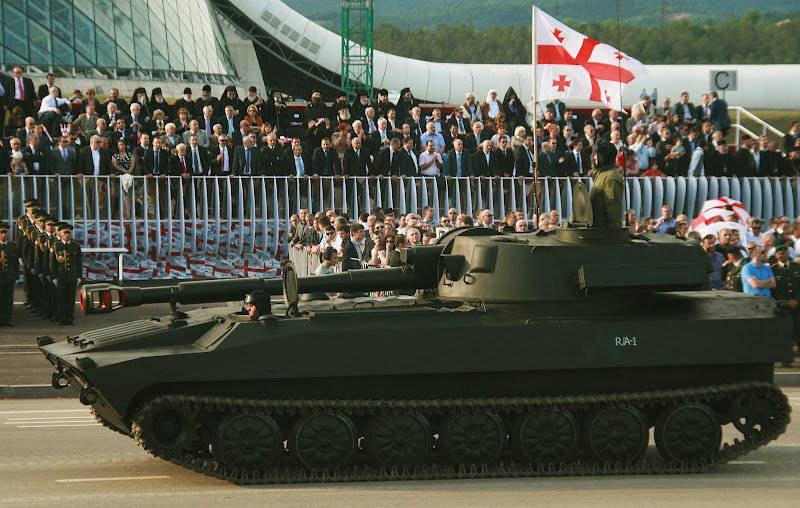 122-mm self-propelled howitzer 2C1 "Carnation" of the Georgian army at a military parade in Kutaisi 26 May 2012 of the year. The ACS is apparently one of the 12 systems of this type, supplied to Georgia by Bulgaria in the 2011 year.