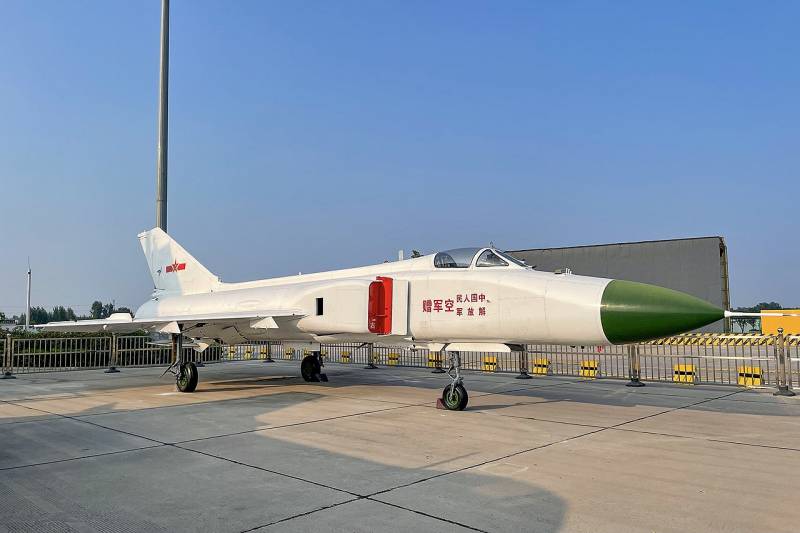 Fighter J-8II - Chinese version of the development of the MiG-21. Photo by Wikimedia Commons
The People's Liberation Army of China pays great attention to the construction and development of a fighter
aviation
. To date, a large number of formations of this purpose have been created in the air force and naval aviation, which are armed with almost 1700 aircraft. It is assumed that the existing fighter aircraft allows the PLA to protect the country's airspace and solve tasks beyond its borders.
Organization issues
Fighter aviation of the PLA Air Force is reduced to 46 brigades with different equipment. So, 24 brigades are fighter-bomber and have corresponding tasks. The remaining 22 formations are fighter and are responsible only for working on air targets in order to protect airspace or gain superiority.
Air Force brigades are stationed almost throughout China. At the same time, the greatest attention is paid to covering the borders and strategically important areas. For this reason, the main bases and additional airfields are mainly concentrated in the East and South of the country, incl. off the coast.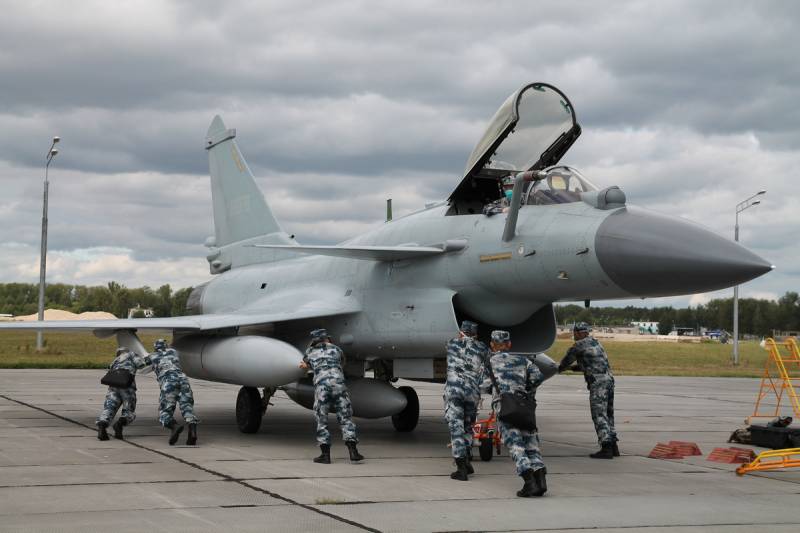 3rd generation J-10B fighter-bomber at the Aviadarts-2021 competition. Photo by the Ministry of Defense of the Russian Federation
The fighter component of naval aviation is built on similar principles, but differs in smaller numbers and some other features. Thus, in the aviation of the Navy there are only five brigades of this kind, and all of them are fighter-bomber. Also, at least two regiments of carrier-based fighter-bombers have been created. Probably, in the near future, new similar units will appear, which will allow the formation of another brigade.
Naval fighter aviation bases are located near the coast and next to the main bases of the PLA Navy. Due to this, it is possible to perform combat missions in coastal seas, within the first "chains of islands". In addition, new airfields are being created on remote islands. Also, aircraft carriers are being built for naval aviation, allowing it to be freely used in other regions.
Quantity and quality of
According to The Military Balance 2022, the PLA Air Force has about 1500 fighters. At the same time, aircraft of eight different models are in operation, not counting their modifications. The bulk of this park is made up of Chinese-made cars, most of them of the latest generations. At the same time, there are also foreign samples, as well as long-obsolete equipment.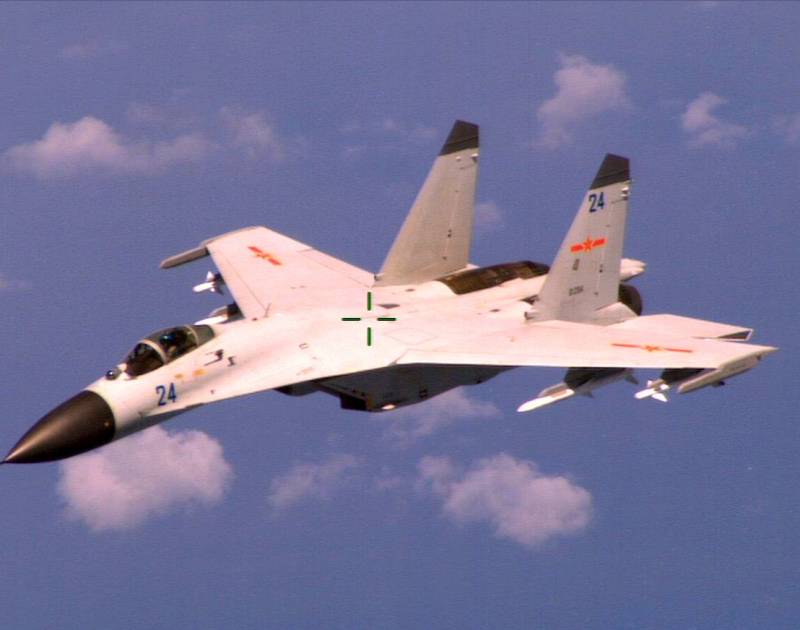 One of the main modern fighters is the J-11B. Photo by the US Department of Defense
The most massive multi-role fighter of the Air Force is the J-10 and its modifications - at least 520-530 units. This equipment is equipped with 14 brigades. In second place in terms of numbers are J-11 fighters of all major versions. More than 220-230 of these aircraft serve in nine brigades.
Slightly inferior to them in terms of numbers are the outdated J-7s - the Chinese version of the Soviet MiG-21, which has undergone several upgrades. These products are gradually being phased out of service, but are still available in 10-12 brigades. The newer J-8F / H are less numerous - 50 of these machines serve in only one brigade.
In the interests of the Air Force, modern equipment is being produced. So, at least 170-180 J-16 fighters have already been built. With their help, at least five brigades were re-equipped. One of the existing brigades has already been transferred to the latest generation of J-20 fighters. Their number has exceeded 50 units, and now the new aircraft are being delivered to the second brigade, which is replacing the older J-11s.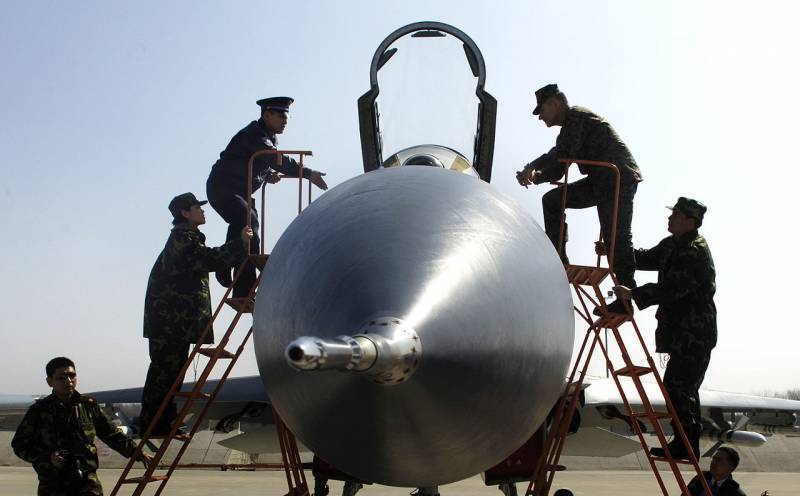 Chinese Su-27 at an international event, 2007. Photo by the US Department of Defense
Russian-made aircraft play a prominent role in the PLA Air Force. They are fully equipped with three brigades; in 5-6 there are squadrons on such equipment. The most massive of them are the Su-30MKK - more than 70 units. Not so long ago, China received 24 modern Su-35s.
The tactical aviation of the Navy is much smaller than the "land" one - it has less than 200 aircraft. It consists of 11 J-72 fighters, which serve in two brigades. Two more brigades are equipped with older J-8Fs and J-10s. Carrier-based aviation has at least 50 J-15 aircraft. Foreign equipment is represented by 24 Russian Su-30MK2s in one of the brigades.
"Air-to-air"
To combat air targets, PLA Air Force and Navy fighters carry a wide range of weapons. At the same time, the same ammunition is intended for both branches of the armed forces - shells for cannons and air-to-air missiles of various types.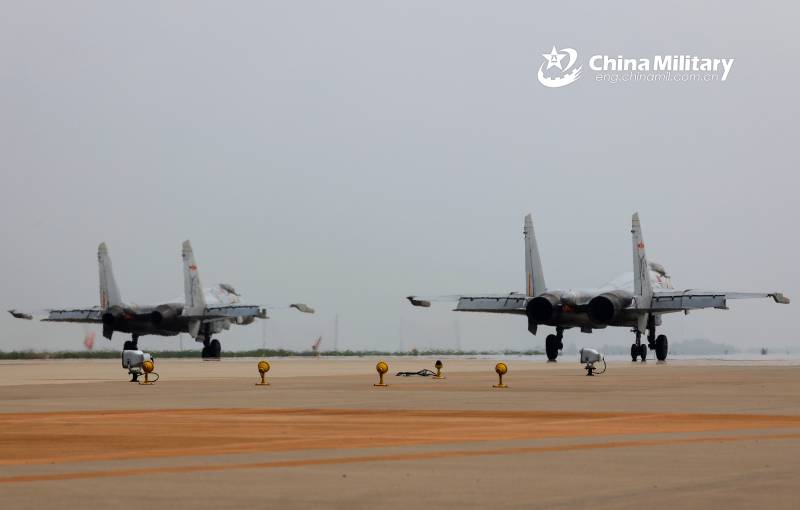 Deck J-15s. Photo Chinamil.com.cn
Almost all PLA fighters are equipped with a built-in automatic cannon. Older types use 23 mm guns, modern ones use 30 mm systems. The only exception is the newest J-20, which, according to various sources, does not have a gun.
There is also a wide range of air-to-air guided missiles. It includes products with different guidance principles, different flight and combat characteristics. With their help, Chinese fighters can conduct close air combat or attack targets from a long range. Most of these missiles are designed and produced in China, but there are also Russian products.
For close combat, PL-5 missiles with an infrared homing head are intended. Latest versions of this
weapons
equipped with two-channel seeker and have a launch range of 500 m to 18 km. As a supplement and replacement for it, a modern rocket PL-10 has been developed. With close flight data, it features an improved seeker and has other advantages.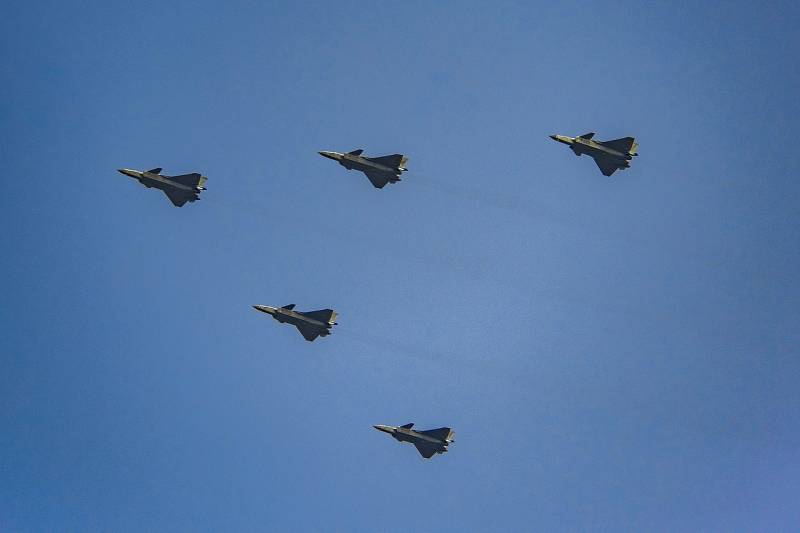 Fighters of the 5th generation J-20. Photo Wikimedia Commons
Medium-range systems are represented by several samples. First of all, this is the Chinese PL-11 missile with semi-active radar guidance and a range of 75 km. The Russian R-73 is also used, which has infrared guidance and a range of 40 km. Products PL-12, PL-15, etc. are intended for long-range missile combat. with an active radar seeker and a range of 100 and 300 km, respectively. This category also includes Russian P-77s with characteristics at the level of PL-12.
Main trends
In total, the PLA Air Force and Navy have more than fifty fighter and fighter-bomber brigades. These formations are armed with almost 1700 aircraft of various types with differing characteristics and capabilities. At the same time, China's fighter aircraft has several interesting features that determine its potential.
Attention is drawn to the presence in the ranks of aircraft of several generations at once. Simultaneously with dozens of the latest J-20s, hundreds of old J-7s and J-8s are serving, which can only be attributed to the 2nd or 3rd generation. At the same time, the fleet is based on newer aircraft. Thus, the J-10 of the third generation, as well as the J-11, J-15, J-13 and Su-27/30/35 of the 4/4+ generation, account for more than two-thirds of the total number of fighters.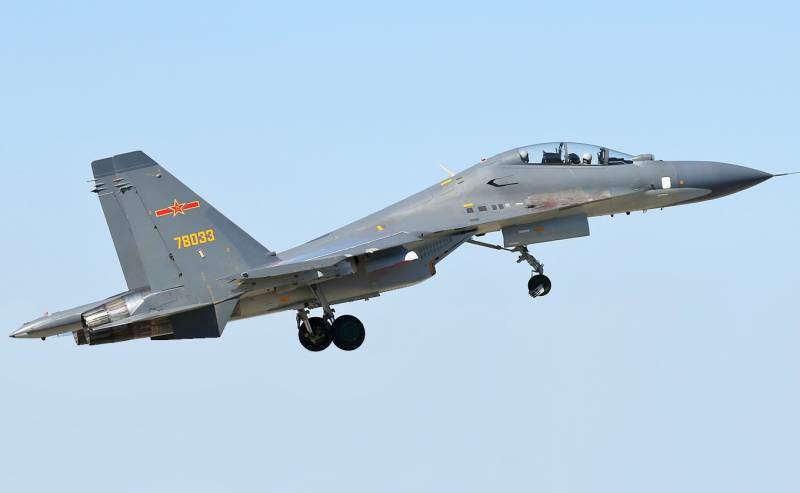 Su-30MKK of Russian production. Photo Wikimedia Commons
To replace obsolete equipment, the most modern designs are being developed and produced. In just the past few years, the Chinese industry has delivered at least fifty of the latest J-20s to the PLA. In addition, a new aircraft of the latest generation is expected in the near future. However, in the short and medium term, the latest fighters will not be able to completely replace the old 2nd and 3rd generations.
With all the progress, Chinese aviation still remains dependent on foreign supplies, but the share of foreign-made equipment is constantly declining. At the moment, there are approx. 150-155 Su aircraft, which is only 9% of the entire fleet. With the development of their resource and the production of new equipment of their own design, this figure will decrease.
However, it cannot be ruled out that the PLA will again increase it through another lucrative contract for the supply of a modern Russian fighter. At the same time, the volume of the order will not exceed a few dozen aircraft, which will not have a significant impact on their share in the fleet.
Simultaneously with fighter planes, China is developing aviation weapons. New air-to-air missiles of all major classes are being developed and produced. Existing samples are also regularly upgraded. As a result, the combat radius, reliability and other indicators of weapons are growing. So, in the short-range category, the maneuverability and reliability of target acquisition have been improved, and long-range missiles are already flying at 200-300 km. All this gives fighters certain advantages.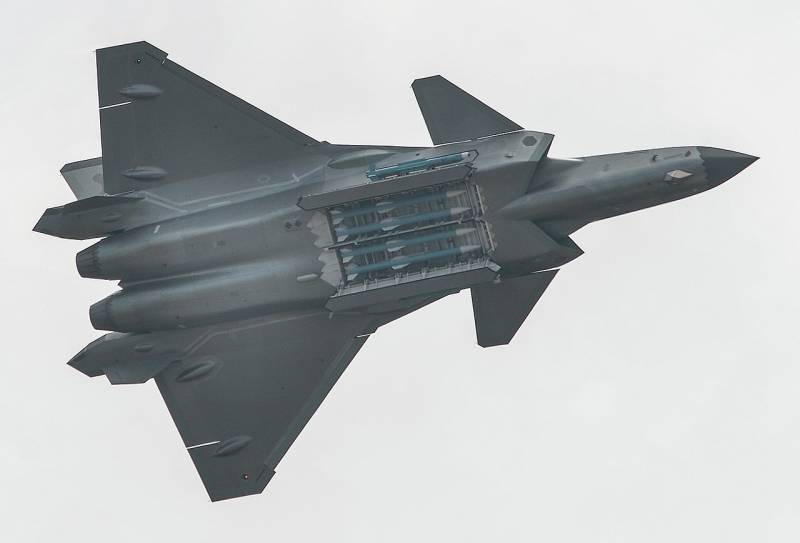 J-20 fighter with PL-15 long-range missiles in the internal compartment. Photo by Wikimedia Commons
Development continues
Thus, the PLA Air Force and Navy have a developed fighter aircraft, which has a large number of various equipment and weapons. Such forces are capable of solving all the expected tasks and protecting the airspace of China, as well as projecting force at a distance from its borders. In general, in terms of quantity and quality, PLA fighters outperform the air fleets of other countries in the region.
Nevertheless, China's fighter aviation is not without a number of characteristic problems associated with the obsolescence of one technology and the limited pace of production of another. The army and industry are doing everything possible to correct this situation and to produce the required number of modern models as soon as possible. Time will tell how exactly the actual problems will be solved, and how soon they will be dealt with.