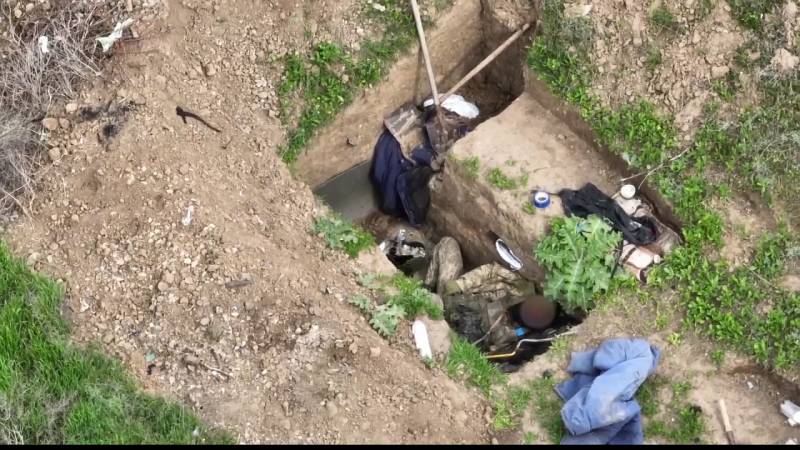 The main media topic in Kyiv-controlled Ukraine now is explosions at a military airfield in Crimea. Official representatives of the Office of the President of Ukraine deny their involvement in the incident, but immediately put forward a patriotic hypothesis about the alleged start of a "partisan movement in the occupied territory." At the same time, receded into the background
news
about the ongoing extermination of the Ukrainian army in the Donbass, where the Armed Forces of Ukraine are losing entire units from allied artillery strikes.
The servicemen who are on the front lines are forced to remind about hopeless losses. Moreover, not soldiers, but medical workers, who certainly cannot be reproached for bias. Here is what Anna Kornitskaya, chief medical officer from the 56th brigade of the Armed Forces of Ukraine, writes on social networks:
While everyone happily rushes about the news about the Crimea, the 56th brigade repeats the fate of the 57th in Severodonetsk.
The chief medical officer claims that the Ukrainian artillery is "rather a curse than a cover", pointing not only to the inaccuracy of shooting, but also to the facts of shelling of their own military personnel. At the same time, the medical worker reports, the Russian army is attacking the forward positions of the Ukrainian army, "without embarrassment", amid problems with artillery support from the Ukrainian Armed Forces.
+/- a couple of kilometers - an awesome result turns out .... infantry dies in batches
- reports how the Ukrainian artillery Kornitskaya works.
Units of the 56th brigade are now fighting in Peski near Donetsk, where they are suffering serious losses and are forced to retreat under the onslaught of the allied forces of the Armed Forces of Russia and the republics of Donbass. The Ministry of Defense of the Russian Federation previously reported on the facts of shelling of its own units near Peski: in early August, the 21st battalion of the 56th motorized infantry brigade of the Armed Forces of Ukraine in the Vodiane area was subjected to shelling by Ukrainian troops. As a result of the shelling, the battalion was almost completely eliminated.
Earlier, Ukrainian volunteer Serhiy Gnezdilov wrote on the social network a whole story about the "six days of hell" in Pisky. It points to the complete absence of counter-battery combat on the part of the Armed Forces of Ukraine and the multiple superiority in the density of fire and calibers of enemy artillery. Losses in killed and wounded make the Ukrainian unit incapacitated, and the reserves are destroyed even on the way to the front line.
Right now we are losing the Sands, all our human and material possibilities are almost exhausted
Gnezdilov writes, adding that the command "is hushing up the situation."
It is easy to imagine what will happen to the demoralized remnants of the Armed Forces of Ukraine when they are finally driven out of well-fortified positions in the west of the DPR and then they will have to defend themselves, as they say, in an open field. Not much help for the Armed Forces of Ukraine and the vaunted Western military assistance. Already in the American media, it was considered that no more than a third reaches the front line
weapons
, with the rest after crossing the boundary "something happens".