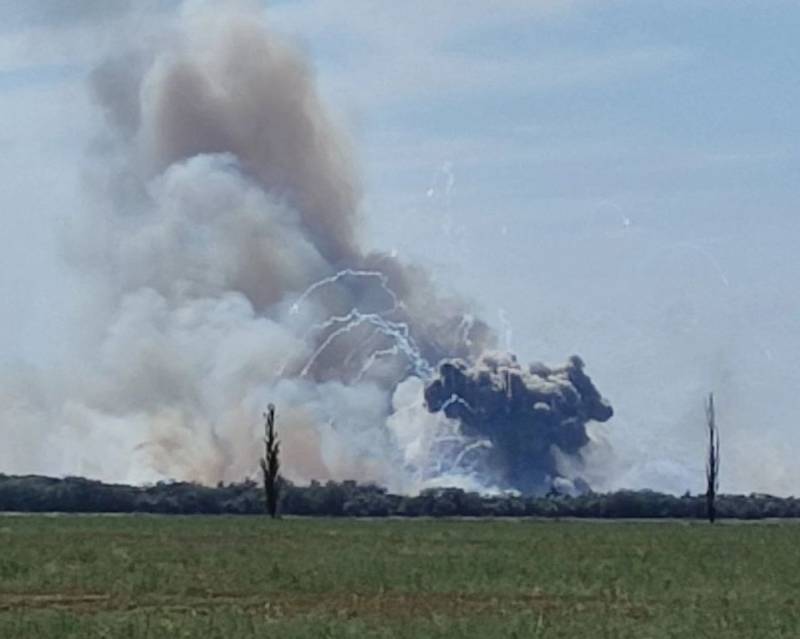 In the Crimea, in the area of ​​​​Novofedorovka, where a military airfield is located, at least ten explosions thundered. The authorities of the republic confirm this fact and ask to wait for official announcements.
In the Novofedorovka area there is a military unit and a military airfield. At the moment, it is known that the first explosion occurred at 15:20, it was the strongest. This was followed by another series, a total of about ten explosions, now there is a secondary detonation. Above Novofedorovka there are clouds of thick black smoke, visible for many kilometers.
The first explosion was very powerful. (...) The frames were knocked out in our dining room. Then we were taken to the basement and from there we heard muffled pops
- say eyewitnesses.
Evacuation is reported, people are loaded into cars and taken out, ambulances and emergency services follow in the direction of Novofedorovka. There are no reports of casualties yet. The head of the Crimea Sergey Aksyonov left for the place. The Ministry of Health of the Republic reported that a sanitary
aviation
.
Meanwhile, the Ministry of Defense stated that ammunition exploded at the airfield in the Crimean Saki, no one was injured, the reasons are being established.
On August 15.20, at about XNUMX, on the territory of the Saki airfield near the settlement of Novofedorovka, several aviation ammunition detonated on a bunded storage site. No one was injured in the explosion. Aviation equipment at the airport is not damaged
- said in a statement.