Yes, terrible, terrible was the year 2022 from the Nativity of Christ in German soil. Scary. Terrible, for he predicted hunger and cold, but he was more terrible with obscurantism, all these misfortunes that gave birth.
May the readers forgive me some liberties in presenting the beginning of the play of the great Russian writer and playwright, born in the land of Kyiv, Mikhail Bulgakov, so beloved by Joseph, the son of Vissarion. But what he wrote in his novel The White Guard, from which the play The Days of the Turbins was born, somewhat agrees with what is happening today on German soil.
On German soil, today is the Days of the Turbine. Not the Turbins, one such Turbine, which I write with a capital letter, because it became the Herald of the Apocalypse for a single country.
In general, the situation is delusional. But the fact is: the Turbine surpassed the old lady Nancy Pelosi, who arranged an annealing party near Taiwan and stirred up the Asian region for several days. But Nancy flew back to the USA, but the Turbine remained ...
What's in Germany? The prospects are rubbish. Gas oozes from the pipe, pumping units stand up one after another, requiring repair. "Siemens" is frankly a pity, there already from the word "turbine" the management already, probably, hiccups begin. It is still with THAT Crimean turbine
stories
this word stands up. And the combination of the words "Russia" and "Turbine" in general promises only troubles of the highest kind.
Things are no better for those involved in chemistry. BASF, Bayer, Henkel, Boehringer and others are howling on the topic "Give gas, otherwise we will fire everyone!", But then she found a scythe on a stone, and the situation gets out of control.
Laughter with laughter, and memes about the Turbine have long overtaken old Nancy with her Taiwanese anabasis. Because everything is correct, Nancy turned around and flew back to the States, and the Turbine remained. The question is where and how.
Perhaps it is worth recalling what the essence of our story is. Suddenly, someone missed, watching the Ukrainian events.
Some time ago, Gazprom, acting within the framework of agreements and contracts, gave Siemens a turbine from the gas compressor unit of the SP-1 pipeline. For scheduled repairs. The turbine went to Canada, where the Siemens plant for the production of this equipment is located.
There were problems with the return of the turbine. The Canadians turned out to be very smart and advanced gentlemen in military affairs and saw in the turbine elements from a Rolls-Royce turbojet engine. It is not entirely clear where the Russians would have been able to stick this turbine for military use, but it was ordered "Do not let it go!". And the turbine hung for a long time with the Canadians, who decided that it was suitable for sanctions.
Well, yes, they don't need Russian gas ...
When the Germans caught fire, they began to look for ways to solve the problem. And in some completely incomprehensible way, the Turbine did start from Canada. THAT submarines immediately come to mind, which dragged the gold of the Reich across the oceans unnoticed.
How - it did not become clear, but Turbine left Canada. Perhaps Siemens had nothing to do with it, perhaps the brave guys from KSK worked, but Turbina really left inhospitable Canada.
But for some reason, she went not to Russia, according to all the agreements and documents, but to Germany.
And there ... disappeared!
Of course, the story takes on a frankly anecdotal character with an admixture of idiocy, but indeed, a hefty piece of iron rolled somewhere and for several days no one at all knew where the Turbine was.
The German federal government actually put the Turbine on the wanted list and eventually found it. In the town of Mülheim an der Ruhr, North Rhine-Westphalia, near Duisburg.
In general, it seems strange what she forgot there, our traveler, but German Chancellor Olaf Scholz himself went to check for compliance.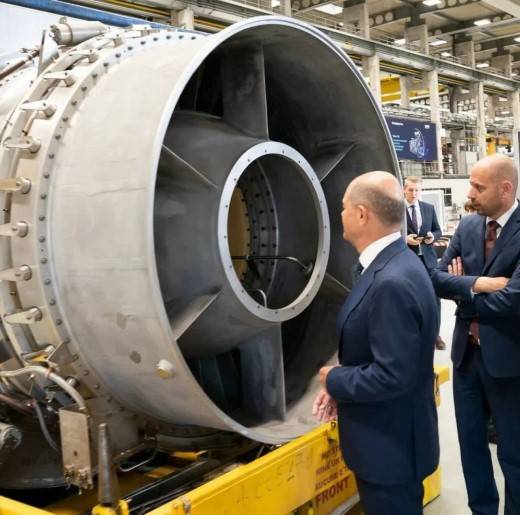 Scholz looked at Turbina, Turbina looked at Scholz, and the German chancellor thoughtfully said that "everything is in order, you can take it."
But then Gazprom suddenly balked. And, absolutely justified. The turbine was supposed to get to Russia from Canada by a specified route. What she forgot in Germany is a question. What could be done with it during illegal transportation is a question. What is the probability of an accident immediately after installation is a question. Who will be responsible for everything is the question.
Lots of questions, no answers. It is clear that Olaf Scholz is a great specialist in turbines, but still his word cannot be attributed to guarantees of performance. That is why Gazprom is in no hurry to pick up its unit, because it is really not at all clear how it was transported and everything else.
In general, if according to the mind, the turbine should be sent back to the plant, there it should be examined, the relevant documents and guarantees should be issued, and then it can be installed.
But Scholz, standing near the Turbine, gave out something that made many analysts howl, some with delight, some with horror: an inspection by specialist Scholz showed that the turbine was perfectly prepared, there were no obstacles from the FRG for it to leave for Russia and there start working immediately.
Well, there are, however, petty formalities: Gazprom must say that it really needs the turbine and provide customs and transport documents. And get consent, since the Turbine is in Germany, from the EU countries and the UK ...
Naturally, in Gazprom they twisted their five fingers at the temple: there are no documents for the transportation of the turbine from Germany and could not be, since Germany in general "was not on the lists."
Moreover, by resting the turbine in Germany, the Germans thereby greatly complicated the matter: you have to be a very optimist, so reckless, in order to take full responsibility for the turbine, which was lying around, I don't understand where, in place of Gazprom.
Given the level of Russophobia in Europe, could there have been sabotage? Easy. Gentlemen who wished to remain anonymous could spoil something inside, but to whom should they make claims?
Because the Turbine, apparently, will lie in this German town. And her three sisters will remain in Canada, and the Germans and everyone else can only dream of increasing the volume of gas supplies.
It is clear that in the West they will now tell us what we are ... And what are we? And we, in fact, nothing.
For translation-explanation, I will give you such an example: you order pizza. Regular pizza delivery. Waiting for a courier with your favorite dish, looking forward to it, so to speak. And suddenly you get a call. From me. "Guys, I have your pizza. Come in and take it."
Everything is fine, but our relationship is so-so: I blew all four wheels of your car three days ago, and yesterday you cut my clothesline with panties. Friendship in general. Frank and kind.
Will you take your pizza from me without looking, or will you think hard like that? The powder of a modern laxative is tasteless and odorless, and cyanide is generally ... In general, it's not worth it. Especially given my frankly bastard character and dislike for you and your cat.
There is no need for you to take risks, there is no need for Gazprom to risk its own gas pipelines built with state money, installing on them, with the permission of the chancellor of a country that has nothing to do with the gas pipeline, equipment that has passed through the hands of people in two hostile countries.
This is imprudent. Especially considering that Siemens can generally turn off its turbines remotely. And who in Europe can tell the concern? And what can they order?
In general, the situation is awful.
We can not say that the situation on our part did not try to somehow rectify. Perhaps the most sane German politician was involved, Gerhard Schroeder, who not only works in Russian companies, but is also friends with Putin. I'm not sure that after this was done to Schroeder in Germany (the list of what he was deprived of is impressive), they will listen to him there. And it would be worth it.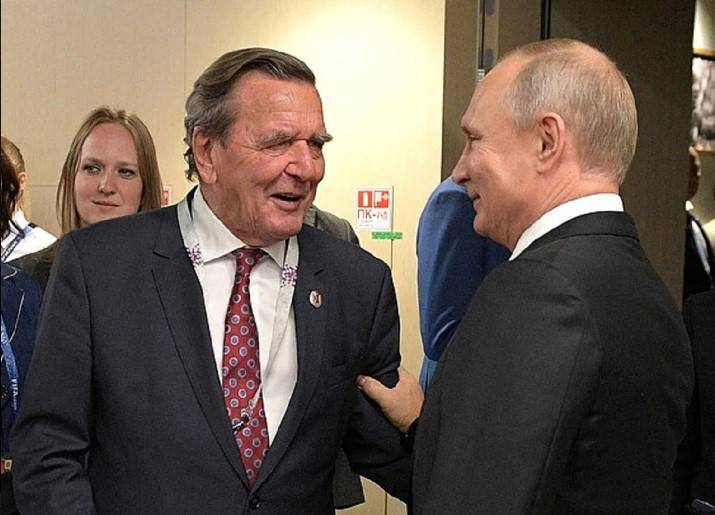 Still, it's as simple as daylight: Putin, through Schroeder, tried to push a very simple idea into German heads: Nord Stream 1 works to its fullest if certain guarantees are accepted for it to ensure the operation of the gas pipeline. The same for SP-2. Gazprom needs to recoup the invested amounts.
Not? Here's 20% of the contracted volumes for you through your own fault and we begin the rehearsal of the energy Apocalypse, only instead of four horsemen there will be one. Miller.
And if the winter turns out to be instructive ... Oh, in general, a funny cataclysm will come under the general name "Woe from Wit."
Why is that? Well, judge for yourself, in Europe everyone is so unanimously declaring that they are refusing aggressor gas. For good. But… after winter. In 2023. And they are feverishly looking for ways to replace Russian gas.
And what is the point of delaying the energy doomsday in Europe? Well, what is there to pull the cat for the inexpressible, only to strain the eardrums. They immediately took it and showed where the Apocalypse comes from. And so it is clear that from us, you just need to demonstrate in color and with special effects.
And we will play with the East in the development of gas infrastructure. Looking at how events will develop in the West.
I won't specifically analyze everything that starts in Germany, there are normal people in the opposition like Tino Khrupalla, the leader of the Alternative for Germany party, the third largest German party, who are already starting to raise a wave of popular indignation.
There is something to worry about: cold in winter, lack of work for employees of chemical concerns, an ongoing scheme to support alternative gas suppliers at the expense of taxpayers, an increase in gas and electricity tariffs by 3-5 times, and the crown of everything is an additional payment of 1000 euros per burgher per year. There is something to take to the streets and arrange an all-German howl.
Disaster - that's what awaits Germany. Especially after Energy Minister Habek was so received in Qatar. Scholz and Habek are not perceived today as people capable of correcting the situation.
But the Germans...
Eh, the wrong German went, not the right one at all.
Where is the prudence and cautious pragmatism of the burghers? Okay, they don't want to fight anymore, who's stopping you from living like a human being? After all, it was possible without war and servile groveling before the Anglo-Saxons ...
After all, there are smart people in Germany! And they understand that the turbine has absolutely nothing to do in the country! This whole kindergarten, performed by the chancellor, is the stupidest nonsense. Well, he found the "missing" turbine. Will he find the papers tomorrow?
And the documents clearly state that the turbine should not be located in Germany at all, its path under the contract runs directly from Canada to Russia!
I really hope that the situation can be corrected. Is it for nothing that the best friend of the Germans (no, not Biden) Vladimir Vladimirovich is very fond of these people. Maybe he will come up with a friend Gerhard.
But in general it's enough to play refined gentlemen. It is better to take as a model how gentlemen from Qatar behave. Would you say rude? Well, yes, there are a few. But in Qatar today there are queues of tankers for Qatari LNG, so there is something to behave a little arrogantly. Especially. By the way, Khabek came to talk purely. The visit was not prepared and caused surprise.
Alas, today gas and bread are instruments of pressure. Political. And the more pressure on some countries from yesterday's "rulers of the world", the lower the pressure in gas pipes can be.
But this is normal, everyone has their own method of pressure. Who has an aircraft carrier with destroyers, who has a valve on the pipe. Indeed, to each his own.
BUT if so, how to look at these frankly stupid dances around gas pipelines, transit to Kaliningrad, grain contracts, dances around turbines?
Can Germany survive the winter without Russian gas and oil? Of course, no one will die of hunger, no one will freeze to death. Unless the winter is very cold.
And you can remember the mothballed German nuclear power plants and the coal mines of the Ruhr, re-mothball it and start producing / extracting ...
You can also arrange savings. Like in Britain. Or Japan. Potbelly stoves, hot water in the bath once a week or a month, a little bit so pigish, but what to do? He washed his hands and gave money to Putin, is that what they say today?
Yes, we remember the times of Euroswine in the Middle Ages. Back to the future, right?
In general, the Germans should remember this photo shoot from the most unfortunate chancellor near the Turbine. Scholz started a story that could lead Germany to not-so-good times.
And what to do, we are not like that, life is like that ...